A creative footprint and equipment layout promote efficient production systems that allow this new hotel's restaurant, bar, room service and catering menus to showcase local and fresh ingredients.
The dining room's earthy color palette, natural woods and soft lighting complement the menu, which features locally sourced and locally purchased ingredients. Photo by ©Gerry O'Leary/www.gerryoleary.comWhen the Radisson Blu hotel opened in March 2013, it became the first hotel linked by skyway to Minnesota's world-renowned Mall of America. The 13-story, 500-room, $137.5 million hotel is part of the mall's second expansion phase. Today the mall spans 4.2 million square feet with 520 stores, 50 restaurants and several theme-park-like attractions. Located about 15 minutes from downtown Minneapolis and St. Paul, the megamall attracts nearly 42 million visitors annually. This and other projected expansions will add up to 5.6 million square feet and bring in another 20 million visitors.
Branded by Radisson's parent, the Carlson Rezidor Hotel Group, the 260 existing Radisson Blu properties are referred to as the "upper upscale hotels," with locations in Chicago (Radisson Blu Aqua opened in 2011), Europe, Africa, the Middle East and the Asia-Pacific region. The promotion materials for the Bloomington, Minn., Radisson Blu present this hotel line as "an edgy, fashion-forward aesthetic with chic, modern Midwest appeal." For example, the lobby's porcelain-like panels create a multifaceted sculptural installation referencing a cool, pristine shopping bag.
"We identified this location as a strong investment opportunity for one of Carlson's flagship hotels in part because of the volume of U.S. and international visitors drawn to Mall of America annually," says Thorsen Kirschke, Carlson Hotels' global chief operating officer. "It also presented a unique opportunity to partner with the high-end design aspirations of the mall and meet the need for additional 'upper upscale' hotel offerings in the market."
Guests who take an elevator up one level from the lobby find a lounge with ultramodern chairs in bright red and other colors. Turning to the left of the escalator, visitors see the entrance to the FireLake Grill House & Cocktail Bar, modeled after the first FireLake, which opened 10 years ago at the Radisson in downtown Minneapolis.
"The Mall of America is one of the biggest malls in the world, and we wanted the FireLake Grill House & Cocktail Bar to be a comfortable refuge for people either taking a break from spending the day in the mall, or staying in the hotel as a business or leisure guest," says Jim Hamilton, creative director at Graven Images, the firm that designed the restaurant.
"Given the hotel's unique location, the main challenge was to create a warm, relaxing environment in what is otherwise an extremely contemporary hotel experience,"
Hamilton continues. "We complimented the Minnesota-centric menu produced by the executive chef, Paul Lynch, by using reclaimed Minnesotan barn wood to clad the majority of walls, columns, beams and ceilings in the restaurant and bar. These were sourced from old barns all over Minnesota. Apart from the incredible texture and tone the wood provides, by the end of their visit, guests will have gained an understanding of the region from both the food and from the décor."
Featuring a mix of classic American heartland flavors, the menu incorporates as many fresh and locally produced ingredients as possible. According to Lynch, who conceived and opened the first FireLake location and now leads dining operations at the Mall of America location, the area's Scandinavian, German and Irish populations influence the food in the region. "The restaurant is about the flavors of real burning wood from the land of 10,000 lakes," he adds.
The menu features items categorized primarily by their production methods: grill/mesquite; oven/white oak; flavor of the flame/hickory; simmered and tossed; plancha and skillet. The other menu items are more generic: pastries and cream; to share or not (appetizers); and small plates.
Efficiency Drives Layout and Production
Radisson Blu's operation includes a kitchen supporting the 6,400-square-foot, 180-seat restaurant; 130-seat, 3,900-square-foot bar; room service and banquets. The restaurant and bar feature a 540-square-foot exhibition kitchen, which also supports room service.
Efficiency was the key driver for the back-of-house kitchen layout. "We're very lean, which is very much in keeping with today's facility designs," Lynch says. "Overall, the square footage is one-third smaller than the kitchen downtown for twice the volume."
Placing the entire kitchen, restaurant, bar and banquet rooms on one level also contributes to the facility's efficiency. In contrast, the downtown facility's layout is on two floors.
"Our challenge was to create a central circulation spine to the space to accommodate traffic from the storage to the production areas, food going in multiple directions to the restaurant, banquet areas and employee dining as well as dishes flowing back from those areas," says foodservice design consultant Steve Carlson, FCSI, LEED AP, president of Robert Rippe & Associates, based in Minnetonka, Minn. "The space was typical of a hotel kitchen with the closely placed column based on the hotel rooms above. This resulted in a long, linear space which made it challenging to position two cooking lines face to face and still get decent traffic aisles. We knew the corridor couldn't be too narrow because it had to accommodate banquet carts, plate carts, ice machines, room service warmers and a space for servers to walk."
Another challenge appeared when the planning team discussed the size of the back-of-the-house corridors behind ballroom and meetings rooms. "It was a challenge to get back-of-the-house corridors wide enough for all the equipment and staff needed for plate-out and bussing," Carlson says. "So the architects made the corridors wider [so they would] be functional. We had to compromise on access to the junior ballroom. Staff can go through the back of the house to take catering carts to the main ballroom, but staff must take carts through a public corridor to get to the smaller ballroom."
Back-of-House Production
Food arrives at a dock two floors below the kitchen where a receiver checks the orders. Elevators transport deliveries up to the kitchen so staff can place food into storage, which includes coolers for produce, meat, dairy and banquets, as well as one freezer and one area for dry goods.
"Storage and production are on one level, so we don't handle food twice," Lynch says. Unlike at many hotels, this Radisson Blu does not have a main storage area where staff initially store food before reissuing it. Cooks for each restaurant production station go to the appropriate storage areas and take the ingredients they need. On the other hand, cooks in the banquet and executive lounges fill out requisition forms before coming to the storage areas to secure what they need for their stations.
The hotel's dining receiving and purchasing agents work from 7 a.m. until 5 p.m., and the storerooms are also open during those hours. After 5 p.m., only supervisors and sous chefs can access the storerooms. "My office sits outside the storerooms, and I'm here often," Lynch says. "There's a great benefit for this positioning because I can keep an eye on what and how much is being taken out of storage, including from the freezer and nonrefrigerated storage areas holding items such as china. Also, I hear conversations so I can pick up on the staff's needs and challenges. Tight purchasing and usage controls, along with the way we've set up the production means I am coming in below my 25 percent food budget at 19.2 percent." This setup reduces theft, as well.
The production layout maximizes efficiency in product usage and labor. For pre-preparation, the kitchen features a garde manger area containing a prep counter with sinks, a maple-top counter, a food processor and a one-gallon blender. The meat and seafood preparation area contains work counters, a sausage stuffer, a vacuum-packaging machine and a mobile warming cabinet and smoker. At the adjacent pantry/bakery, staff use work counters, a 1-gallon blender and ingredient bins, as well as a batch freezer, reach-in refrigerator, 30-quart mixer, 5-quart mixer and combi oven shared with the restaurant hot prep area to make Amish malted chocolate peanut butter pie, peach rhubarb cobbler, lemon Chantilly-blueberry pie and dark chocolate truffle tart. An ice cream and gelato maker rounds out the equipment in this area.
In the hot food production area, staff use equipment to prepare several items for the restaurant and ingredients for the exhibition kitchen. The majority of hot food production in the back of the house is for banquets.
To make sauces and soups such as Minnesota wild rice; tomato and fennel; and seasonal variations, staff use 40-, 6- and 12-gallon kettles. They use a 40-gallon tilting fry pan for searing and large-batch cooking. The hot prep area also features a two-section fryer, a charbroiler and a grill with oven beneath.
The kitchen also contains three combi ovens and a blast chiller, which contribute to the meal preparation for banquets. Staff prepare planned dishes using the combi ovens, which Lynch selected because they control temperature, time and humidity. Staff quickly cool cooked items in the blast chiller. On the day of a banquet, staff remove the chilled food, portion and plate it and place the plates on mobile plate racks that fit into the roll-in combi ovens. When a function starts, plates are rethermalized (an eight-minute cycle), then moved to the thermal holding cabinets adjacent to the ballrooms and other meeting rooms. At the point of service, staff add garnishes before the serving staff deliver plates to guests.
For Lynch, this system minimizes stress on the production process. "I prefer this system compared to the more traditional plate-up system at the point of delivery, because I need many fewer staff for preparation and serving," Lynch says. "We can serve 800 guests with less stress than when plating for 200 guests. I feel we get much fresher food this way because we cook the food in advance, chill it to the exact temperature we need it to be, plate it exactly the way we want because we're not working under the same pressure at the point of service, and then reheat at automated, tested temperatures. At the point of service, we can add crisp fried onions, micro greens and fresh herbs."
Restaurant Display Kitchen
Each day, staff in the restaurant display kitchen prepare 350 covers. The line divides into four stations. The grill/rotisserie station contains a mesquite grill for steaks, buffalo rib eye, crusted elk loin filet, striped bass, salmon filet and beef and turkey burgers. The hickory rotisserie cooks chicken, rosemary chicken, honey-cured pork chops, a lamb duet with smoked and braised lamb shoulder fritters and grilled lamb chops, prime rib, and prime dip and prawns. "The manufacturer designed the grill and rotisserie back to back, so only one exhaust hood is needed," Lynch says. "When the two pieces of equipment are side by side, two separate exhaust hoods are necessary."
The sauté station features an 8-burner, 30,000 BTU range; a pair of 4-burner, 45,000 BTU ranges; and a plancha. Staff working here use the equipment to make eggs, omelets and vegetables for handmade pasta dishes. For breakfast orders, staff also have access to a waffle maker nearby.
Also on the cookline, a pair of 45-pound fryers with built-in filtration systems allow staff to prepare firebrick beer-battered rock shrimp and a trio of sweet potato fries, hand-cut fries and beer-battered zucchini. These appetizer-style items, along with small plate items such as house-made smoked rope sausage, cherrywood pit-smoked barbecue lamb ribs, salmon pastrami and walleye cakes, are popular at the bar as well as the restaurant.
To prepare frittatas, cassoulets, pizza and flatbreads, staff use a brick oven that allows them to apply high, consistent heat to these popular menu items.
At the pantry and dessert station, staff prepare salads and sandwiches using a prep table, refrigerator and freezer.
"We arranged the layout in order to facilitate circles of movement," Lynch says. "Staff members at each station only see their portion of the order sent through the POS system and work within their circle of influence. This minimizes need for crossover."
The restaurant display line is also where staff prepare orders for room service. In their rooms, guests see the menu items displayed on televisions. They call a number to place their orders, which transmit directly to the point of sale system. Staff fill orders and deliver trays within 20 minutes. Using the same call-in procedures, guests can also order amenities, extra pillows and so forth.
The restaurant display line also supports the active bar service. In the morning, the bar serves breakfast. At noon, customers can order casual lunches, and in the evening they can order small plates and appetizer-type items. The bar features draft beers and wine stored in one cabinet kept at 35 degrees F, another at 40 degrees F, and a third at 50 degrees F. A game room with pool tables sits adjacent to the bar.
The Importance of Stewarding
Stewarding plays a key role in supporting efficiency as well as maintaining strict sanitation standards. "Because space was tight and we needed space for two cooking lines in the kitchen, the dishroom is closer to the restaurant because staff make frequent trips here," Carlson says. "The area doesn't have a big scrapping area, but we have space for banquet carts with dishes. The interior design for the bar and restaurant took a long time to resolve, but in the end we ended up with a little more space in the building to accommodate these needs."
In addition to one dishwasher accommodating all the dining activity, the stewarding area also contains a pot-and-pan machine, a spray station as well as a three-compartment sink. "The Bloomington health department is very strict about meeting health and sanitation standards, so we put in stainless steel wall paneling here as well as on the back of the bar die," Carlson says.
"A kitchen only operates as well as its stewarding team functions," Lynch says. "The dishroom is the one place I wish we could have had more room. At least we do have room for the carts holding dirty dishes, which staff bring to a parking lot so they can be held until the stewarding staff has time to clean the dishes and glasses. "I love the pot-and-pan machine because it allows us to operate very efficiently. The fact that it keeps the pots and pans separate from the glasses and silverware minimizes complications with spots and haziness."
"One of the chief sustainability features in this operation is the dishmachine, which conserves water usage," Carlson says. High-efficiency exhaust hoods also contribute to the operation's sustainability. "The budget was so tight that we had to focus most on initial investment versus lifecycle costs." For example, a pulper wasn't put into the original equipment package.
In addition to the features mentioned, the kitchen also contains lockers in a hallway. "The number-one complaint from employees is locker theft because lockers are hidden from view in a separate room," Lynch says. "We've eliminated locker theft by placing them in full view."
In its brief existence, Radisson Blu continues to attract groups and individuals who enjoy the proximity to Mall of America and the Minneapolis airport. With its creative menu showcasing local ingredients, FireLake Grill House & Cocktail Bar will continue to offer guests a unique attraction that they can't find elsewhere in the mall. The pressure's on the dining staff to use the equipment to maintain a high level of consistent quality that is both competitive and trendsetting.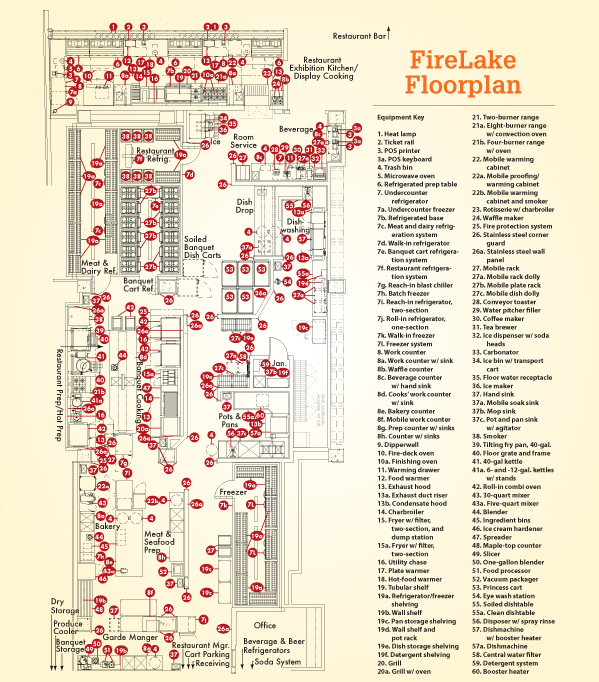 Design Capsule
Ownership: Carlson Rezidor Hotel Group and Mortenson Development; Radisson Blu Hotels & Resorts is part of the Rezidor Hotel Group, which operates more than 230 hotels worldwide, with 51 projects underway.
Opened: March 15, 2013
Scope of Project: The 500-room hotel features 3 room styles (urban, naturally cool and N.Y. mansion house); a spa; fitness facilities and indoor pool; and more than 26,300 sq. ft. of meeting space, including 2 ballrooms. The hotel features FireLake Grill House & Cocktail Bar, with a display kitchen and back-of-house kitchen supporting the restaurant, bar, room service and catering. The hotel connects via a walkway to the Mall of America.
Size: Restaurant, 5,693 sq. ft., including the exhibition kitchen; bar area, 3,821 sq. ft.; back-of-house kitchen, 5,045 sq. ft., which includes 940 sq. ft. receiving and storage, 180 sq. ft. garde manger, 290 sq. ft. bakery, meat and seafood prep, 190 sq. ft., banquet cooking and storage, 720 sq. ft., dishroom and pot/pan wash, 900 sq. ft., and 310 sq. ft. restaurant cooking and storage. Other areas: employee dining room, 850 sq. ft; main ballroom support, 1,930 sq. ft.; junior ballroom support, 390 sq. ft.; third-floor pantry, 120 sq. ft.; concierge lounge, 190 sq. ft. The hotel features 28,000 sq. ft. of meeting and event space, including 2 ballrooms, 5 divisible meeting rooms and a boardroom. The fitness center occupies 1,505 sq. ft.
Seats: Restaurant, 180 seats; bar, 130 seats; 2 ballrooms (Lakes ballroom seats 800; Minnetonka seats 325); 5 divisible meeting rooms and a 20-seat boardroom; three 140-seat private rooms
Average Check: Breakfast, $12.80; lunch, $16; dinner, $24; banquet, $42
Total Annual Sales: Covers: Restaurant, built for 350 covers per day (breakfast, 100; lunch,100; dinner, 150); room service, 60 per day
Hours: FireLake Grill House: Breakfast, 6 a.m. to 11 a.m.; lunch, 11 a.m. to 2 p.m.; dinner, 5 p.m. to 10 p.m. Sunday to Thursday and 5 p.m. to 11 p.m. Friday and Saturday, FireLake Cocktail Bar: Food available all day from 6 a.m. till late night, Room Service: 24 hours
Menu Specialties: Items feature a mix of classic American heartland flavors, using many fresh and locally produced ingredients
Staff: 8 full-time stewards; 1 executive steward; 18 cooks; 3 pastry chefs, 4 sous chefs; 9 full-time servers for banquets (3 captains and 6 full-time); 25 servers; 6 room service staff; and 9 bartenders
Total Hotel Project Cost: $137.5 million
Equipment Investment: $1.3 million
Website: www.firelakerestaurant.com
Twitter: FireLake
Key Players
Vice President, Food and Beverage, Minneapolis: Christer Larsson
General Manager of FireLake Mall of America: Jay Rankin
Executive Chef: Paul Lynch
Banquet Manager: Alan Plante
Architects: Elness Swenson Graham Architects, Minneapolis
Interior Designers: Gaven Images, Glasgow's Merchant City, Scotland, UK; Jim Hamilton, creative director
Consultants, Foodservice Design: Robert Rippe & Associates, Minnetonka, Minn.; Steve Carlson, FCSI, LEED AP, president; Mike Wrase, senior project manager; Trish Jass, senior equipment specialist; and Shelby Wurscher, project coordinator
Equipment Dealer: The Boelter Companies, Milwaukee; Rick Grabinger, contract design specialist
Lighting Designer: Schuler Shook, Minneapolis
General Contractor: Mortenson Construction, Minneapolis office
Structural Engineers: Meyer Borgman Johnson, Minneapolis
Mechanical Design: Metropolitan Mechanical Contractors, Eden Prairie, Minn.
Electrical Design: Parsons Electric, Minneapolis
Meet the Players
Chef-Paul-YoungPaul Lynch, Executive Chef, Radisson Blu Mall of America
A 40-year veteran of the restaurant industry, chef Paul Lynch remains actively involved in farm-to-table and locally sourced culinary practices. His background includes running hotel kitchens for a variety of operations including the Four Seasons, Westin and Radisson properties in Minneapolis and Bloomington, Minn. Lynch assumed the executive chef role for the kitchens at the Radisson Plaza Hotel in Minneapolis in 1999. Lynch is a founding member of Minnesota's Heartland Food Network and is collaborating to establish a Twin Cities chapter of the Chef's Collaborative, a group of chefs and purveyors that promotes products from the heartland and helps make them more available.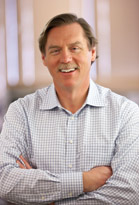 Steve CarlsonSteve Carlson, FCSI, LEED APPresident, Robert Rippe & Associates
Steve Carlson began his career as a draftsman for a stainless steel fabricator in Milwaukee, followed by several years with an equipment supplier in Minneapolis. All along, though, Carlson's goal was to become a foodservice designer, and he achieved that goal upon being hired at Robert Rippe & Associates. He finds satisfaction in seeing a project come together where everyone's voice is heard, from the chefs who make it, to the people who serve it and the customers who enjoy it. Carlson's design approach is best described as practical, affordable and sustainable. He specializes in projects with short timelines, complicated renovations and large-scale projects requiring complex organization and planning.