Filling the space of the former iconic Esquire Theater, this new restaurant occupies 24,000 square feet; features 2 dining areas, 2 bars, a second-floor terrace, a third-floor display kitchen and back-of-house kitchen; and requires staff to work with precision and clarity.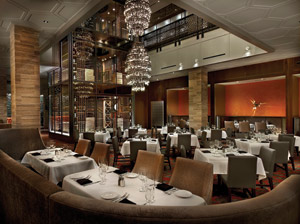 The main dining room displays the architectural concept of the restaurant, which relates to the roots of the original Esquire Theater architecture and 1920's-style art deco design. Photo by Tony SoluriDel Frisco's looked for eight years to find the right place to perch the company's Double Eagle concept in Chicago. The owners found the ideal site at the historic Esquire Theater, built in 1933 in Chicago's Gold Coast neighborhood. After gutting and subsequently renovating the interior and restoring the exterior, Del Frisco's Double Eagle Steak House began operating in
this iconic space in December 2012. Occupying 24,000 square feet over 3 levels,
the restaurant offers seating for 500 guests.
"Del Frisco's wanted a restaurant that allows all of us to be part of the grand tradition of Chicago, a great steak town," says Troy Smith, the restaurant's general manager. "At the same time, the décor tells guests this is not your grandfather's steak house."
When guests approach the prime steak house restaurant, they are greeted by the original vertical Esquire Theater sign, which is lit and preserved. As they enter on the first floor, guests see a restored Esquire Theater marquee, opulent velvet lounge seating and tables made of old film canisters, as well as a wine wall featuring 500 large-format magnum bottles. An escalator and two elevators transport guests to the main floor dining on the second level. A chandelier along the ascending escalator adds an element of glamour as guests enter the main space.
On the second floor, guests find a large bar; private dining rooms called the Oak Room, which seats 6 to 8 people, and Esquire Room for up to 35 people; and a terrace overlooking Oak Street for alfresco dining. The main dining area, with seats for 300, mixes old art deco with modern touches. Hexagons and chevron patterns repeat throughout the space as well as in the carpet, wall coverings, light fixtures, ceiling and in the railings. The color palette features neutral stones on the wall and floor, a classic nod to the time period of the theater. Pops of bold orange — the signature Del Frisco's color — infuse the space. A mica wall covering behind the bar brings out the elegance of the art deco period.
On the third floor, a display kitchen — a first for Del Frisco's — provides a theatrical environment for chefs to demonstrate their talents to guests sitting in the dining areas. Another bar sits on this level with a fire pit, high-top seating, lounge seating and six televisions. Scalloped detailing on the walls mimics the outside architecture of the Esquire. Dining areas on this floor include the Mezzanine and Double Eagle Room, which can be combined to accommodate 150 people. Private dining rooms are well suited for business and family celebrations thanks to state-of-the-art audiovisuals.
A key focal point in the restaurant's space is a 2-story, 40-foot wine tower containing 5,000 of the 11,000 bottles kept on site. What makes the wine tower so eye-catching is the fact that it is suspended from the third-floor ceiling down to the second floor. A painting of a large horse hangs across from the wine tower, giving a nod to the company's Texas heritage. The space also features an atrium between the second and third floors, allowing diners to view the open layout and action in the restaurant. A skylight in the ceiling provides natural light throughout the entire restaurant as well as a view of the surrounding Chicago skyline.
"The architectural concept of the restaurant relates to the roots of the original Esquire Theater architecture and 1920's-style art deco design," says Megan Walsh, project architectural designer with Aria Group. "We modernized and simplified details and patterns such as the hexagons and chevron detailing and then incorporated nods to the heritage of Del Frisco's, which is headquartered in Texas. Custom art incorporates original design along with chic colors and textures to modernize the space. This Double Eagle Steak House captures the vibe of the historic Gold Coast neighborhood with an inviting aura of both industrial and warm components, creating an ambiance that is stylish yet relaxed."
Food deliveries, made in the middle of the night or in the early morning hours because of the restaurant's city location, come to the back entrance or front door. Staff transport them in two elevators to the third floor, the site of the kitchen, and scrutinize them for timeliness and freshness. They then place ingredients in coolers designated for dairy, produce and meat, or in a small walk-in freezer or dry storage. "Porters and receivers label products and rotate them on shelves," Smith says. "In addition to organization needed because we have more than 70 employees in the back of the house, they are responsible for cleanliness."
Prep and Production
In the cold production area, staff make sauces, dressings and stocks daily. "We don't have enough storage space to keep products more than 24 hours," Smith says. Staff also prepare ingredients for the menu using a salad dryer, a food processor, a food mixer and worktables.
"The flow is designed so prep staff won't run into cooking staff and receiving won't run into prep people," says the project's foodservice consultant Raymond Buteau, Commercial Foodservice Design and Consulting. "Thomas Dritsas, Del Frisco's corporate executive chef, wanted to be certain that staff don't have to run from one side of the kitchen to the other." Accommodating 300 to 1,000 guests each night requires keen forethought and anticipation.
Additional menu prep takes place in self-contained stations that are at least partially visible to guests. When conceiving the display kitchen, designers balanced functionality with practicality. "We wanted to allow guests to watch staff working, but not see the messier prep and clean-up work," says Buteau. "The solution was to turn the equipment sideways. The staff at each station works side-by-side and the food all flows to a pick-up area."
Each station contains ample refrigeration so staff can access ingredients easily. Undercounter refrigerators hold ingredients as well as refrigerated rails, which contain one-third-size pans like pizza prep tables instead of one-sixth-size pans found on typical sandwich stations.
Display Kitchen
The display kitchen's layout consists of four squares, with each being a self-contained island. Staff place orders into handheld computers that generate tickets at each station. "Each chef at each broiler station handles the ticket and the steaks, which gives them a sense of empowerment over each guest table," says Anthony Reyes, chef de cuisine.
Empowering staff throughout the restaurant is integral to the Del Frisco's leadership model. "In this culture, developing team members is essential," Reyes says. "Everyone, including the prep cooks, believes they don't have to remain in a particular job forever. We perfect our responsibilities, and there's room to grow in the company as Del Frisco's expands, adding large restaurants and grills."
Hot food production is divided among the stations. At the hot apps station, staff use fryers and 36-inch, 6-burner ranges to prepare Philly cheesesteak eggrolls, lobster macaroni and cheese and maque choux corn, which is shucked fresh every night and cooked al dente with tasso ham. At the nearby salad station, which contains a refrigerated rail, staff prepare the signature Del's dinner salad with avocado goddess dressing and thick-cut smoked bacon; blue cheese wedge salad; beefsteak tomato and onion salad; and traditional Caesar salads. Two soup wells fit in this area also. "Chefs work at this station as well, to ensure that fresh quality is maintained," Smith says.
Chef managers move through the kitchen to support staff and oversee production to make sure standards are maintained.
At the fish station, staff use 36-inch ranges to cook the various fish, such as salmon, scallops and tuna. Fish is either pan roasted or pan seared and occasionally finished in a convection oven. Staff bake award-winning jumbo lump crab cakes in the convection ovens.
At the broiler stations, refrigerated drawers contain hand-cut, USDA prime steaks, providing the cooks easy access. Cooks generously season and quickly sear steaks in the broilers, which cook meat at 1,600 degrees F. "We get a nice char crust that way, and the center of the steak stays warm and red," Reyes says.
"We produce hundreds of steaks each night," says Reyes. "On any given night when we have anywhere from 300 to 800 or more guests within a 4- to 6-hour span, we need durable equipment to handle production very quickly," Reyes says. This is especially true of the broilers that cook the restaurant's specialty, USDA prime steaks.
Like its sister properties, this Chicago Del Frisco's Double Eagle Steak House contains heavy-duty broilers. However, because of this facility's space constraints, the broilers must fit into a narrower area — 36 inches rather than 42 inches. "We use USDA prime meat that is provided exclusively by stockyards in Chicago," Reyes says. All of our steaks are wet-aged an average of 28 days to make the steak more tender and flavorful, seasoned simply with salt and pepper and broiled so juices flow from the top of the steak, allowing it to self-baste. The seared crust on the meat seals in the juices." Broilers also cook featured dry-aged steaks, he says. And cooks use overhead broilers to brown au gratin and heat items such as Alaska king crab gnocchi when the kitchen is in peak production.
For the bar menu, featuring Chicago- themed favorites such as a miniature deep-dish pizza, Chicago-style Kobe beef hot dogs, prime Italian beef sliders and truffled potato pierogies, staff use various stations within the kitchen to allow for proper execution and pick-up.
Exhaust hoods sit back-to-back to fit into the allotted space. A utility chase sits inside the hoods and allows connection of the gas, water and electrical lines so they don't have to run through the floor. "This is more practical because it allows for protection of the lines, easy cleaning and movement, prevents lines from getting tangled and provides longevity and safety of the equipment," Reyes says. "Also, this is visually attractive for public viewing."
Reyes adds, "Another benefit to the layout is the cooks can communicate with one another during production."
At the dessert station, staff use a large mixer, reach-in refrigerators and eight convection ovens to cook bread and a dessert assortment that includes the signature lemon Doberge cake, a towering six-layer confection made from scratch daily and frosted with three different icings. Staff also use a small mixer to make whipped creams and frostings.
The expediter stands across from the broilers, checking food temperatures before food runners deliver orders to guests. No heat lamps are used. "We make the food and deliver it so quickly that it isn't held," Reyes says. "We have an army of food runners who take it to the tables and often downstairs. There's no question you have to be in good physical condition to work in this restaurant." Reyes estimates that he covers several miles as he moves from the entrance to the bars, kitchen and dining rooms to oversee production and service.
To clean up, staff bus tables on the second and third floors, delivering dirty dishes to stations. Staff later take used dishes through the two stairwells to a long receiving table on the third floor. "We also have a dumbwaiter between the second and third floors," Reyes says.
Dishwashing staff pick up dishes from the third floor's long, dirty dish table and transport them systematically to the dishwasher. Staff place clean dishes on racks so they are ready for use when meals are plated and tables set. "It's like a big circle, coming in one side and out the other," Buteau says.
Staff place trash in a locked, refrigerated room on the third floor. "The refrigerated room contains exhaust fans and eliminates odors from wafting into the kitchen and dining room," says Reyes. Staff take garbage downstairs to the ground level for pick-up.
Smith, Reyes and the other Del Frisco's staff members feel strongly that they bring a restaurant culture to Chicago, unlike anything the city has seen before. "It's all the details that add up," Smith says. "For instance, every steak is touched by a chef, and employees are empowered so they have great pride in what they are doing." Smith says he believes the restaurant "far exceeds" guests' expectations for "impeccable service." With a historic setting, modernized art deco décor, fresh food prepared on durable equipment, and energetic, sincere customer service, Del Frisco's Double Eagle Steak House is on its way to making a place for itself in Chicago's highly respected restaurant tradition.
A Devoted Project Team
Anthony Reyes, chef de cuisine
Anthony attended the University of Arizona and then discovered his culinary calling and focused his attention on the Arizona & Scottsdale Culinary Institute to gain a grasp of the fundamentals of cooking that would become the foundation for his future career path. His first culinary job was at Le Meridian hotel in Chicago; during his breaks he'd sneak to the saucier to learn more about culinary arts. Anthony honed his culinary skills under such notable chefs as Emeril Lagasse and Bernard Carmouche. While practicing his trade he was exposed to the valuable techniques, ethics and education of diversified personalities. Anthony served in a dual role as the executive chef for former star quarterback Dan Marino and the Miami Dolphins.
Anthony looked to return to Chicago and make his mark on the culinary scene that was underway. He joined the Rosebud Restaurant Group where he served as the assistant corporate executive chef for eight years. As his career progressed, he positioned himself as the restaurant and culinary consultant for the All Culinary Consulting Group. Anthony served as the executive chef and partner at The Capital Grille in Lombard, Ill., until joining forces with Del Frisco's and assuming his role as the chef de cuisine. "I grew up four blocks from Wrigley Field and remember seeing 'Star Wars' in the Esquire Theater 30 years ago," he says. "So, coming back here brought many smiles."
Troy Smith, general manager
Born and raised in New Orleans, Smith grew up surrounded by a food and beverage culture. His grandfather made wine, cheese and sausages in Louisiana. While in college at the University of Georgia in Athens in the mid-1990s, Smith waited tables at restaurants while earning a business degree with a finance orientation. After a short stint in the finance world, he ventured into the restaurant business, working for a small chain in Georgia. In 2003, he moved to Chicago and became the assistant manager at Sullivan's Steakhouse, owned by Del Frisco's Restaurant Group Inc. He later oversaw all operations of the Sullivan's restaurants in Naperville and Lincolnshire, two Chicago suburbs. He has been the general manager at Chicago's Del Frisco's Double Eagle Steak House since its opening.
Key Players
Owner: Del Frisco's Restaurant Group Inc. (DFRG); publically traded on NASDAQ
CEO, DFRG: Mark Mednansky
CFO, DFRG: Thomas Pennison
COO, DFRG: Jeff Carcara
Director of Development/ VP: Bill Martens
Director of Construction: Don Luxton
DFRG's Corporate Executive Chef and Vice President: Thomas Dritsas
General Manager: Troy Smith
Executive Chef: Jim A. Teutemacher
Chef de Cuisine: Anthony Reyes
Director of Wine, DFRG: David O'Day
Architects and Interior Designers: Aria Group Architects, Chicago; Walter Pancewicz, partner in charge of the project; Christine Garvey, senior architectural designer; Megan Walsh, project architectural designer; Amy Krol, interior designer; David Nash, project manager
Consultants: DFRG's corporate executive chef and vice president, Thomas Dritsas; Commercial Foodservice Design and Consulting, Greer, S. C., Raymond Buteau, principal
Equipment Dealer: TriMark Foodcraft, Winston Salem, N. C.; Steve Eller, rep
Construction: Shawmut Design and Construction, Boston; David Lyskowski, project manager
Facts of Note
Ownership: Del Frisco's Restaurant Group Inc.
Opened: December 2012
Headquarters: Southlake, Texas, a suburb of Dallas
Units: 35 restaurants including 10 Double Eagle Steak Houses, 6 Del Frisco's Grilles with the seventh opening in late spring/summer 2013) and 19 Sullivan's Steakhouses
Size: 24,000 sq. feet
Seats: 500 in two dining rooms. Private dining includes the Oak Room on the second floor for 6 to 8 people; Esquire Room on the second floor for 35 people; Double Eagle Room on the third floor for up to 60 people (can be split in 2); and Mezzanine on the third floor for up to 90 people. The Mezzanine and Double Eagle Room seat 150 combined.
Average Check: $80 to $100 (including a glass of wine)
Total Annual Sales: N/A
Hours: Monday to Friday, 11 a.m. to 11 p.m.; Saturday, 5 p.m. to 11 p.m.; Sunday, 5 p.m. to 10 p.m.; Saturday and Sunday brunch, 11 a.m. to 2:30 p.m.
Menu and Bar Specialties: Entrées, including 24-oz. prime porterhouse steaks, 32-oz. Wagyu "longbone," rib eye, 16-oz. bone-in filet mignon and sesame-seared tuna; sides including lobster macaroni and cheese, spinach supreme, king crab gnocchi and potatoes au gratin; hearty salads; starters including cheesesteak eggrolls, crab cakes, jumbo shrimp cocktail with trio of sauces and prime beef carpaccio; bar menu including mini deep-dish pizza, Chicago-style hot dogs, Italian beef and pierogies; and desserts such as lemon Doberge cake and warm banana bread pudding. The bar offers signature cocktails, a mix of local beers and an award-winning wine selection (11,000 bottles in house in the 2-story, 40-foot, glass wine tower and various other spaces throughout the restaurant).
Staff: 300-plus
Total Restaurant Cost: N/A
Equipment Investment: N/A