A redesign of the Juice It Up! chain is paying off in a post-pandemic world.
A lot has changed in the restaurant industry since the pre-COVID days.
Not only is labor tighter than ever, but how guests interact with restaurants has shifted thanks to mobile ordering and third-party delivery. In response, many concepts have changed how they do business. Dining areas have been downsized and redesigned to make food pickup easier and less disruptive to dine-in guests, while entire kitchens have been reworked to accommodate different order streams. So, a prototype that was developed pre-pandemic and rolled out while much of the country was still in semi-lockdown might now require major revisions, just two years later.
Fortunately, Juice It Up! hasn't found itself in that situation. In fact, the concept's new design, which rolled out in August 2020, features many of the elements that define post-pandemic restaurants. The success of this design is now helping Juice It Up! move into a major growth phase.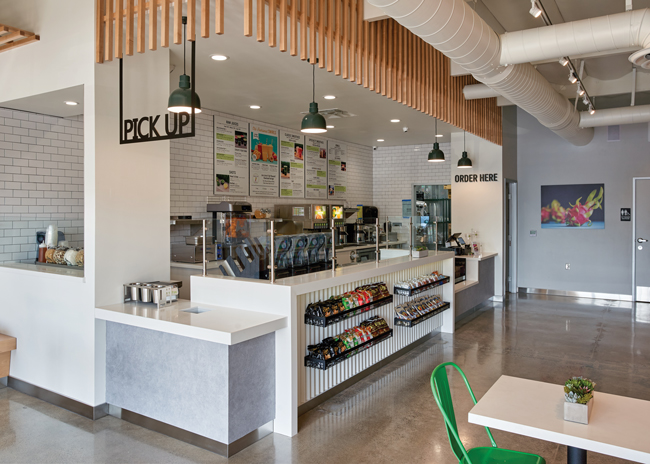 Evolving Company, Evolving Space
Founded in 1995, Juice It Up! is headquartered in Newport Beach, Calif. With about 85 locations in California, New Mexico, Oregon and Texas, the company bills its restaurants as "ambassadors of healthy living." The chain's menu features raw and cold-pressed juices; various smoothies, from classic berry blends to recipes centered on protein, greens and superfruit; and smoothie and acai bowls.
Juice It Up! began developing a new prototype in 2019, shortly after now-president and CEO Susan Taylor joined the company as vice president of franchise operations. Updating the chain's design was one of her first undertakings. The chain's appearance includes some timeless elements, such as its signature colors of green and purple. Other elements, though, needed a fresher appearance.
At the same time, the juice and smoothie segment, Taylor says, had evolved since the concept's founding. Juice It Up! introduced smoothies and acai bowls a decade ago; operationally, the production area needed adjustments to make the creation of bowls, and all menu items, more efficient.
Construction on the prototype location began in Costa Mesa, Calif., in 2020. After dealing with some pandemic-related delays, this store opened its doors in August of that year. This company-owned space also serves as the chain's test kitchen and a training and testing center where staff can explore new elements of the operation, the company says.
Though most orders are to-go, the chain does offer seating in its locations. The flatscreen highlights the quality of the ingredients through videos that show how staff make different menu items.
Clean and Relaxed
According to Taylor, the design-y elements of the redesign strive to create a relaxing atmosphere for people enjoying their smoothies or even just picking up their orders. This isn't the relaxation of an overstuffed armchair, though. It's the relaxation of a clutter-free space, one not filled with distractions or attention-grabbers.
"We really wanted to have something that reflected what you should feel when you come in, " Taylor says. "It's clean. It's bright. It's well organized."
Indeed, the new store features crisp lines, as seen in a vertical slat wall installation made of maple as well maple bench seating. Quartz tabletops and subway tile behind the production area add to the streamlined, well-ordered feel.
Notably, the seating area isn't a must in this new design, says Carlo Verdugo, vice president of operations and business development. While the prototype measures 1,150 square feet, the chain has franchisees looking at spaces as small as 900 square feet. In those cases, the restaurant's production area would remain untouched, but the seating area would shrink or even disappear.
"What is the customer base in this market? Is it a demographic where a lot of folks won't want to hang out in the store? You can have our traditional format, or you can also go smaller where people can pick up their order and leave and there's not a lot of seating space," Verdugo says.
To support to-go and delivery orders, the restaurant design includes a new pickup station. This counter connects to the production area, which sits just steps from the entryway, making it easy for guests and delivery drivers to grab what they need with minimal disruption to other customers, whether seated or in the queue. Driving home the convenience of pickup is wall decor with messages like, "Make it easy. Order ahead."
Other elements focus on the brand's promise. The prototype features an Instagrammable wall covering with the company's stamp and tagline, "Live Life Juiced." There's the video monitor in the same area, too. The screen showcases a recording of the culinary team producing different Juice It Up! menu items. This, says Taylor, connects to the company's commitment to transparency. "If you are standing there waiting for your order to be made, you can see what products are in every other drink and [messages communicating] a few of the benefits of those products."
All in View
Juice It Up!'s commitment to transparency remains present in other design elements, too. The design of the chain's front-of-the-house kitchen showcases the food production process.
The once-curved counters have been straightened, creating cleaner sight lines for guests. What's more, the counters themselves are lower than what's found in a typical fast-casual restaurant. "You can see and make eye contact [with team members]. You can have conversations. We're able to connect with the customers and also connect the customer with the products we're making right in front of them," says Verdugo.
The counter design wasn't the only change to the production area. The kitchen was reworked to create dedicated areas for Juice it Up!'s three primary menu categories: juices, smoothies and acai/smoothie bowls.
Previously, Verdugo says, these three would all "somewhat" share a space. If culinary staff were making any two of these food items at the same time, team members "would sort of bump into each other or one would have to wait for the other. Now you can have three separate products ordered and you're able to have deployment so that each is being made, people aren't bumping into each other, and everyone has their assigned station."
The first of these stations is the juice station. This space can actually serve as the starting point for juice, smoothies and bowls, depending on the customer's exact order.
This station sits along the back wall's right corner. It starts with a handwashing sink (used by employees at all stations). When an order comes in, either from the internet or in-person, a sticky ticket prints here. Staffers place the ticket on the blender jar and start their juice. They pull fresh produce ingredients from undercounter refrigerators, juice them in heavy-duty countertop juicers and pass them down the back line. From there they can sprinkle in add-ins such as whey protein (held in a countertop dispensing unit) and soy milk (kept in an undercounter refrigerator) to the blender.
At this point, the blender jar moves to the smoothie station 180 degrees away, with the staffer working this station facing the customer area. Depending on volume, a single staffer can handle the order from start to finish, or it can be handed off to a new team member.
A dipping cabinet on the customer-facing line holds individual quick-frozen fruits and smoothie bases like yogurt and sherbet.
The smoothie station starts with a dipping cabinet like those found in ice cream shops. The cabinet stores the hard-packed dairy items that make a smoothie a smoothie — like frozen non-fat yogurt, sorbets and sherbets. It also holds "individually quick-frozen fruit," that doesn't clump, says Verdugo, such as blueberries, raspberries, sliced bananas and sliced strawberries.
Once staffers add items from the dipping cabinet to the blender jar, it can go to one of two spots. The first is a bank of four smoothie blenders. Once mixed, the smoothie or juice is poured into a cup and placed at the adjacent pickup counter. The second destination is the bowl station. Along with the pickup area, this station essentially forms the production area's endcap.
This space has a small cold table with fresh produce, including strawberries, spinach, kale and cucumber. There's also a set of glass jars displaying bowl toppings, such as hemp granola, coconut flakes and almond slivers.
The final piece here is a dedicated bowl blender. Separating this piece from the smoothie blenders was important for the kitchen's efficient operation, says Verdugo. "There's no confusion about where the smoothies are being blended versus where the bowls are being blended. It's very easy for a team member during production to continue production of the bowl in that area or to continue and finish the smoothie in the smoothie area and then just pass it off."
In addition to the production of juices, smoothies and bowls, the front-of-house kitchen has a couple of pieces of equipment that essentially stand alone. These include a small toaster for snacks like soft pretzels, as well as a large juicer for making fresh-squeezed orange juice. Both sit at the far-left end of the back counter.
As one would expect from a brand with a produce-centric menu and no hot side equipment other than a toaster, Juice it Up!'s back of the house is very straightforward. The chain has a walk-in refrigerator and walk-in freezer, along with dry storage.
Most of its fruits are shipped frozen and pre-prepped, while fresh produce is received whole. To prep these ingredients, Juice It Up! has a produce sink, worktables and various smallwares.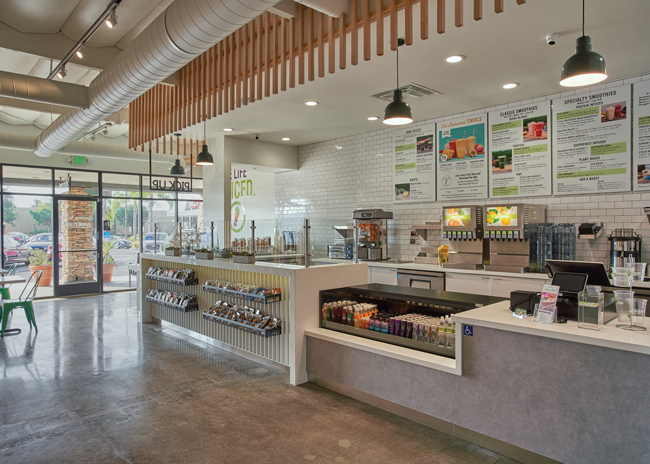 The redesign includes the incorporation of a grab-and-go cooler into the POS station. Previously, a nearby upright refrigerator held cold pressed juices, which could discourage some customers from making a purchase.
Refreshing Early
Since the launch of the new prototype, Juice It Up! has been thriving. Average unit sales volume is up more than 50% since 2019, Taylor says. The company reports total system sales grew nearly 30% from in 2021 vs. 2020, and another 7% in the first half of 2022.
Store counts continue to climb, too. After opening just a single new store in 2021, Juice It Up! was on track to open 10 locations in 2022 and even more in 2023. Many factors contribute to this success. The chain added talent to its corporate office to support operations and franchisees. It also rolled out new menu items and limited-time offerings that draw customers and drive sales.
Of course, after just two years, only a limited number of restaurants have this design. Still, the new design plays a role in Juice It Up!'s success. Stores with this new appearance are thriving. In fact, some franchise partners who are years away from their contractually obligated refresh have implemented the new design early. "They see the benefits. There's not only that fresh look and feel, but the reorganized kitchen and line that is so much more efficient," Verdugo says.
The success of these franchisees will be especially important over the next several years, given Juice It Up!'s growth plans: The chain plans to more than double its store count in the next 5 years, with a goal of 200 total locations in operation.
Expansion will focus on the chain's existing states, with a particular emphasis on undeveloped or underdeveloped markets in California. It will also move into Arizona and Nevada.
The bowl station was separated from the smoothie station in Juice It Up!'s new prototype. The toppings on display in glass jars help guests feel like they've ordered something special.
At a Glance
President and CEO: Susan Taylor
Vice president of operations and business development: Carlo Verdugo
Chain headquarters: Newport Beach, Calif.
Year founded: 1995
Signature menu items: Acai Berry Bowl; Strawberry Wave Smoothie; "The Zone" smoothie (banana, peanut butter, nonfat yogurt, protein powder, peanuts); "The Detoxifier" raw juice (cucumber, red grape, pineapple, spinach, lemon, ginger); "The Greens" smoothie (spinach, kale, pineapple, banana, apple)
Number of units: 85
Unit size: 900 to 1,200 square feet
Seats per unit: 0 to 10
Location type: Inline and endcap
Interior design and kitchen design consultant: Retail Amp Design, Chula Vista, Calif.
Equipment dealer: Action Sales
Total system sales: $41,061,352 in 2021
Average sales: $575,576 for all traditional units in 2021; $877,933 for the top 20% of units in 2021
Unit growth projections: 200 total units in the next 5 years
Check average: $12.00
Equipment package cost: $85,000-$125,000