This Dallas-based concept has improved its menu to match its cocktail program. Now, it's refined its kitchen and front of the house as well.
Bar Louie, as the name suggests, is a bar. But not the local watering hole type of bar. Think a little more upscale. Sure, there's beer on tap, but there's also an impressive cocktail selection that's on or ahead of any trend, with drinks like a blood orange mule or concoctions that offer a twist on classics like the cosmo and the martini.
So, Bar Louie is definitely a bar. It's a local bar, in fact. Each location is meant to be part of the community in which it operates, supporting the area and serving as a gathering place.
But Bar Louie doesn't want to be just a bar. It also wants to be a place where people come for good food. And in that area, maybe the chain hasn't been quite up to snuff. Sure, the food was good, but it didn't meet the standards set by the drink menu, says Steve Madonna, the chain's senior vice president of culinary, food and beverage.
A longtime industry veteran, one of Madonna's first tasks when he joined the brand four years ago "was to realign the food program to match the bar program. I don't say this in a bad way, but it just kind of stalled a little bit. There hadn't been major advancements on the food side, while the bar side kept moving, kept advancing. The goal was to bring them better in line," he says. "It didn't seem right to have a fairly aggressive cocktail program with food that wasn't quite there."
Over the past few years, then, the chain has upped its food game while keeping its bar status in mind. Bar Louie's revised menu, then, features items that are familiar to bar patrons but offer a twist to those who want one.
For example, there's a standard cheeseburger, but also a burger with bourbon jam and creamy herb cheese. Entrees include bar staples like fish and chips next to more creative offerings like the Deep South Mac & Cheese featuring fried chicken, candied bacon and pimento cheese. Again, elevated, but totally in line with the bar setting.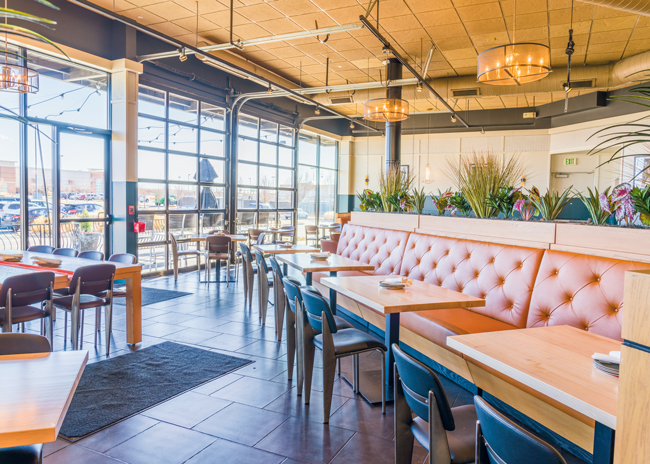 Images courtesy of Bar Louie
Seeking Efficiency
The menu upgrades of the past few years eventually led Bar Louie to rethink and redesign its kitchen. With an enhanced food program, the chain set out to gain efficiencies in its operations in the back of the house.
This wasn't a full redesign, though. To contain costs and keep these projects manageable, the chain started with its existing footprint and built from there. "We didn't rip the kitchen apart and rebuild it. That's not sustainable to go through at 70 locations. What we did do was say OK, we have some pieces of equipment that just aren't cutting it. We have to put some love into some better pieces of equipment that have better throughput or better recovery."
Bar Louie was willing to undertake some limited infrastructure changes, though. While the hood stayed the same length, the chain did extend its gas line to accommodate design changes. It also put in a new fire protection system.
Bar Louie employs a galley-style kitchen, with the hot line against the back wall and the cold line facing the expo window/dining room. This new kitchen didn't drastically change Bar Louie's labor costs. During lunch hours, two staffers can work the line while one handles prep in the back. Peak periods utilize one line cook per station.
The hot line starts with one of the bigger equipment changes. The chain switched from an electric impinger oven to a gas unit, which the culinary staff use primarily to make flatbreads. According to Madonna, the new unit not only puts out a better product, but it also has a faster recovery time and a shorter cook time. As a result, it puts out flatbreads 30 to 45 seconds quicker than before. "I know 45 seconds doesn't sound like a lot, but it's a lot when you're doing it 200 times a day," he says.
Culinary staff put together the flatbreads on the cold line, 180 degrees away, using a refrigerated table. Staff also assemble salads on this same table. Notably, the cold line tables rely on refrigerated drawers instead of doors for holding backup ingredients. Drawers are simply easier for staff to work with than standard door units, Madonna believes.
Past the impinger oven on the hot line is another upgraded piece, a flattop measuring between 48 and 60 inches wide, depending on the restaurant. Here, line cooks make burgers, chicken sandwiches, quesadillas and more. The piece sits on a refrigerated base where raw proteins are safely held before cooking.
This flattop is a larger piece than what was used before and is also higher quality, with faster recovery times and more even temperatures on the cooking surface. "You don't have to search for where your hot spot is. There's super-even heating and it's zoned out very well. I can put a burger on one spot, get a nice sear, flip it and get a sear on the same spot," Madonna says.
Opposite the flattop on the cold line is another refrigerated worktable. Next to this cold table is a new bun toaster, which is a small but impactful addition, Madonna says. Previously, buns were toasted on the flattop, forcing kitchen staff to turn back and forth several times to complete a sandwich. Steps and turns are now reduced, while other efficiencies have been realized. As an added bonus, with buns no longer taking up real estate on the flattop, more room is left for burgers and the like, states Madonna.
After the flattop, the next station on the hotline is saute. This is a legacy piece with six burners on top and a conventional oven below. The oven is used to parcook chicken wings, while the burners are primarily dedicated to pasta dishes, such as macaroni and cheese offerings and Bar Louie's signature Voodoo pasta, a New Orleans-inspired dish featuring jumbo shrimp and andouille sausage. This unit is paired with more cold worktables on the other side of the kitchen galley.
The saute station, Madonna says, is typically underutilized compared with others on the hot line. Instead of downsizing or pushing to develop saute dishes that work in a bar setting, the chain leverages this unused capacity with a virtual brand, Macs & Stacks. This concept features macaroni and cheese dishes and grilled cheese offerings, some of which are on the Bar Louie menu and some of which are exclusive to that brand. Business at that station now is "not intense, but it gets hit from in-house orders and also our virtual brand," says Madonna.
After the saute station comes the fryers. This is a high-volume section, so the chain's virtual brand intentionally did not focus on fried food, Madonna notes. This section got an upgrade in the form of higher-end units with faster recovery times.
There are a total of three fryers, each with dedicated food types to avoid flavor mixing: one for fries and tater tots; one for chicken, including wings; and one for seafood, including fried calamari and fried fish.
Past the fryers sits a breading/battering table for wings, calamari and the like. In new builds, this table pairs with undercounter refrigeration, which safely holds fryer-bound food. Opposite the fryer sits a cold table, where staff sauce wings. The table also holds items like tartar sauce and marinara sauce.
Lighter and Brighter
Bar Louie's kitchen isn't the only space to receive a makeover in recent years. Leadership has also taken steps to "freshen up" the restaurant's look. This includes small but important customer touchpoints like tableware, as well as a new color scheme and design elements for the restaurant overall.
A couple of key components drive Bar Louie's new design. First, Bar Louie is a bar. As a cornerstone of the concept, keeping that fact top of mind helped direct the design, yielding a relaxed, fun and approachable space.
Second, Bar Louie aspires to be a place where everyone feels comfortable, says Madonna. "Bachelorette party, date night, family dinner, game watch party. They could all happen at the same time, and you wouldn't look at anyone and think, 'What are they doing here? That seems weird.' I think that's unique to our space."
To that end, the chain lightened up the look of the restaurant. While both old and new designs feature dark wood furnishings, elements of yellow and orange have been added in spots like booth upholstery. The new design also features color photography and a hand-painted mural by an artist local to each restaurant's location.
Not all the changes were surface level, though. The chains' new design also features private dining areas and indoor fireplaces, offering even more options for types of parties.
Growing as a Bar
With a new kitchen and new design in place, Bar Louie seeks to attract new franchise partners. Geography will direct some of this growth. The chain sees value in large patio spaces. Bar Louie, then, looks for markets where those are usable much of the year.
The type of market, though, can vary. The concept does well from suburbs to downtowns, from tourist destinations to event spaces, according to Bar Louie CEO Tom Fricke. Operators with experience in the hospitality sector will play a key role in the chain's success. While that's not a requirement for simpler concepts, Bar Louie benefits from that level of knowledge, he says. "As a full-service bar and restaurant concept, Bar Louie looks for franchise prospects who have a keen understanding of the restaurant business and are able to attract, employ and retain talent to help establish long-term relationships with their community," Fricke says.
Beyond the hospitality industry experience, the chain wants to partner with franchisees who can make their location a staple of the community. The concept, after all, aims to be a local bar. This approach has allowed it to grow to 70-plus locations and is a big part of helping it continue its success.
"At the heart of things, we're a bar," says Madonna. "We don't want to be anything other than that. We want to try to stay rooted in some comfort and in familiar, but we like to put our spin on it."
A large wooden divider helps separate spaces in Bar Louie, helping the chain accommodate many different types of parties by offering different spaces.
At a Glance
CEO: Tom Fricke
Chief operating officer: Damian Mazza
Senior vice president of culinary, food and beverage: Steve Madonna
Senior vice president of human resources: Megan Gibbons
Director of marketing: Kayla Dillon
Vice president of franchise operations: Pam Leal
Kitchen design consultant: Edward Don & Company
Equipment dealer: Edward Don & Company
Chain headquarters: Dallas
Year founded: 1990
Signature menu items: Diva Martini (SKYY Pineapple Vodka, Pama Liqueur, pomegranate, pineapple garnish); Loaded Tots (queso, fresh jalapenos, applewood smoked bacon, scallions); Hot Honey Chicken (crispy buttermilk-marinated chicken breast, hot seasoning, signature jalapeno honey, pickles, toasted brioche bun); Louie's Choice Burger (white cheddar, lettuce, tomato, onion and Louie sauce); Buffalo Chicken Mac & Cheese (creamy four cheese and Buffalo sauce, cheddar, mozzarella, provolone, fried chicken, blue cheese crumbles, Parmesan, spiced Rice Krispies, scallions)
Number of units: 70
Seats per unit: Approximately 300 when patio is included
Location types: Lifestyle centers, event venues, beaches, hotels, airports
Average sales: $3 million average unit volume
Unit growth projections: Bar Louie plans to open 3 additional units by the end of 2022, bringing its unit count to 73
Check average: $40 per person