This biscuit chain saw its store count drop by more than a third, but a rebrand and focus on its core menu items has it back in growth mode.
The chain's food lockers and order kiosk allow employees to focus on kitchen throughput and food quality.In 2012, Tom Ferguson took the money from the sale of his food truck to start a doughnut and biscuit restaurant in Durham, N.C.
"I grew up eating biscuits and gravy," says Ferguson, a former airborne Ranger in the U.S. Army and a graduate of the Culinary Institute of America. "Gravy is the first thing my mom taught me to cook, and biscuits are the first thing I made professionally that I thought I did well. I wanted to elevate the product and make
something that was really great."
His restaurant, Rise Biscuits and Donuts, was great enough to amass a strong following in a place where people take their biscuits very seriously. The concept was successful enough that its second restaurant, opened in 2015, was franchised. Another couple dozen, mostly franchised locations, opened over the next few years.
The story doesn't end there, of course. Despite its quick ascent, the chain hit a rough patch. Of the 26 locations that have opened, 10 have closed their doors. So, Ferguson and his team spent a year-plus evaluating the chain's issues, improving its operations and honing its equipment package to make for more successful stores. The result, he says, is a restaurant that costs about 40% less to open than prior locations and offers franchisees significantly reduced labor costs.
De-Emphasizing Doughnuts
One of the chain's biggest changes connects to its rebranding from Rise Biscuits and Donuts to its new identity: Rise Southern Biscuits and Righteous Chicken. The removal of "Donut" from the chain's name reflects the concept's more biscuit-centric focus.
"If we wanted to be a great doughnut shop, we would have kicked ass," Ferguson says. "But we were trying to do two things. Now there's efficiency with the biscuits and all the products that go on it."
The restaurant features buttermilk, cheddar and blueberry biscuits, all made in-house. Stores offer plain biscuits, biscuits and gravy, and biscuit sandwiches.
For sandwiches, the menu includes a build-your-own option, along with chef-created offerings such as the traditional fried chicken biscuit, the vegetarian-friendly Southern fried green tomato with pimento cheese, and the trendy avocado toast-inspired offering with guacamole, tomato, fried egg and boom boom sauce.
Although de-emphasized, doughnuts remain on Rise's menu. Instead of making them fresh in-house every day, though, Rise now serves a frozen product. A number of factors led to this change.
One was simply that the doughnut trend peaked, says Ferguson. While people still love a good doughnut, once inventive toppings like maple bacon, crushed Oreos or sugary cereals aren't the draw they were a few years ago.
Then there's the labor piece. Rise was making its doughnuts fresh from scratch each morning, meaning the doughnut crew would need to arrive as early as 2 a.m. Hiring is always a challenge, but hiring for such an early start time proved to be nearly insurmountable. By moving to a frozen product, Rise no longer has to deal with that particular labor challenge.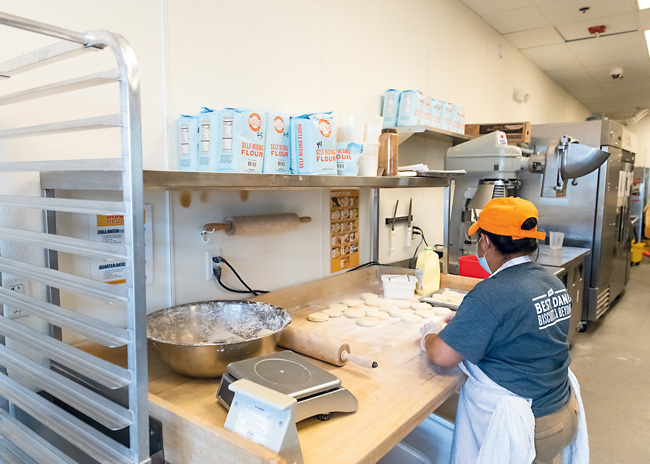 Staff use a butcher-block work surface in the prep area to portion biscuit dough into pucks headed for the oven. Biscuits are held on sheet pans stored on a rolling rack.
Doughnut-Free Design
The labor impact of dropping house-made doughnuts extends beyond start times. The change allowed Rise to rework its entire kitchen operation, resulting in a significant reduction in labor and labor costs, Ferguson says.
On a busy weekend morning before the redesign, says Ferguson, "we had 13 people working there. A lot of those positions were just for one role: doughnut maker, doughnut decorator, biscuit maker, line cook, biscuit expeditor, doughnut expeditor. Now we only have three positions. There's biscuit maker, line cook and expeditor. Those positions do all the jobs."
By eliminating some roles and combining others, a busy weekend shift at Rise now requires just seven employees. The chain's labor cost has gone from 30% of sales before the change to about 20% today, Ferguson says.
In addition to these ongoing savings, the shift means the chain no longer requires doughnut-making equipment or the space to house it. These changes have contributed to driving the cost of opening a Rise down to approximately $300,000 from $500,000.
The chain's kitchen now has two lines: a hot line for cooking and an assembly line where culinary staff put together orders.
The hot line starts with the fry station, which consists of two fryers used to make fried chicken, fried green tomatoes and sides like tater tots, french fries and fried okra. The chicken-breading equipment sits to the right of the fryers. To the left, staffers can retrieve cold ingredients like raw chicken breasts from undercounter refrigerated drawers. On top of those refrigerated drawers sits the chain's flatttop grill. Here employees cook items like eggs, sausage, bacon and country ham.
In the previous design, these duties were split between the flattop and a six-burner range, which was also used for grits and gravy. That range has been removed from the design. The flattop now handles all grill items, while grits and gravy are made on an induction burner in the prep area.
Past the flattop sits a convection oven on top of a warming unit. This station is used to bake biscuits and heat doughnuts. Just to the left of the oven sits a doughnut-glazing station.
Rise's assembly line is straightforward. At the center of the line is a holding station for fried chicken breasts and other fried items. On one side sits a steam table holding grits, gravy, bacon and eggs. Below the table is a biscuit warmer that holds biscuits ready to be made into sandwiches. Just past this section is a sandwich table, where staff can add cold items, like pimento cheese and avocado, to orders. On the other side of the holding station for fried items are worktables with undercounter refrigeration.
The chain's prep area consists of a mixer used for making biscuit dough, two worktables with built-in sinks, shelving for holding dry ingredients and a rolling rack for moving sheets of biscuits ready for the oven.
One final equipment change also speaks to the shift away from doughnuts. The chain no longer specifies a doughnut display case. Not only does this translate into lower equipment costs for Rise, but it also helps better promote the concept's lunch business, notes Ferguson. "The problem with the doughnut case is that people feel like it is just a doughnut store and will be closed at 11. Once the doughnut cases were taken out of the stores, our lunch business increased."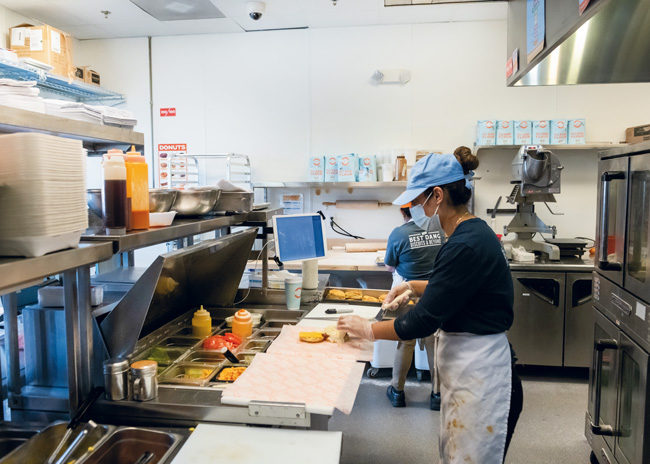 The chain's elevated biscuit menu, with ingredients like fried green tomatoes, pimento cheese and avocado, requires a sandwich table to be properly executed.
Cashier-Free Operations
The removal of the doughnut display case wasn't the only customer-facing change at Rise. The company has also reworked its front-of-the-house operations, automating many interactions that previously required an employee.
To understand the impact of the changes, it's important to understand how a typical Rise interacts with its customers.
Under the new design, the typical Rise unit is an in-line restaurant with a footprint of 1,000 to 1,400 square feet. Rise doesn't have drive-thru units as it's difficult for a small chain to find the proper real estate with such small square footage, Ferguson says. Only a few stores have dine-in service, and most of those come in the form of outdoor seating. The chain's business, then, is almost all off-premises, with customers and delivery drivers coming in the restaurant to place and/or pick up orders.
A small grill is used to cook the chain's eggs, bacon, sausage and country ham. The refrigeration below holds these ingredients, as well as raw chicken destined for the fryers.Eliminating its cashiers, then, was a big step for Rise. The chain now encourages guests to order online before visiting the restaurant or place orders via a kiosk.
That shift has been paired with the introduction of heated food lockers. Guests who place an online order simply tap their name on an attached touch screen, confirm pickup, and the locker with their order unlocks and lights up. If a customer's name does not appear on the touch screen, a nearby monitor shows their order status.
These changes have actually led to a jump in how customers rate Rise's service, Ferguson says. The approach eliminates the chance a cashier might make a mistake, while guests can retrieve online orders in just a few seconds. Similarly, third-party delivery drivers can now get their orders without involving any staff members.
Not only is this new service model better from the customer perspective, but it's also improved operations, adds Ferguson. Instead of handling routine customer interactions and having to solve problems, employees and managers eliminate those problems at the source by focusing on speed of service, order accuracy and food quality.
What's more, the improved customer service and simplified service model has made for happier employees. "The vibe and the mood of our employees is really high, higher than I've ever seen it," Ferguson says, adding that the new service model "just changed the mood, the pressure, the stress, the need to put out fires, the workarounds."
Rise paired its change in service model with a major IT effort of integrating orders from multiple streams. With the emergence of off-premises dining, says Ferguson, workers had to handle orders from several third-party delivery platforms, orders on their own online system and orders placed in-house. Until recently, these systems weren't integrated into a single in-house system, and employees had to manually enter some of these orders into a POS system. The company has now integrated all these order streams into a single system. This, says Ferguson, once again removes time-consuming tasks from employees' plates, allowing them to focus on the food.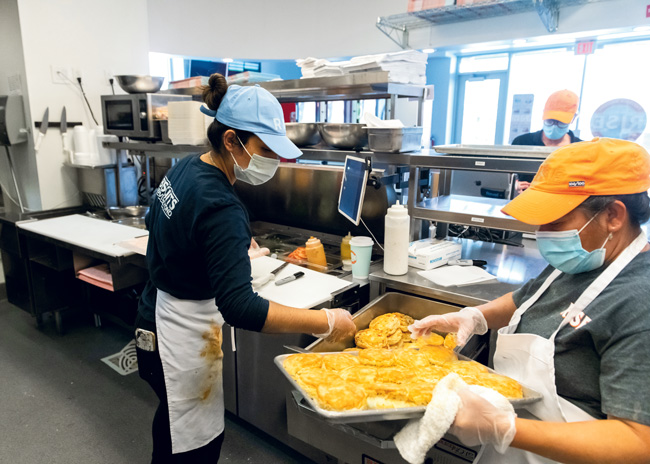 Balancing Act
With the improvement of operations and reduction in build-out costs, Rise is once again moving into growth mode. The chain, which lost a good chunk of its store count just a few years ago, expects to add five new locations in the next year, with even faster growth in the years to follow.
In terms of markets, Rise wants to continue building stores in its home base of North Carolina's Research Triangle, as well as the Southeast "Biscuit Belt," Ferguson says, though he's open to moving into markets outside this region. The brand, he adds, does well in urban areas and college towns.
Rise at a Glance
Key players:
CEO: Tom Ferguson
Chief financial officer: Ken Priest
Chief operating officer: Brian Wiles
Equipment dealer: United Restaurant Equipment Company, Raleigh, N.C.
Chain headquarters: Durham, N.C.
Year founded: 2012
Signature menu item: Chicken biscuit
Number of units: 16
Unit size: 1,000 sq. ft. - 1,400 sq. ft.
Seats per unit: 0 - 20
Location type: In-line locations with patios preferred
Total system sales: $10.5 million per year
Average sales: $710,000 per year
Restaurant hours: 7 a.m. - 2 p.m. daily
Unit growth projections: 5 in the next year
Check average: $14 - $17
Equipment package cost: $140,000