After tightening its footprint and cleaning up its design, this Cajun concept is ready to move beyond its home base.
The French Quarter in New Orleans is one of those places you just must visit. Home to great food and music, a unique party atmosphere and an unmistakable joie de vivre, it's like no place else. That is the experience one chain from outside Louisiana strives to offer its guests.
Based in Dallas, Razzoo's Cajun Cafe is a 28-year-old, 22-unit chain that offers a taste of New Orleans outside The Big Easy. "We are clearly centered on the Gulf Coast Cajun experience," says co-owner and CEO Jeff Powell. "Our focus is to deliver an authentic, fresh, bright, flavorful experience that you associate with Cajun country in general but specifically with the French Quarter and New Orleans and all that is associated with that."
An authentic New Orleans experience delivered in restaurant form starts with the food, of course. Razzoo's offers all the Cajun classics one would expect: oysters, peel-and-eat shrimp, po' boys, boudin balls, fish served blackened or fried, and more. Not a lot of operators in the restaurant space offer this type of food, notes Powell. This allows Razzoo's to stand out and contributes, no doubt, to the concept's success and longevity.
Despite the relative lack of competition in its space, though, industry trends still impact Razzoo's, namely the push for smaller footprints and the move to off-premises dining. With those shifts in mind, Razzoo's rolled out a new brand standard for its restaurant design that's smaller than many of its existing stores. The standard puts Razzoo's at about 7,600 to 7,800 square feet. The chain has a few stores smaller than that, but the concept becomes difficult to execute at that size, says Powell.
Other Razzoo's locations are bigger, but the chain has found too large of a space can diminish the guest experience at times. "We really are better when we deliver our energy within a smaller, tighter space. When large spaces are full, they feel great. When large spaces are half-full, they feel a little cold and empty," says Powell.
The prominent bar area contributes to the New Orleans feel at Razzoo's. This space sits at the literal center of the restaurant with dining areas located on both sides.
Easier Sourcing
The chain's new design changed more than just the footprint. The concept also cleaned up its trade dress, removing several types of design elements, including pieces of real taxidermy and old music and cooking equipment. "It was certainly cool, but if you look at those items, the package was not sustainable just in terms of availability, and it's more and more difficult to maintain and to light with the changing specs on lighting," says Powell.
Razzoo's new design skips the taxidermy and cooking tools in favor of historical photographs, signs and retro beer paraphernalia.
The chain also removed one of its signature design elements, The Tornado. Suspended from the ceiling, this collection of chairs, pots and pans, and other items depicted what you might find after a tornado touches down in southern Louisiana, Powell says.
Now, instead of that design element, guests walking into a Razzoo's experience more of a French Quarter-like atmosphere right away. The color scheme plays up harlequin-like colors, including greens, teals, purples and yellows, while the glow from neon lights contributes to a party-like atmosphere.
In place of the taxidermy and old pots and pans are historical items such as past and current photos of Gulf Coast and New Orleans life, retro beer serving trays with the logos of long-gone breweries, and metal and wood depictions of crawfish and crab. There's also one of the chain's signature design elements, a holdover from the previous look: a chandelier made with multicolored beer and liquor bottles.
The restaurant's floorplan further serves to enhance this good-times atmosphere. "When you walk in, we want you to immediately get the feel of the bar as the center of energy," says Powell. While alcohol makes up less than 20 percent of Razzoo's sales, this area sits front and center in the space. The U-shaped bar allows as many people to gather around it as possible. The main dining areas, meanwhile, flank either side of the bar.
Evaluated Equipment
With the bar being the focus of the Razzoo's experience, the chain eschews display cooking. Instead, Razzoo's expo area is only partially exposed, while the production kitchen is almost entirely hidden.
The partially exposed expo area uses green and purple tile to maintain a French Quarter feel. Here, staffers put the finishing touches on plates, heat up desserts and more.
This space hasn't gotten a full overhaul in the new design as Razzoo's was happy with the line's overall performance, says Powell. Instead, the chain's leadership focused on the performance of individual pieces to determine the best investments long-term.
"The best thing we've done is equipment evaluation," says Powell. "Let's take a fryer. You've got to think about recovery at our volume. We have experience with fryers that struggle with recovery. We always talk about the fact that there are really good value upgrades and then some that don't make sense. We've taken a hard look and brought some data to the table on maintenance. We've done that down the line, even in the bar areas."
Razzoo's production area has a hot side and a cold side, with the hot facing the back wall and the cold facing the expo area. The hot line actually starts with a refrigerated table with wells. This serves as the kitchen's batter station, holding wet and dry batters and seasoning in wells, along with the raw shrimp, crawfish and alligator. A refrigerated section below holds backups of all ingredients.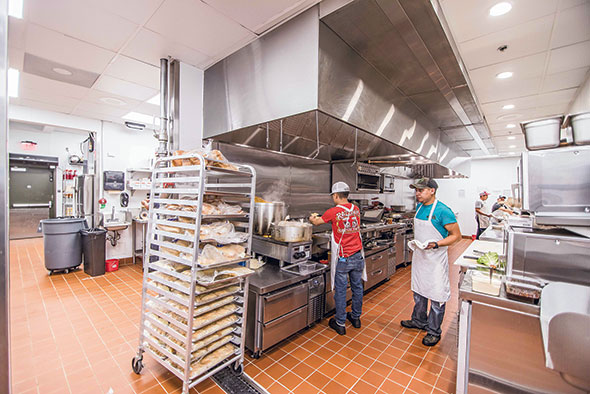 The chain's back-of-the-house prep area has a spare burner, tilt skillet, convection oven and more. Most line cooks also play a role in morning prep at Razzoo's.
After the batter station comes Razzoo's fry bank, which has five separate units. The company settled on this number after considering between three and as six units, notes Powell. "Five is right," he says. "We have a couple of fryers that require different temperature settings for things like hush puppies as opposed to fried proteins."
During slower periods, the batter/fryer setup can function with just one person, Powell points out. At peak volume, one staffer handles the batter table, and another works the fryers.
The saute station follows the fryers in the equipment flow. The station consists of a six-burner range with refrigeration below for holding sauces and proteins. Here, staff members make items like proteins for po' boys and Cajun etouffee with shrimp, chicken or crawfish. Attached to the wall above the saute station is a cheese melter, while one step down the line is a compact bread toaster.
A single employee can operate the chain's batter and fry station during off-peak times.
There is also a 2-foot flattop for blackening fish, followed by a charbroiler that staff use to make burgers and grill fish. Space permitting, a large one-eye stock pot burner follows the charbroiler. If the burner doesn't fit on the line, it goes to the prep area. This unit is put to different uses at different times of year, says Powell. "In crawfish season, we'll use that large pot to boil crawfish to order," he explains. "The burner is also used for rethermalizing sauces made fresh in-house."
While the burner or chargrill marks the end of hot line, kitchen staffers can make a 180-degree turn to find matching cold equipment. The setup of this line can vary from store to store based on the space's footprint, Powell says. All restaurants, though, have a table with veggies, cheeses and condiments for finishing sandwiches, a salad table, and refrigeration that holds desserts. Some of these treats, such as the bread pudding and the brownie sundae, are heated in a microwave before being served, he notes. Finally, the cold line has a steam table for hot sides and items such as green beans and mashed potatoes, as well as various sauces.
As noted, culinary staff make these sauces in-house in the back-of-the-house prep area. In doing so, they use a kettle found in this space to prepare batches as large as 14 gallons. For safe holding, Razzoo's uses a deep ice system — essentially a large plastic can filled with half ice and half water — to bring just-made sauces quickly to food-safe temperatures for storing. In addition to a skillet, this space has a convection oven for making desserts and a tilt skillet.
With Razzoo's doing most of its prep in-house, a dedicated staffer starts work in the prep area around 7 a.m. most days. More team members come as the morning progresses. Razzoo's cross-trains all employees, with nearly all staffers working the prep station and the cookline.
With the new design in place, Razzoo's has set itself up for future growth and success, says Powell. Don't expect the company to release eye-popping projections for store openings, though. The chain has been and will continue to be very deliberate about its growth, opening an average of one store every nine months throughout its history.
While Razzoo's could likely have grown faster, the owners decided to forego outside investors and keep all equity in-house. Today, Razzoo's ownership centers on six people in the current management team. The chain's only source of outside funding, in fact, comes from a line of credit with Goldman Sachs Specialty Lending, a partnership that has "really helped us focus on our ability to reinvest in our existing stores and obviously to incorporate growth," Powell says.
This sort of focus has led to another recent transaction. In recent years, the chain developed Tricky Fish, a fast-casual concept serving po' boys, gumbo, oysters and other Louisiana staples. In November, Razzoo's sold the concept, including its two existing locations, to now-former Razzoo's president and new Tricky Fish CEO Chris Degan, who led the development of the concept at Razzoo's.
According to Powell, the transaction was a happy one, based on the opportunities both parties wanted to pursue. With all its resources and attention now focused on the core brand, Razzoo's sees the next few years as a period of not just growth but also revitalization for the company. Going forward, Razzoo's will update one to two existing restaurants to the new brand standard while opening one to two new locations each year, Powell says.
The chain will fill out its home base of Texas with areas like Austin, Corpus Christi and Houston being locations with good opportunity. Powell also sees Razzoo's leveraging its two locations outside of Texas, in Oklahoma City and Concord, N.C., to expand in those states. Beyond those markets, the company is starting to explore central and northern Florida and possibly other locations along the Gulf Coast.
"I have been very specific at the strategic level about really focusing on continuing to grow in our very successful home markets, which are positioning us to cross a few borders and prove some level of portability for the brand," says Powell.
Should its portability prove successful, each year, just a few more markets will get a Razzoo's — and with it, a taste and experience of New Orleans.
---
Razzoo's at a Glance
Key players: Jeff Powell, president and CEO; Philip Parsons, chief financial officer
Interior designer: ID Studio 4, Irving, Texas
Kitchen design consultant: Texas Metals Equipment, Irving, Texas
Equipment dealer: Texas Metals Equipment
Facts of Note
Chain headquarters: Dallas
Year founded: 1991
Signature menu items: Rat Toes (shrimp- and crab-stuffed jalapenos), po' boys, Cajun hand-battered fried shrimp and catfish combo, alligator tail
Number of units: 22
Unit size: 7,800-8,300 square feet
Seats per unit: 240-270
Location type: Current focus on ground-up, freestanding units
Total system sales: $78.5 million
Average unit sales: $3.6 million
Unit growth projections: 1-2 new units and 1-2 remodels per year
Check average: $16
Equipment package cost: Approximately $540,000 for the kitchen and bar