Sometimes a shock to the system is just what a chain needs to spur growth. That's clearly the case with Eggs Up Grill.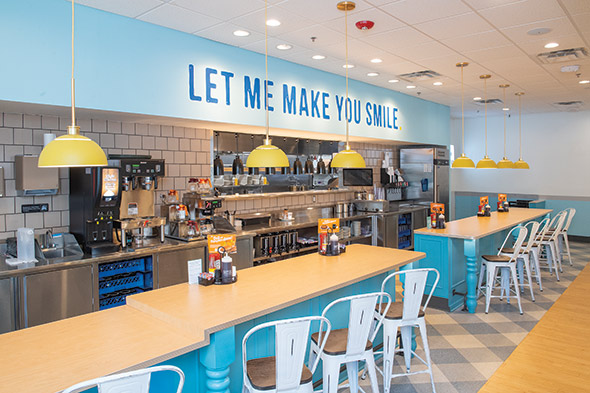 Based in Spartanburg, S.C., this full-service breakfast and lunch chain grew from 1 to 24 locations between its founding in 1997 and March 2018, when founder Chris Skodras sold the company to private investment firm WJ Partners. Shortly after the purchase, WJ Partners brought in new leadership, headed by CEO Ricky Richardson, a TGI Friday's veteran. The firm also bolstered its operations and marketing teams and improved its franchise support infrastructure.
The result: Since the sale, Eggs Up Grill has added more than a dozen new stores and should close out 2019 with roughly 40 restaurants.
That's not to say Eggs Up Grill's new leadership has tossed out everything that came before. Quite the opposite, in fact. One of the first things the new leadership team did was work with people involved in the chain for years to put together a document outlining what makes the chain special.
The document records key points of the concept's history and culture. As the chain grows, the leadership team can use this document to see if potential franchise partners are a good fit and to evaluate whether strategic moves fit in with the brand's strengths.
These strengths, says Richardson, include the connection guests have to the restaurant — something he saw firsthand when considering this position. "What really attracted me to Eggs Up Grill was [what I saw] when I had the opportunity to start visiting franchisees," he says. "As a longtime restaurateur, you have to have really good food, that's just the ticket to get in. It doesn't guarantee success. What are the real success drivers? When you make guests feel special and they have that positive emotional reaction. This brand really did that."
This emotional connection was just one factor that brought Richardson on board. Another is the growth of the breakfast segment. More people go out for breakfast and more chains have sprung up to serve them. Despite this competition, Eggs Up Grill has a chance to thrive thanks to its menu and market strategy, says Richardson.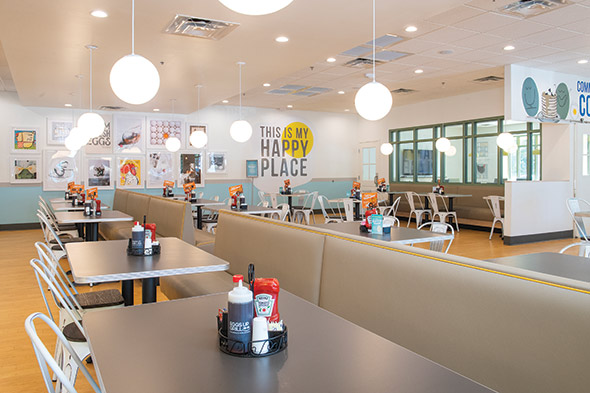 The chain's new store design features bright colors and a comfortable environment.
Instead of targeting large cities, the chain focuses on secondary and tertiary markets, as well as the suburbs of metropolitan areas. Recent openings, for instance, include restaurants in Ocala, Fla.; Charleston, S.C.; and Ashville, N.C. In these places, says Richardson, Eggs Up's main competitors aren't chains, but local mom-and-pop restaurants.
The chain's menu strategy matches this small-market approach. While many of its breakfast competitors are inspired by the foodie culture, with offerings like mushroom frittatas and lobster omelets, Eggs Up Grill focuses on a "straightforward, all-American menu that's very approachable," says Richardson. Typical menu items include buttermilk pancakes, Belgian waffles, eggs benedict and veggie omelets.
With so many familiar options, Eggs Up Grill draws a broad customer base. "If you look inside one of our restaurants, you'll see a lot of families, a lot of workers, business meetings going on," says Richardson. "You'll see all ages in there as well. The approachability of the menu helps with that."
New Food, New Design
While Eggs Up Grill sees its approachability as a strength, that doesn't mean eating there has to be boring. In fact, the chain continues to introduce new menu items that are on-brand yet keep the concept fresh in the eyes of the customer. Developed with a team of consulting chefs, the newer menu items offer familiar ingredients in unique ways. Recent menu additions and limited-time offers include items such as the shrimp and grits omelet, peaches and cream pancakes, and the pimento cheeseburger. "There's talk value to some of the products that you eat," Richardson notes. "I wanted to get some items that our guests would really love and get some buzz."
In addition to adding some excitement to its menu, Eggs Up Grill is focusing on its store design. The chain opened a new flagship location in Spartanburg this past summer — the only company-owned location. While the chain had gone all franchised under the previous leadership, Richardson saw value in the company running a restaurant and understanding what it takes to be successful.
This new company-owned restaurant is testing a grab-and-go station offering coffee, breakfast sandwiches and cold items like fruit cups and yogurt parfaits.
According to Richardson, Eggs Up Grill should be a friendly place where people feel comfortable enjoying their food and their company and hopefully make some happy memories. The redesign created a bright, welcoming space with a color palette filled with whites, light blues and light browns, often in the form of wood tones. To help build a comfortable, fun, ambience, the chain's artwork features framed sketches of anthropomorphized eggs. Social media-friendly elements include the suggestion to "Smile!" on the entryway floor, as well as a sign that reads "This is my happy place" on a wall.
Eggs Up Grill's main dining area consists of two separate spaces: a dining room and a sit-down counter area. The dining room includes wood-style luxury vinyl tile, brown vinyl booth and banquette seating and maple-colored laminate tables with aluminum banding for contrast.
The sit-down counter area features light-blue-and-white checkered tile flooring. While there's a service area immediately behind it, guests at the bar enjoy a view of the kitchen through the expanded pass-thru window. "You get the sense of all the activity that's going on. It reinforces that you are seeing food just made for you," says Richardson.
Kitchen Tweaks
The kitchen, naturally, got a work-over as part of the chain's revitalization efforts. Notably, this part of the project was actually completed several months before the opening of the Spartanburg restaurant and has been implemented in multiple locations. This wasn't a full teardown job, says Jeff McCabe, vice president of operations. A few pieces of equipment got moved, but much more of the work involved standardizing processes and tweaking the equipment package to match.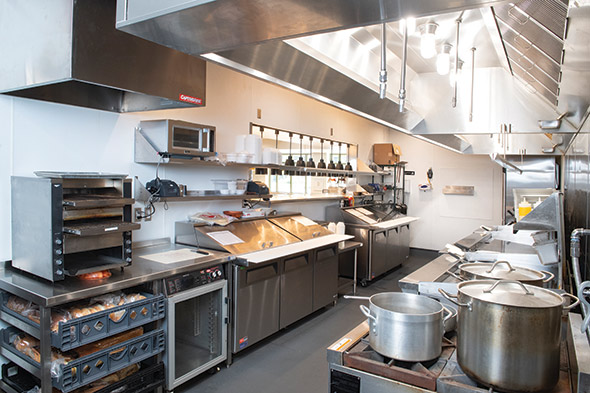 Cold equipment sits under the expo window at Eggs Up Grill. Heavy-duty equipment sits under a hood along the back wall of the kitchen.
Eggs Up Grill operates a galley-style kitchen, with five team members during peak hours. The heavy-duty cooking equipment resides under a hood on the back wall, while matching cold equipment sits toward the front by the expo window.
The first stop in this kitchen is the toast station, where a team member uses an electric conveyor toaster oven to make six different types of toasted bread products. While the work here is straightforward, its design was tweaked in the new kitchen design.
Previously, the bread for toast was held on a rolling rack somewhere nearby, depending on the operator's own practice. Now, there is a built-in bread rack on the stainless-steel table where the toaster sits. "I think we can fit 4 racks of bread underneath, which will get used through 11 on a busy Sunday," says McCabe.
The team member working the toast station has one other duty: Turning 180 degrees, this person faces a four-burner range top, where staff make poached eggs. During prep hours, staff use this range to make grits and to boil potatoes for home fries.
During peak time periods, a dedicated chef staffs each flattop grill.
At the second station a cold table with refrigerated wells stores omelet ingredients such as cheese, sausage crumbles and fresh veggies. Backup ingredients are
kept underneath.
Matching this station on the hot line are two flattop grills measuring three to five feet each. A dedicated line cook staffs each grill at peak demand times. The team member at the first griddle, next to the range, cooks made-to-order eggs (like scrambled or sunny side up) as well as the majority of omelets. A shelf above the grill holds eggs for this station in crates of 36. Staff can access additional crates in the sandwich table.
A member of the culinary team uses the second flattop, the 5-foot unit, to cook omelets, along with home fries and breakfast meats. A refrigerated base beneath the flattop holds the breakfast meats.
The third kitchen team member operates from the expo station in the center of the kitchen. This individual times orders, calls them out to different stations and plates orders. In addition, the expo worker mans the steam table, which resides on the cold line and holds cooked bacon, sausage, grits and hollandaise sauce.
The fifth peak-demand worker handles the pancake and waffle station. This spot has a third flattop grill, next to the other two, followed by a table equipped with three waffle makers. Next to this station, at the end of the hot line, but not under a hood, sits an upright refrigerator that holds batter for pancakes and waffles, as well as the dip for French toast.
The pancake and waffle team member also works the sandwich table, 180 degrees away, which is used for everything from BLTs to burgers. As the day goes forward, pancake and waffle orders decrease while sandwich orders increase, naturally balancing this staffer's workload.
In addition, the new kitchen design allows for flexibility. During nonpeak hours, the team member working the omelet/egg grill handles expo duties, for instance. And the company's training program teaches team members to lend each other a hand when necessary. The pancake/waffle cook will help out on breakfast meats and the breakfast meats cook will take on some make-to-order eggs, and so on.
"There's a lot of switching and covering and aiding in these positions," McCabe says.
When dishes land on the pass-thru window, they're handled by staffers at the service area behind the sit-down counter.
Eggs Up Grill places a few pieces of equipment in the service area to make it a functional space. These include iced tea makers, a standard soda machine, an upright refrigerator for holding juices and coffee makers that brew into either 12-cup carafes or directly into large, portable dispensers.
Flagship Changes
These portable coffee dispensers actually play an important role in one of Eggs Up Grill's additions with this new prototype: a grab-and-go counter.
This offering, says Richardson, is in testing, and its performance in Spartanburg will determine whether it is included in future stores.
The prototype store is "located adjacent to downtown as well as a nice residential community, so as folks are headed downtown or to the office they can come in and, in a five-minute transaction, grab coffee and some breakfast for themselves and the kids to take with them. We're competing with that Starbucks stop with this convenience factor," Richardson says.
Located near the front of the restaurant, here guests can run in for a cup of coffee and mobile-friendly items like breakfast sandwiches, fruit cups and yogurt parfaits. A small collection of equipment supports the grab-and-go counter, including a rapid-cook oven that heats premade breakfast sandwiches. This programmable oven operates with a touch screen. It sits on top of a small refrigerated unit that holds the sandwiches, making operations fast and easy.
In addition to the hot food setup, the station has warmers to hold the large portable coffee dispensers, as well as a refrigerated well filled with ice. This unit holds fruit, yogurt, juice and other cold to-go items for guests to choose from. Backups of these cold items are held in an undercounter refrigeration unit on the employee side of the grab-and-go area.
The grab-and-go area isn't the only prototype-specific feature of this new location. This new Spartanburg restaurant also has a test kitchen in the back of the house. In keeping with the chain's push to develop buzzworthy menu items, says Richardson, this space will be used for menu development.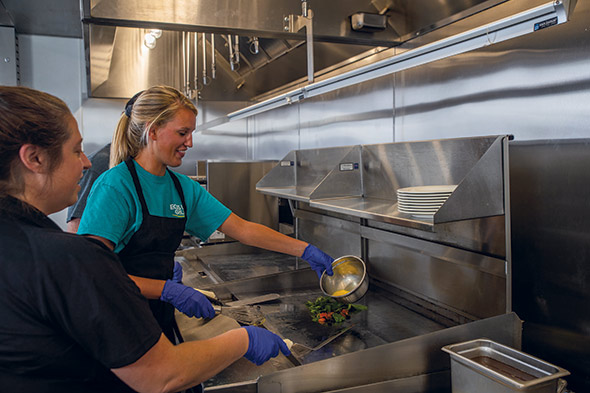 In addition to a production kitchen, Eggs Up Grill's new flagship store has a training and test kitchen where new franchisees can learn the chain's kitchen operations.
It's also set up to help train new franchisees, general managers and others. In fact, the chain is installing cameras and monitors so people in the test kitchen can watch the front line in action, McCabe stated. "We can see the [kitchen display system] screen and what's happening on the front line at the same time. We can go over what our team is going through with franchisees and their managers. Then we can crack some eggs back there without being in the way of the actual operation of the kitchen."
A new meeting room — unique to this restaurant — is wired for AV presentations. Here new franchisees and their teams can watch presentations, discuss processes and learn more about the restaurant. When not in use, local organizations can use the space, helping make Eggs Up Grill a true part of the community, Richardson says.
300 Percent Growth in Four Years
Judging by Eggs Up Grill's growth since its sale, along with its projected expansion numbers, this test kitchen and training room should get plenty of use in the next few years. Despite having 24 restaurants when it was purchased by WJ Partners and fewer than 40 locations now, the chain projects that it will have 100 locations by mid-2022.
Franchisees, naturally, will play a huge part in this expansion. While the chain's franchisees have historically been one-unit owner/operators — a category it will continue to partner with — it is now attracting interest from multiunit, multiconcept operators, including a franchisee who's signed on for six restaurants in the Wilmington, N.C., area.
This type of growth, says Richardson, is a sign of all the work that the chain has done over the past year and a half is paying off. "I think it's a credit to the quality of the brand that's created and a reflection of the opportunity in the market. I think it is also a reflection of the commitment that we have as owners of the business to put the right infrastructure in place, to attract the right partners, to give them the right kind of training and support through the entire onboarding and development process and then help them execute their business."
Eggs Up Grill at a Glance
Key players: Ricky Richardson, CEO; Laura Boles, marketing manager; Andy Wright, vice president of finance; Jeff McCabe, vice president of operations; Tim Eaton, senior director of development; Chris Bailey, director of franchise development
Kitchen design consultant: Food Service Supply International (FSSI), Columbia, S.C.
Equipment dealer: FSSI
Chain headquarters: Spartanburg, S.C.
Year founded: 1997
Signature menu items: shrimp and grits omelet, peaches and cream pancakes, griddled blueberry muffins and hand-cracked eggs cooked to order
Number of units: 36
FOH: 2,600 sq. ft.
BOH: 1,400 sq. ft.
Seats per unit: 132 (including patio)
Location type: Endcap preferred
Total system sales: $22.5 million in 2018
Unit growth projections: 100 locations by mid-2022
Check average: $10.40