When there's nothing but ocean for thousands of miles in every direction, phrases like "locally sourced" and "farm to table" take on a whole new meaning. That's a lesson Travis Morrin learned early in his career. A chef by training, Morrin is co-founder and chief marketing officer of Fork & Salad, a fast-casual salad and sandwich concept started on the island of Maui.
The inspiration for Fork & Salad, Morrin says, grew from a simple fact of life in Hawaii. "Eighty-five to 90 percent of all goods for any business are imported to the island. You learn a lot more about this as you dive into the hospitality industry as a chef."
Recognizing how this cost affected restaurants, Morrin and his co-founders, Jaron Blosser and Cody Christopher, decided to simply go local. Doing so would not only lower operational expenses — shipping anything to Hawaii is costly — it could also give the restaurant its own distinct identity.
"We wanted to create a concept that made use of local agriculture and was sustainable based on what's here on the island," says Morrin. "We found that there's nobody doing this and went for a fast-casual, healthy brand." With that, Fork & Salad was born.
The first Fork & Salad location opened on the south side of Maui in 2016, followed by a restaurant in the central part of the island in 2018. Earlier this year, the chain opened its third location — the first on the mainland — in Orange, Calif.
Instead of using a standard salad table to display its food, Fork & Salad deploys a refrigerated well filled with ice. This approach adds visual interest to the space.Fork & Salad's menu features signature salads, sandwiches and grain bowls, as well as build-your-own options. Not surprisingly, the Maui-inspired offering includes a heavy diet of nuts and fruits.
Chef-created options include the Maui Goddess salad with romaine, apples, strawberries, purple sweet potato, cashews, curry golden raisins, blue cheese and house-made green goddess dressing. Signature sandwiches include the smoky papaya chicken with goat cheese, avocado, mixed greens, red onion, bacon and cilantro-smoked chili vinaigrette. Other Hawaii-centric ingredients include macadamia nut pesto, pineapple and kalua pork. These can appear in dishes with ingredients common to the mainland, like carrots, cucumber and bacon.
The Maui Look
Naturally, a Maui-themed restaurant features a Maui-inspired design. Fork & Salad's leaders avoided kitsch, though. You'll find no surfboards or faux luau touches here. Instead, the restaurant uses simple, natural materials and high-quality food photography.
Not surprisingly for a salad restaurant, a bright, vibrant shade of green serves as Fork & Salad's signature color. The restaurants' floors are a stained concrete with custom tabletops and banquettes. These pieces aren't expensive, though. They're made of two-by-fours which are held together with glue and hardware and then sanded and stained.
"It's custom, but it's not like we're building the Taj Mahal here. We find local carpenters, cost-effective materials and very simple processes. This costs a fraction of a finalized, commercial-grade, restaurant-quality table," Morrin says.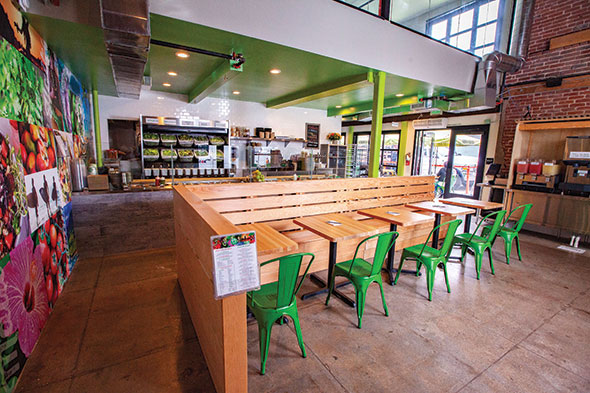 Fork & Salad's interior design highlights simple materials with two-by-four tabletops and stained concrete floors.
In addition to indoor seating, Fork & Salad targets real estate with space for a patio. This outdoor seating allows the chain to cut its interior space, which lowers its build-out costs and rent.
No matter the square footage of the interior, though, the centerpiece of the restaurant's design is a large photo collage with close-ups of ingredients like avocados, strawberries and pineapples, along with pictures of Hawaiian nature scenes highlighting elements such as the ocean and the sunset. These images were chosen for the collage because of how well they depict the restaurant's namesake, Morrin says.
"It speaks to our culture and the theme of the restaurant, what it really looks like over here and what our food really looks like."
Line as Design
A photo collage isn't the only way guests can get an eyeful of Fork & Salad's food. As a made-to-order salad concept, the restaurant has 50-plus ingredients on display in its production line, contributing to the overall appearance and a fresh, healthful vibe. As with most fast-casual salad concepts, guests at Fork & Salad walk down the production line, picking out the ingredients they want in their meals.
Chains typically store these ingredients in salad tables with drop-in cold wells and place backup proteins and veggies in refrigeration below. Fork & Salad doesn't use salad tables, though. Instead, it uses a shallow-well cooler. At the start of the day, staffers partially fill the well with ice, then place round inset pans filled with ingredients on top of the ice. While the ice isn't technically necessary, it provides a nice visual effect that helps distinguish the concept from competing brands.
"From a design perspective it looks really cool. It's different in that sense. As we get bigger and do more units, we may look at different options, but this has been a core element of our brand for the three units we've done," Morrin says.
Each Fork & Salad location has two of these well coolers, both in the five- to six-foot range. A cutting board attaches to the coolers on the worker side, which staffers use as a work surface as they assemble guest meals.
After the wells comes a small steam table with space for two inserts, which hold the restaurant's signature soups, followed by the POS station.
While the POS station marks the end of the customer-facing display line, the back line starts with a single undercounter refrigerator, just opposite the first well cooler. Notably, this unit exists because of the well cooler. Since Fork & Salad doesn't use a traditional salad table, it doesn't have storage space for holding backups beneath the assembly line. This refrigerator, then, holds backups of cooked proteins.
A small gap in the back line for a pass-through window sits just after this unit, followed by an upright air curtain cooler. Here the chain has its greens on display in large stainless mesh baskets covered in food-grade liners, as well as insets for its multiple dressings and sauces. "We have five different greens and they're double-stacked so you can see them. It's another one of those design elements where guests can walk in say, 'I see greens; great, this is a salad restaurant,' " Morrin says.
Salad orders actually begin at this spot with a staffer filling a bowl with each customer's greens of choice. Here's where the pass-through window comes into play: When a basket of greens is low, front-line staffers ring a bell notifying teammates in the back that they need a refill. They then use the window to exchange an empty basket for a full one.
After the greens cooler is a hand sink followed by a set of undercounter refrigerators where staff store backup fruits and vegetables in bins. When an ingredient is running low, a staffer takes the bin out, refills the inset and then returns the bin back to cold storage.
On top of this refrigerated unit sits an electric fast-cooking oven. Team members use this piece to toast sandwiches and wraps, as well as to warm proteins on request. Attached to the wall above the fast-cooking oven is a simple stainless-steel shelf that holds backups of dry ingredients like nuts and croutons. Staff also use the shelf to display placards advertising limited-time offerings and other specials.
Following the produce storage refrigerator is a tap cooler, which Fork & Salad uses to serve kombucha. Next to the tap cooler is a residential-style shelving unit, similar to what's sold at big box stores. Staffers use this shelving to hold completed orders placed via the chain's website and mobile app, as well as with third-party delivery services.
Fork & Salad's back-of-the-house operations rely on one piece of pure cooking equipment: a combi oven. Team members use this piece to cook various proteins from the raw state. That includes everything from steak to chicken to ahi tuna belly — a cut of the fish popular in Hawaii but not well known on the mainland, Morrin says. The chain also uses the combi oven to roast vegetables, make falafel and even warm soups.
In the back of the house, staffers prep produce, make dressings and cook veggies and proteins using a combi oven.
Using a ventless combi oven allows Fork & Salad to keep its build-out cost lower by eliminating the need for a hood and a gas hookup, says Morin.
Other equipment in the back of the house includes a walk-in cooler and a reach-in freezer for holding frozen proteins. Also in use are a vegetable prep table and a low-temperature dishwasher capable of holding the sheet pans that go in the combi, as well as the reusable bowls and plates for dine-in service.
Move to the Mainland
At just three years old, Fork & Salad remains an emerging concept. As the chain grows, it could implement significant changes to its equipment package and interior design.
Still, the chain's leaders believe the concept is ready for significant expansion. This is in large part thanks to its partnership with franchise incubator Fransmart, which has helped Fork & Salad formalize its processes and build a franchisee support system, Morrin says. Franchising, in fact, was a big motivation for the chain to build its third location in California, he adds.
The new stateside space will serve as a training location for franchisees in the lower 48. Its mere existence also makes it easier for potential franchisees to check out the concept. Traveling to Hawaii may make for a great vacation, but the trip's a lot to ask to explore a business venture.
The chain has also done its homework on the sourcing issue since, as a concept that specializes in locally sourced ingredients found in Maui, it has to find a way to source those ingredients in any market it wants to enter. Fortunately, it's not too hard to find most of these ingredients — from strawberries to cashews to papaya — from purveyors within a few hundred miles of most markets, Morrin says.
"A lot of times, distributors are already getting lots of local produce," he adds. "You just have to find the right supplier. That just requires a little bit of research. When dealing with franchisees, we'll help them with that research. You just have to call around."
Future franchisees will benefit from working with a chain that's already well positioned for off-premise dining. At just three locations, the concept (as mentioned) already has online ordering and ordering through a mobile app.
While chain executives want to continue building corporate stores in Hawaii and Orange County, they are also interested in market demographics. Targets include slightly upscale locations in strip malls and lifestyle centers. Ideal anchor tenants include Target, Ulta, Trader Joe's and fitness centers. By being near places people frequent, the concept hopes to become part of people's regular routines.
"Ideally, guests will try the restaurant, get hooked and visit multiple times a week," says Morrin. "We're called 'Fork & Salad, A Healthy Maui Eatery.' I think that is very intriguing to a lot of people. I think it's going to be one of the defining reasons they'll come give us a try. They're going to come in, taste the flavors and the uniqueness of the recipes and want to come back."
---
Fork & Salad at a Glance
Co-owners/founders: Travis Morrin, Cody Christopher, Jaron Blosser
Key players in Orange, Calif.: John Greenberg, co-owner; Ted McCann, partner and general manager
Franchise development company: Fransmart
Interior designer: Tanner Morrin, Nishikawa Architects Inc., Wailuku, Maui, Hawaii
Kitchen design consultant: Jaron Blosser, co-owner/founder
Equipment dealer: Sam Tell Companies, Farmingdale, N.Y.
Facts of Note
Chain headquarters: Kihei, Maui, Hawaii; mainland headquarters in Orange, Calif.
Year founded: 2016
Signature menu items: Maui goddess salad, paniolo salad, buckwheat noodle salad, ancient grain bowl, ahi melt, smoky papaya chicken with goat cheese sandwich
Number of units: Three company-owned locations
Unit size: Average of 1,500 square feet
Front of the house: 950 square feet
Back of the house: 550 square feet
Seats per unit: 30 to 60
Location type: Endcap, lifestyle center with large anchors like Target, Petco, Starbucks, fitness centers and noncompeting fast-casual brands
Unit growth projections: Minimum of 100 units in five to 10 years
Check average: $15
Equipment package cost: $100,000