With a hip yet low-frills design and limited equipment package, this fast-casual pizza chain was developed with franchising in mind. Three years in, the plan is working.
Photography by Justin Wallace PhotographyThere's been no shortage of fast-casual pizza places opening during the past several years, and that includes Urban Bricks.
Founded in San Antonio in 2015, the chain currently has 13 stores: 12 in Texas and 1 in Canada. Its concept is simple: Guests can build their own pizza (or one of a few other options) with unlimited toppings for one price, and then enjoy their meal in a hip, urban and Millennial-friendly environment.
The chain is the brainchild of CEO and founder Sammy Aldeeb. A long-time restaurant industry veteran, Aldeeb bought his first franchise, a Marble Slab Creamery location, at age 21. He went on to own a firm with about 30 restaurants (including Marble Slab, Subway and Great American Cookies) before selling those restaurants to focus on Urban Bricks.
From a logistical standpoint, Aldeeb credits his time as a franchisee as key to Urban Bricks' quick growth. "I had the infrastructure in place ... I had my operations team that's been working with me for a very long time, we've got our in-house HR and accounting team, and we've got our own construction team in house that was part of my old life as a franchisee."
His time as an operator played a massive role in the development of the chain as well. The concept was created specifically for franchising, with a flexible interior design and a low-cost kitchen package, Aldeeb says. This approach has proven effective, with the rights to open more than ten locations sold before the first Urban Bricks restaurant opened its doors.
Urban and Hip
Key interior design elements include a photo mural wall that connects with the local area.Urban Bricks' low-frills design relies on basic, affordable materials. "As a former franchisee, I understand about not spending unnecessary money in categories or areas where it's not going to make us any more money and sell us any more pizzas. Being Urban Bricks, we've got no chandeliers, we've got no granite, we've got no marble. It's very plain Jane but very urban and very hip."
The urban and hip ambiance comes partly through the chain's signature color of lime green. "We definitely stand out in a crowd," Aldeeb says.
A handful of interior design elements also work to set the chain apart design-wise. Some of the basic design elements include stained concrete flooring and "cloud" elements featuring reclaimed plywood construction that hang from the ceiling, which is open with exposed ductwork.
Each restaurant also has its own unique touches. An Urban Bricks location can include a photo mural that showcases the best of the restaurant's home city, a "delivery" sign lit in yellow Edison bulbs and wall art made with individual pizza paddles.
Not every restaurant includes each of these design elements, notes Aldeeb. Instead, franchisees can choose from about five different design options for each of Urban Bricks' different operating areas. The goal is for each restaurant to have the same ambiance but also its own individual look, a la Starbucks.
"I don't want to be boring for our consumer. If we need to be consistent, we need to be consistent in the food, not on the color of our ceiling or our wood grain. You'll never see colors that are not Urban Bricks related, but there are four or five different types of brick colors that our franchisees can pick from, four or five different colors of wood grain for them to pick from. It makes the franchisee have some greater ownership in the investment."
New Food, New Drinks, New Drivers
Guests can see equipment on display behind a glass wall. Equipment matches the chain's signature green color.Hip and edgy extend beyond Urban Bricks' design to its menu and in-store experience. This includes the chain's full-service bar, which offers beer, wine and liquor.
That wasn't part of Urban Brick's initial plan, but was inspired after a few stores opened and Aldeeb reflected on his time as a Subway franchisee. "I've seen plenty of Subways go into gas stations, where all the infrastructure was already there: restrooms, AC units, management, seating. All they did was carve up 200 square feet and add a new revenue stream. I took that and said let me use that same idea at Urban Bricks."
The bar, Aldeeb says, has made a huge difference. More people come through the door and stay longer, and the bar helps the restaurant double as a gathering place for sporting events, when most fast-casual operations wouldn't have much in-store business. It's proven so successful, in fact, that franchisees who built before the bar's development plan to retrofit their stores, says Aldeeb.
Another recent addition hit in February of this year, when Urban Bricks added paninis to its menu. This was an easy change to implement, Aldeeb says. Everything that goes on a pizza can go in a panini, and the chain was able to use the pizza dough to make panini bread. Staff cook both the bread and the paninis themselves in the same ovens as the pizzas.
The addition has been a hit, particularly during lunch, when guests might be hesitant to order a pizza, says Aldeeb. "People haven't been eating lunch pizza forever, so we decided to add another quick item utilizing all our fresh ingredients … without needing to add any machinery or expense to our franchisees."
Urban Bricks' commitment to delivery represents another distinguishing, though not unique, attribute. Part of the chain's strategy from the beginning, the company currently relies on a mix of third-party delivery services and franchisees delivering food directly. The third parties charge between 25 percent and 30 percent per order, though, so Aldeeb plans to end those partnerships once its in-house delivery builds enough customer awareness.
Simple Kitchen, Open Kitchen
Urban Bricks shoots for an edgy ambience, with its "BAD @$$ OVEN" that it hopes will attract Millennial guests.While Urban Bricks has a low-frills approach to design, the restaurant gets much of its edge and energy from its food production and bar equipment.
That starts with the dough room. With a strategy of using equipment to create atmosphere, the room is on display behind a glass wall. Equipment includes a lime green floor mixer, a machine to divide dough into pucks and a proofer.
Staff make dough once or twice each day. After mixing and dividing, Urban Bricks proofs its dough pucks for 24 hours. A dough spinner, which mimics hand tossing, shapes the pucks into crusts in 5 to 10 seconds. Each has a unique shape, though all are the same size.
To stay ahead of the lunch and dinner rush, staff spin several crusts and store them on nearby racks for a maximum of 30 minutes. Guests coming in at off-peak times get their dough spun to order.
On top of the quick show for guests, the spinner produces a higher quality product than dough presses or hand forming the dough, says Aldeeb. He believes hand tossing is inconsistent by nature, while dough presses have a heat component that dries out the product and lowers the quality of the pizza.
Guests start the order process just past the dough room, where they walk down a line selecting ingredients. Guests choose either a panini, pizza or salad. Pizza customers choose between three crusts: the house-made Neapolitan, wheat or "Gluten Friendly" (a not-quite-gluten-free alternative). They then choose from four sauces, six cheeses and dozens of meats, veggies and "drizzels" such as ranch, sriracha and barbecue.
All ingredient options sit on a 12-foot line of refrigerated pizza tables that store backup product below. The line has no set arrangement, says Aldeeb; it can either be straight or L-shaped, depending on the footprint of the location. All of the pizza tables, he adds, are stock items; he does not have a want or need for custom units.
When diners order a pizza or panini, team members turn around and place the item in one of two gas-fired ovens. The open, green-tiled ovens feature a rotating cooking surface. Each oven can cook a pizza in just two minutes, or two rotations of the deck.
"[The oven] gives you a consistent product similar to what you would get on a conveyor belt. However, it gives you the taste of what you would get on a seasoned brick oven. By rotating it, it's giving you a perfect cook, a perfect bake every time," Aldeeb says.
In addition to the customer-facing assembly line, the chain has a second line on the back wall, where staff assemble pies ordered by phone or online.
According to Aldeeb, Urban Bricks' investment in a second line better serves not just off-premise diners, but the ones in-store, as well. "Say you're customer number 10 in my competitor's store. All of a sudden the store receives an online order or phone call for six pizzas. You just became customer number 16 in line. That will never be the experience at Urban Bricks."
The in-store experience extends to the bar area with a special beer machine. This piece of equipment fills glasses through a hole in the bottom, then seals it using a magnet. This appeals to all customers, says Aldeeb, especially Millennials, who tend to love craft beer and hip environments. "[The beer machine] gives you not only a great experience, but it gives you a perfect head each and every time with zero waste."
Future Franchising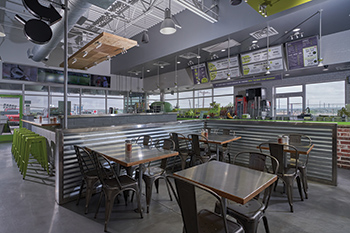 With a business plan that had franchisee commitments before its first store, Urban Bricks has seen strong growth in its first three years of operation. As of early 2018, the chain has sold the rights to 100 stores.
In addition to those stores, an additional nine are under construction. The company requires that its markets have a population of at least 150,000. The chain weighs several factors when evaluating specific locations. As a rule of thumb, Urban Bricks looks to open in the type of development one would expect to find a Chipotle, Starbucks or Panera bread, Aldeeb says.
Notably, though, the chain has no geographic rules for expansion. The new restaurants are under construction in Canada, Chicago, Colorado, Florida and New Jersey. While focusing on a particular geographic region might make the operational piece easier, this sprinkling of stores reflects the chain's commitment to work with the right partners regardless of geography, Aldeeb says. The ideal partners for Urban Bricks, he says, should embrace the chain's edgy approach, love food and have a strong work ethic. If a potential partner has all those qualities, their location simply won't be a deal killer.
Basic, affordable materials mesh with Urban Brick's approch to low-frills design.Over the next few years, as the chain goes from one dozen to several dozen stores, maintaining this internal culture could be a challenge. In an effort to steer clear of any issues, Aldeeb has set up internal standards to stay in tune with franchise partners and build on Urban Bricks' early success.
"The big thing for me is that I was a franchisee. All of our executives were operators. So everybody in Urban Bricks corporate, from the accountant to the marketing department and even our in-house project management has worked behind the line at the restaurant. It's mandatory. They need to understand what the franchisees are going through and they need to understand what our customers are used to. If the CEO had to make dough and be by the oven, then everybody needs to."
Urban Bricks at a Glance
Leader: Sammy Aldeeb, CEO
Chain Headquarters: San Antonio
Year Founded: 2015
Signature Menu Items: Build-your-own Neapolitan pizzas, salads and paninis
Number of Units: 13
Unit Growth Projections: Set to open more than 50 locations in the next 3 years
Urban Brick's hones in on markets with a population of at least 150,000, like this location in San Antonio.