Russian chain banks on quality ingredients and familiar flavors as it moves into New York City.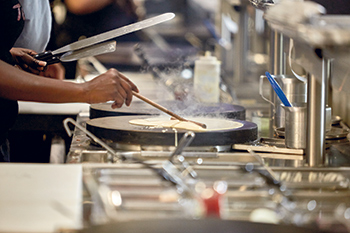 A cuisine from another country isn't necessarily foreign.
Huge swaths of the world rely on the same basic ingredients: chicken, pork, potatoes, mushrooms, and cheese. All serve as staple foods in dozens of countries. The combinations, cooking methods and seasonings may differ, but the flavors are generally familiar, even comforting, to someone trying a dish with these ingredients in a different country.
Moscow-based Teremok counts on this familiarity as it expands to New York — its first move outside of Russia.
Teremok specializes in Russian-style home cooking with recipes developed by the mother of chain founder Mikhail Goncharov. The star of this menu: blinies, thin crepe-like pancakes with fillings both savory (e.g., ham and Swiss; lox, cream cheese and sour cream) and sweet (dark chocolate, creamed honey with pine nuts). Other menu items include Russian-style soups like borscht and chicken meatball with noodle; and kasha, an organic buckwheat dish served with meat, fish or mushrooms; along with salads and desserts.
"Many people that visit Teremok, even if they're not familiar with Russian cuisine, they know this is a homemade menu. They're good flavors, they're bold favors, but they're not exotic flavors. There are no ingredients that you have to explain to people," says Andrey Narkevich, the chain's chief operations officer.
International Aspirations
Teremok adopted a fast-casual look for its move into the United States.These flavors serve Teremok well in Russia. Since it opened with a single kiosk in 1998, the chain has grown to roughly 300 restaurants, split evenly between Moscow and St. Petersburg. Among all restaurants, in fact, Teremok trails only KFC in St. Petersburg and KFC, McDonald's and Burger King in Moscow, says Narkevich.
With the chain well established in those two cities, a few years ago Teremok's leadership began to explore growth outside of Russia.
The move wouldn't be simple for Teremok, however. One issue was the size of the city it could enter. Teremok handles much of its prep work at a commissary kitchen, which distributes meats, soup stock, blini batter and other items to nearby restaurants. This operational model requires a market large enough to support at least 10 to 12 Teremok locations, something few cities near Russia can do. "Even the capitals of nearby countries can accommodate maybe six Teremoks, that's it." Narkevich says.
Then, of course, there was the language barrier. Teremok's leadership team speaks English as a second language, so moving to an English-speaking country made the most sense. After considering both the United Kingdom and the United States, it settled on the U.S., specifically New York. The city's size can easily support a full commissary, and Narkevich sees the people of New York as receptive to new cuisines. As a bonus, succeeding in New York would set the stage for future overseas growth.
"The best place to test internationally is New York. If we opened in Poland or any other country, it would not prove that we will be successful globally. If we are successful in New York, it will," says Narkevich.
Since 2016, then, the chain has opened two locations in Manhattan along with a commissary in Newark, N.J., that serves these restaurants.
American Adjustments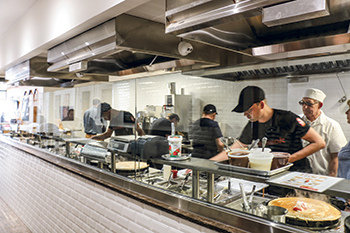 The open kitchen, albeit with a glass barrier, allows guests to watch staff make their blinies.Making a Russian concept suitable for U.S. diners took some work, starting with the menu. The chain began by renting a small kitchen in Newark, N.J., to test potential suppliers' meats, fish and proteins. After some effort, Teremok was able to identify ingredients that essentially match what it uses in Russia. Notably, Teremok did not adjust its recipes or flavor profile for the United States, Narkevich says.
It also evaluated its menu to see exactly what Teremok should and should not offer in the U.S., eventually eliminating some low-volume items. The chain adjusted its menu to accommodate a more American way of eating, says Ilya Denisenko, Teremok's United States operations manager.
"The way they serve it in Russia, you get a soup, you get a salad and you get a blini. It's more of a meal. You don't just get a salad or a blini, which is how people eat here. So, the way we sized it [in the U.S.] is we have a standard and we have an XL, which is double for some of the soups, blinies and salads. This gives people an option to get just that item and it will be filling."
In addition to adjusting the menu, Teremok altered the restaurant's design and ambiance as part of its move to America — a shift that goes back to the nature of the Russian restaurant industry.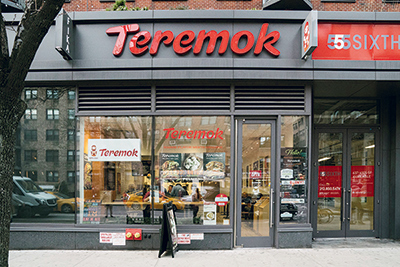 With two stores now open in New York City, Teremok plans to eventually reach 20-plus units in the area.According to Narkevich, though Teremok has always served fast-casual quality food, there is no widely recognized fast-casual category in Russia. "We were fast casual from the start [though] initially we didn't know this term. When we discovered it, we understood it immediately because it describes Teremok completely."
Since most of Teremok's Russian competitors consist of QSR operations, its Russian stores have a fast-food design. The move to America came with the opportunity to re-image the appearance and ambience of Teremok.
In making this change, Teremok's leaders were certain of the direction they didn't want to go: that of an ethnic restaurant. Instead of persuading guests to visit frequently, an ethnic appearance tells them to visit just a few times a year, says Narkevich.
Instead, the chain chose a more traditional fast-casual appearance. Design elements include wood-style ceramic tile for the flooring and hardwood furnishings. Painted white, the walls also feature some white stone accents. The chain's wall decor does include nods to its roots, however, with one vinyl wall covering that includes many Russian elements, and another that shows white birch trees native to Russia.
Blinies on Parade
The most notable aspect of Teremok's design, the fully open kitchen, allows guests to place their order and then walk down the line to watch their food being assembled behind a glass shield.
Because the chain uses a commissary kitchen, individual Teremok stores have a limited kitchen equipment package. Equipment stretches along two distinct lines: the POS counter where staff face customers and along the back wall.
The POS counter line has six blini griddles, divided into sets of two. Nearby cold wells hold the blini batter, while a refrigerated table with cold wells holds such blini fillings as meats, cheeses and produce. A pair of griddles flank this refrigerated table. An undercounter refrigerator stores backup fillings.
On the back line, team members make soups, salads and kasha. This area contains a glass door upright reach-in refrigerator for storing cold items — and displaying them to customers. The back line also has a salad table with cold wells and extra salad ingredients held below, along with a steam table for holding soups. Each batch of soup generates no more than five servings. Team members use a four-burner electric stove to make the soup from ingredients prepped at the commissary, and to finish parcooked meats.
"Parcooking lets us minimize the cooking time at the restaurant to make the wait time lower," Denisenko says. "At the same time, the product is fresh and controlled. It's still used on the same day it's cooked so the freshness is there, and the consistency is there because it's made in one large batch."
Commissary Cooking
Using a commissary allows Teremok to keep real estate costs low, according to Denisenko. Manhattan has some of the most expensive real estate in the world. By locating Teremok's commissary in Newark, N.J., "all the bigger pieces of equipment can be placed there in one spot. All the paper products and beverages can be stored there and distributed in smaller amounts at the restaurants. That minimizes the space required at the restaurant significantly."
Even more important, says Denisenko, a central commissary facilitates greater quality control and overall consistency of product for Teremok. By having one location where all the vegetables are cut, meat sliced and blini batter mixed, the chain can better monitor and control what it serves to its guests, he says. The commissary operates on something close to a graveyard shift, with shifts typically ending around 3 a.m. At that point, a truck delivers precise amounts of food, disposables and beverages to each Teremok location.
The commissary breaks into four separate rooms: cold prep, hot prep, meat room and batter room.
In the cold prep room, team members use food processors to slice and dice vegetables and a slicer for certain meats (such as ham), cheeses and bacon. This tabletop equipment allows staff to prep in high volume while also offering
product consistency, Denisenko says.
The hot prep room has a high-end combi oven capable of cooking different items at the same time, with a different cooking zone for each rack. Commissary staff parcook items in this oven, including vegetables for soups and pork for kasha dishes.
In addition to the combi oven, the commissary team uses a sous vide machine to make chicken for items like the potpie and chicken Caesar salad blini. The third piece of equipment in the hot room is a four-burner electric stove, similar to the ones staff use in the restaurant. Here, cooks make mushroom filling for blinies and finish syrniki, a Russian fritter/cheesecake hybrid eaten for breakfast or as a dessert throughout the day.
In the commissary's third room, staff make blini batter from scratch with the help of a 40-quart floor mixer. After making the batter, staffers pour the mixture into eight five-liter plastic bags held on a custom-made rolling cart. Once sealed, the bags reside in a refrigerator before distribution to each store.
The final space in the commissary is the meat room, where staffers clean fresh fish and prep raw proteins for cooking. The simple space consists of worktables, knives and refrigerators for holding raw meat and fish.
While it currently supports only two Manhattan Teremok sites, the commissary has the capacity to support more than 20 restaurants. Potential expansion will likely cover New York City and the surrounding area, including parts of New Jersey, says Denisenko.
Chain executives do not expect to hit that number any time soon, however. According to Narkevich, Teremok's growth model mirrors other concepts that took years to expand beyond their first store. "We are hoping to open several more next year, but we understand we will not grow very rapidly there. It's not very wise to say we'll be at 20 units in 2 years."
If it opens 20-plus stores in the area, though, Teremok will prove itself as a concept with international appeal — thanks to a home cooking approach.
"[Our food] is tasty, it's filling but it's not an exotic place," says Narkevich. "We never wanted Teremok to be like a place that you go once every two months or three months. We want Teremok to be a place you can go to every day."
Teremok at a Glace
Key Players: Mikhail Goncharov, founder and CEO; Andrey Narkevich, COO
Interior Designer: In-house
Kitchen Design Consultant: Bob Finkelstein, BFA Foodservice
Equipment Dealer: Bob Finkelstein, BFA Foodservice
Chain Headquarters: Moscow, Russia
Signature Menu Items: Blini, Russian crepe-like pancakes with savory or sweet fillings.
Total Unit Count: Approximately 300 in Russia; two in the United States
Total System Sales: $135,000,000 (2017)
Check Average: $11