After a period of same-store sales decline, this fast-casual chain is betting on new menu items, a new service model and a new prototype to turn its fortunes around.
It's been a rough year for fast-casual concept Pie Five Pizza Co. Starting in summer 2016, the chain, owned by Rave Restaurant Group, reported four straight quarters of double-digit same-store sales declines.
No concept can last long putting up those kind of numbers. So, in January, Rave got new leadership in the name of Scott Crane, the former president and CEO of Smashburger. Taking on those same titles at Rave, he immediately began working to improve the fortunes of the ailing restaurant chain.
"One of the first items of business I attacked when I got here was to really talk to consumers," says Crane. "I'm big into consumer research. It's important to know what they tell us versus what we all think is the best thing for the business."
That research, Crane says, showed opportunities for Pie Five to improve in several areas, including brand awareness, menu breadth, the general energy level of the restaurant and expanding ways people can enjoy Pie Five's food.
Results in hand, Crane and the team at Pie Five immediately began designing a new prototype to address those areas. The first opened in suburban Dallas last August.
New Menu Items, New Kitchen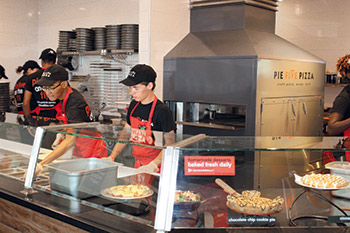 Pie Five's oven sits at the center of the new display kitchen, providing energy and drama to the restaurant.Like many of its fast-casual pizza competitors, Pie Five specializes in individual-sized made-to-order pizzas. This approach makes sense for burgers or burritos. But for many occasions, pizza is communal food that people share.
In combination with some service and technology limitations, the chain has been hampering itself, says Crane. "We don't deliver, we don't take call-in orders, we don't take online orders. It's like we've taken ... a $7 billion industry and all of a sudden you turn off 85 percent to 87 percent of that occasion base. While that's still a big segment, that's not a great way to start. You're really closing off the top of the funnel."
In recent months, the chain has begun taking orders over the phone and online. Pie Five is also testing delivery as well as a new, 14-inch pizza made for sharing — the way many (if not most) people order and enjoy their pizzas.
Larger pizzas aren't the only new item on Pie Five's menu. Up until now, the chain limited its menu offerings to pizza and salad. With this new prototype, the chain now offers wings. Adding new options can give customers new reasons to come to Pie Five, as well as overcome the veto vote, says Crane.
New menu items and a new prototype naturally mean a new kitchen design. In Pie Five's case, the design is radically different than what was there before.
Due to the footprints of its stores, Pie Five's legacy design uses a vertical kitchen, i.e., a kitchen running along a side wall, as opposed to a horizontal kitchen running parallel to the back wall.
Since it doesn't make financial sense for Pie Five to rent out wider storefronts to accommodate horizontal kitchens, the chain developed a hybrid vertical/horizontal display kitchen, with an L-shaped counter and U-shaped equipment lineup.
Guests enter the new prototype queue on the left, where they'll find a selfie station and a roll of craft paper hanging from the wall for kids to doodle on while waiting. At the front of the line, they'll encounter two (up from one) POS stations. This pay-first design differs from the pay-last approach of legacy stores, according to Chris Heiser, vice president of restaurant development.
The change works for Pie Five thanks to its pricing strategy. Instead of billing per topping, the concept charges one price per pizza, no matter how many toppings a customer requests.
Once guests pay, they walk down the ordering counter to choose their crust, sauce and toppings. Pie Five holds crusts in racks between two dough rollers on a table immediately behind the POS counter. Cold wells on top of pizza tables hold toppings, with Pie Five team members adding meats, cheeses and veggies as they slide pies down the work line. The pizza assembly area ends just short of the corner of the L-shaped counter. The corner itself holds a food display for showcasing wings and desserts.
Staff place finished pies in a fast-cooking electric conveyor oven, which sits against a wall at the crook of a U configuration in the production area. By introducing the turn at this spot, the chain gains a horizontal kitchen feel in a smaller footprint, and highlights the energy and activity surrounding the oven.
While the oven can cook pies in minutes, it has another important advantage, says Heiser. As an electric unit, it does not require a type 1 hood for fire suppression, only a type 2 for heat removal. This represents a major cost savings.
The chain took this same approach to the equipment it added for its new wings. While the oven sits at the crook of the U-shaped kitchen, the fryers sit on the beginning of the U's other side, slightly inset into the wall. The chain uses two units. These pieces, says Heiser, are electric and ventless and have built-in fire suppression. As such, they require only a Type-1 hood, as well.
Team members at the wing station can turn 180 degrees to a worktable with refrigerated wells holding carrots, celery and dressings. Two refrigerated doors sit below for storing the uncooked wings.
After staff fry the wings, they send the chicken to the far end of the L-shaped display counter. Here, guests see staff place their wings in bowls, before saucing and tossing.
The wing station completes the front-of-the-house kitchen setup. Staff use back-of-the-house equipment to prep delivery orders and larger-format pizzas. Equipment here includes a pizza make table with refrigerated wells for toppings and a smaller fast-cooking electric conveyor oven. While these additions increased the cost of the new prototype, they were deemed necessary investments, says Heiser. "We want to be able to do the 14-inch pizza and get it out quickly for delivery without interfering with our normal customer flow."
The back of the house also features a prep station, which includes a vegetable sink, food processors and work tables. Across from the prep station is Pie Five's walk-in cooler. Compared to the legacy design, this piece has increased in size to accommodate another new offering from the chain: craft beer on tap.
More Relaxed, More Energetic
Pie Five's new prototype includes a bar, which serves local craft beer. Taps connect to kegs in a walk-in cooler behind the bar's back wall.Like the addition of new food choices, the chain's beer offering provides guests another reason, and another way, to enjoy Pie Five. And, like the new hybrid vertical/horizontal kitchen, it adds energy to Pie Five's dine-in experience, thanks to the introduction of a 10-tap, 10-seat bar.
This bar sits just past the end of the ordering counter and serves as a place where people can relax, enjoy a drink with their meal and maybe watch a bit of television on the two 42-inch monitors. To make the space more appealing, the chain uses a butcher-block bar top, chrome tap system, and growlers stored in overhead shelving.
In addition to creating a more relaxed space, many of the finishes are more cost-effective. The legacy chairs were made of plastic and had the Pie Five logo cut into them. The new chairs have a mid-century modern design, costing less but looking better, Heiser says.
Another major cost savings came in the form of flooring, which replaces a stained concrete floor. In the previous design, the chain paid extra for sound-absorbing material in the ceiling tile. This material is built into the new flooring. In addition, this tile can be laid down in a single day, while staining and sealing concrete is a multiday process that brings other construction work to a halt.
The chain also used the redesign to help drive home its brand and what makes Pie Five stand out. This addresses the company's brand awareness challenges, says Crane.
"We wanted to let people understand what we're all about. The number-one resonating brand identity issue that people loved but didn't know about were the toppings. You can get unlimited toppings all for the same price. That's such a powerful messaging and concept piece."
According to Crane, the company has more stores in its home market of Dallas than in any other. Nevertheless, 60 percent of area consumers have never heard of Pie Five, while another 17 percent have heard of it but never tried it.
One possible contributor to this problem, says Crane, is the company's name and legacy logo. Pie Five can be too easily confused for a dessert shop, while the legacy signage displays the word "pizza" in small, easy-to-miss type.
The new prototype serves as a testing ground for new signage that prominently displays the word pizza.
On the Path to Growth?
As of press time, the new prototype had been open only a few weeks and Pie Five's leaders were currently evaluating the new design.
While sales are obviously the first metric they look at, other factors will also play into the evaluation, says Crane. "[The first new store] is a way for us to take all these elements and put them together and operationalize them. How does it work, how does it work together, what doesn't work, what can we do better?"
Even with these questions up in the air, Pie Five is hopeful that this new prototype will put the chain back on track. The company, says Crane, wants to open 25 to 30 new stores in 2018, with a similar growth trajectory in the following years. The company also announced a partnership with Ali Shahid Butt via AR Pizza — which also owns 47 Popeye's Chicken sites and 8 Arby's — to open Pie Five's first international location in Pakistan in 2018, plus up to 40 more locations over the next seven years.
"We're not changing the concept, we're just evolving," Crane says. "We're all about made for you, your own custom pizza, but if people want to use you at another occasion and there's a better way to do it, why wouldn't we look at that?"
Pie Five at a Glance
Leadership: Scott Crane, president and CEO of parent company Rave Restaurant Group
Interior Designer: Rave Restaurant Group, Nancy Najera and Norton Creative
Kitchen Design Consultant: C&T Design and Equipment
Equipment Dealer: C&T Design & Equipment Co.
Facts of Note:
Chain Headquarters: The Colony, Texas
Year Founded: 2011
Signature Menu Items: Craft pizzas, breadsticks, salads and desserts
Number of Units: 87
Unit Size (Prototype): Front-of-the-house, 1,315 square feet; Back-of-the-house, 1,032 square feet
Seats per Unit (Prototype): 76
Location Type: Endcap
Unit Growth Projections: 20+ locations this year
Check Average: $14
Equipment Package Cost: Approximately $150,000