Most Millennials probably don't know it, but they're among the darlings of the restaurant world. Chains roll out features like community tables and smartphone apps with the hope of drawing in these younger diners. Ultimately, the goal is to build long-term relationships with them and their discretionary dollars.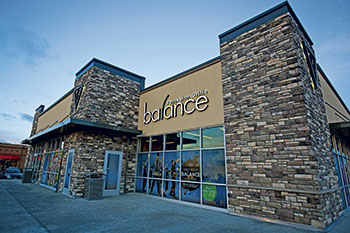 Headquartered just outside of Toledo, Ohio, Balance Grille is also going after the late teen to mid-30s demographic, but with a different mindset. When co-founders Prakash Karamchandani and Ho Chan Jang started the chain in 2010, they were in their mid-20s, placing them toward the older end of the Millennial generation. From the beginning, they've approached their business with a more progressive mindset.
"We have a lot of varied ambitions with our business and what we're hoping to achieve with it," Karamchandani says. "Everything we're doing is really seeking to create a balance again, where employees don't feel subjugated to serve others but are instead respected in the customer interaction a little bit more and paid like they are. Where customers understand what's in their food and get a little bit of ownership and control back through transparency and knowledge, where we're conscious about how we affect our environment. ... Everywhere we looked we were surrounded by the idea of balance, so we stuck with that name."
While this may sound a bit starry-eyed, their approach is working. Balance Grille now has three full locations in the Toledo area that average $2 million in annual sales each, along with a fourth store selling only Balance-branded bubble tea. The company also operates a central commissary and a warehouse for distributing eco-friendly disposables (more on that later) and has developed an innovative franchise model for expansion into nearby markets.
Creating the Jobs They Wanted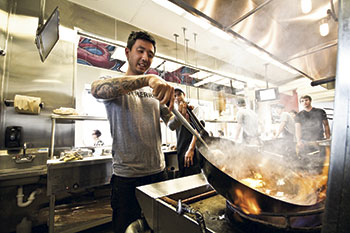 Beef is cooked in batches on Balance Grill woks every 15 to 20 minutes.That Jang and Karamchandani are succeeding isn't really a surprise. Far from being just a couple of 20-somethings who lucked out, the partners have the skill sets needed to succeed as restaurateurs. Karamchandani has a degree in business and a strong technology, IT and entrepreneurial background. Jang comes from a family of restaurateurs.
The two became friends at the University of Toledo, graduating in 2008, just as the Great Recession was rolling in. After a couple of years of looking for but not finding good jobs, they decided to create good jobs for themselves and started Balance.
The operation is a fast-casual Asian-fusion concept featuring a vegetable-heavy menu, which reflects many traditional Asian cuisines. Offerings include snacks (essentially shareable appetizers) such as citrus brussels sprouts and crab rangoon–inspired creamy wontons; and bowls, which typically feature a starch, a protein (steak, chicken, tofu, etc.), three to four vegetables and a sauce served on the side. The menu also has strong seasonal and fusion components, including popular taco offerings, such as pad thai tacos and Korean barbecue tacos with kimchi salad on top.
A key part of Balance's appeal is its commitment to freshness — in fact, the chain does not have a single freezer. Instead, it sources local produce, sometimes through distributors and sometimes directly from growers. Deliveries are received starting at 6:30 a.m., six mornings a week, with prep work starting immediately afterward. The goal is to serve vegetables as soon after they're prepped as possible, ideally within hours or less.
When they started Balance, Jang and Karamchandani committed to using environmentally friendly disposable goods. Sourcing these products was difficult, however. In response, the company became its own purchaser and distributor of these goods. The chain now owns its own warehouse in the Toledo area, allowing it to not just ship eco-friendly goods to its own stores, but also sell these products to other local restaurants.
The company's in-store business practices are progressive as well. Instead of having a manager assign hours to employees, the different shifts and job duties are posted on an app. Team members then sign up for the shifts and roles they want to work. Job duties include prep, production, point of sale/customer experience for foodservice, and the bubble tea bar. All of these pay at different levels — averaging a healthy $12.74 per hour.
Employees tailor their own experience with the company. "You can walk in and say, I go to school in the middle of the day, but maybe I can come in in the morning and prep and do some customer service at night," says Karamchandani. "Someone else may want to work a lot of hours, a lot of doubles in a high-paced environment. ... They can pick and choose." Because employees are required to work a set number of hours, only very rarely does management have to deal with unfilled shifts.
Balance's use of technology doesn't end there. The chain is also developing a custom employee app that will clock team members in and out as they enter and leave the building and even send and log work tasks to team members. "It's tough to get kids off their phones while they're at work," Karamchandani says. "Forget about trying to get them off and have them use their phone for their to-do list, and be able to monitor what they're doing."
The customer app under development is even more ambitious. Of course, it will include basics like online ordering and loyalty rewards. This app, though, will include additional features. Karamchandani's vision: When a customer walks in the door, a low-power Bluetooth signal registers the app and identifies the customer. That customer's information, such as available rewards and ordering history, will then be sent to the POS and presented to team members when the customer gets to the front of the line. As customers leave, another Bluetooth signal picks up their movement and asks them to rate their dining experience.
"We're really trying to put the entire customer experience into an app," says Karamchandani.
More Than Just Apps
The operation's "living wall" adds a splash of color to its clean, modern look.While the app may change how customers interact with Balance, guests' time in the restaurant will always matter most.
For that guest experience, Balance has adopted a clean, modern look, with mild orange and tan colors throughout. Flooring is birch-colored laminate. Chairs match the flooring, while tables are solid white. Splashes of color are added through graffiti-style art, along with the "living wall," a white wall featuring a long, narrow planter with green plants hanging down.
By far, though, the most eye-catching aspect of Balance's front-of-the-house design is its open kitchen. While plenty of restaurants have placed production up front, design choices make this kitchen stand out even more than usual.
Each piece of equipment facing the dining area sits against a pony wall, and all have been set to the same height, creating a uniform look. At the same time, the chain has installed large glass panels that descend from the ceiling down to the top of the pony wall. Combined, these features invite customers to evaluate what goes on in Balance's kitchen.
"We wanted to assure customers we had nothing to hide," says Jang. "You see the entire process, from produce being washed to rice being made to food being cooked to dishes being washed. … All of that is out there. It mirrors our brand ethos and it mirrors our menu."
The flow of work starts just behind the POS counter, with the prep station. This area consists of a vegetable sink along two 48-inch worktables with undermounted refrigeration below. Prep begins here at about 6:30 a.m. Once vegetables are washed and broken down, they're placed in labeled storage bins that enable a first-in, first-out usage.
After the prep station, the kitchen breaks into two lines: assembly and hot.
The hot line starts with a two-burner wok system where team members cook veggies to order, as well as slice Angus steak in batches, which are held in a hot well on the assembly line after cooking. "We grill and cook proteins pretty much every 15 to 20 minutes," says Jang.
A six-burner range, chosen specifically for its flexibility, follows the wok station. In the morning, team members use the stove to finish sauces, adding fresh items like garlic and chilies to the bases produced by the chain's central commissary. The burners are also used as the menu changes or expands to include seasonal or specialty items, like asian steam buns.
The chain relies on the range to cook batches of chicken. Instead of doing this in frying pans, though, it uses removable cast-iron griddle tops that cover two burners at a time. Not only are these easy to clean, they provide the flavor profile Jang is after. "We tried a regular electric griddle. The flavor was just missing when we used a steel top. We tried many different things and decided cast iron was the way to go. There's something about cast iron that really gives that chargrilled, outdoor taste, which I love."
Next to the oven sits a single fryer, which the operation uses for items like creamy wontons, along with a pasta cooker used for blanching vegetables. Following that is the refrigerated table, which holds prepped vegetables.
The assembly line, which butts up against the glass window to the dining area, features undercounter refrigeration, along with a number of hot and cold wells holding proteins, sauces, starches and garnishes. Notably, the setup of this line, along with the flow of work on the hot side, changes regularly as Balance's menu changes with the seasons. This requires regular updating and training of kitchen staff, says Jang.
"Every time we get a menu change, [employees] get a list of which items we'll be carrying and which items have a variance to it. Then we train on how to prep it and distribute a storage plan with each menu. The hot line knows what's on with that storage plan, where those items are and what specific pieces of equipment and techniques they use to cook it."
Duplicating Success
Glass panels add a twist to the traditional galley-style kitchen at Balance Grille. Display monitors have recently been replaced with iPads. With Balance's concept now on solid ground, the chain's next step is expansion, says Karamchandani. Midsized cities within easy driving distance of Toledo are the target, places like Cleveland and Columbus, as well as locales in Indiana and Michigan.
The chain's reliance on its own central commissary and disposables warehouse, though, makes expansion a bit more complicated.
According to Karamchandani, the company has chosen to duplicate these facilities in each new market it enters. That will mean a very hands-on approach to opening new stores given the overhead that entails.
Jang and Karamchandani intend to handle site selection, improvement and build out. The franchise system will then act like a series of operating partnerships. There will be a low-to-no franchisee fee, with franchisees running their stores and splitting profits with the Balance corporate.
This partnership-style approach really embodies Jang and Karamchandani's way of doing business. While the bottom line is important, it's not the only thing that matters. They also want to run a business they can be proud of.
"When we started Balance, we were coming from a very idealistic standpoint, not as much an industry analysis," Karamchandani said. "It's not like we sat down and said 'let's look at the industry and pick a fast-casual concept.' It was more like [developing] the style from a customer perspective, a customer experience that we wanted to create and deciding how we can affect sourcing, employees, everything. There were a number of things we liked about restaurants and a number of things that we didn't. We figured, kind of naively, that if we could just fix it all and start our own restaurant, that would be perfect."
Key Players
Facts of Note
Chain Headquarters: Maumee, Ohio
Year Founded: 2010
Signature Menu Items: Buildable bowls, Asian tacos, bubble tea
Number of Units: Three, plus one bubble tea-only location
Unit Size: 2,500 sq. ft. total; kitchen is 1,100 sq. ft.
Seats per Unit (prototype): 42
Location Type: Endcap
Total System Sales: $6 million
Unit-Growth Projections: Two stores per year
Check Average: $11
Equipment Package Cost: $160,000
Photos courtesy of Balance Grille