Thanks to high-end ingredients, a chef-driven menu and an unusual partnership with another chain, Bad Daddy's is poised to take its award-winning burgers national.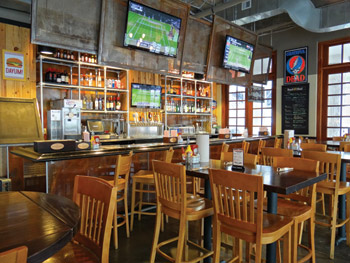 Practically all foodservice operators will tell you they're passionate about food and hospitality. But you won't find many whose passion comes through like it does with Frank Scibelli.
Twenty-two years ago, Scibelli was an MBA candidate at Wake Forest University and in the early stages of a successful career as a consultant. That job, however, didn't speak to him. Part of a large Italian family, Scibelli had always loved big family meals and the sense of warmth and hospitality they provided. Wanting to share those same feelings with others, he left his consulting gig and got into the restaurant business. While the move left some people in his family scratching their heads, it proved to be the right one. Today, Scibelli is the owner and operator of multiple foodservice operations in the Charlotte, N.C., area, including an Italian concept called Mama Ricotta's; a Tex-Mex place, Paco's Tacos & Tequila; and a barbecue joint, Midwood Smokehouse.
His love of comfort food led to the 2007 founding of Scibelli's most successful concept to date: Bad Daddy's Burger Bar, a full-service burger restaurant that specializes in gourmet burgers made with artisan ingredients and served in a retro 1970's/1980's atmosphere. In the seven years since its founding, Bad Daddy's has grown to eight locations, signed licensing deals and, most recently, partnered with another operating company, Colorado-based Good Times Restaurants, to establish a franchise system.
Founding
Bad Daddy's has a suitably humble beginning for a chain founded by a comfort food fanatic. Driving back and forth between two of his other concepts, Scibelli always found himself drawn to a building that had been home to a number of failed restaurants. Despite its bad track record, small size — about 2,000 square feet — and "horrible layout," Scibelli saw the building as a place where his comfort food approach would fit right in. "It just struck me as having a great neighborhood vibe. The parking was good. It's just a simple cinderblock building, but for some reason I just felt like we'd do well there."
After developing the idea a bit further — gourmet burgers and a retro feel — Scibelli made some phone calls, got in touch with the building's leaseholder and ended up buying her out. A few months later, the first Bad Daddy's opened its doors. The restaurant immediately found a level of success that truly astounded Scibelli. "We never in a million years thought we'd do the volume that we do in that store," he says.
Undoubtedly, the key to Bad Daddy's success is its menu, which rests on a foundation of high-quality, artisan ingredients. For instance, Scibelli found a boutique meat grinder in New York that developed a special chuck-and-brisket grind for Bad Daddy's burgers, and the concept's gorgonzola comes from a Wisconsin family business that traces its cheese-making roots back several hundred years to Italy. And each store makes its sauces and dressings in-house daily.
Bad Daddy's puts these ingredients to use in a menu that features some classics as well as original fare. Customers can choose basic burgers and patty melts, or they can opt for the turkey burger with Brie, bacon and apple; ground ahi tuna burger; or fried chicken sandwich with guacamole, jalapeno bacon, mozzarella and poblano pepper mayo.
The chain's sides and appetizers include house-made tater tots, parmesan french fries, onion straws, buffalo wings, nachos, fried bacon and fried pickles. Bad Daddy's drink menu has a similarly artisanal flair. Most units feature at least a dozen beers on tap, with microbrews heavily featured, while some stores even have a full bar offering the concept's specialty drinks.
The quality of the ingredients at Bad Daddy's and its innovative menu have earned the chain high praise. Bad Daddy's made Zagat's list of the 25 best burgers in the United States, and "The Steve Harvey Show" also identified the restaurant as having one of the best burgers in America.
An Unusual Partnership
During Bad Daddy's first five years, the success of the concept spurred Scibelli and his partners to open a handful of additional locations in the Charlotte area and to license a location in the Charlotte airport. It wasn't until 2012, however, that Bad Daddy's became a concept with nationwide aspirations.
At that time the Good Times Restaurant Group was actively looking to add another growth concept to its portfolio. Eventually Good Times' leadership was put in touch with one of Scibelli's partners, Dennis Thompson.
After looking into Bad Daddy's and meeting its leaders, the Good Times team was intrigued by the concept. According to Good Times president and CEO Boyd Hoback, Bad Daddy's has important qualities that make it stand out from other better-burger operations, including a chef-driven menu and a full-service operation style in a small footprint — not to mention a compelling financial model.
"We really liked the unit economics," Hoback says. "There's a relatively reasonable investment on the front end and then high sales per square foot. It's a good ROI model that we think has national scale."
Still, liking the concept and the business model was one thing — finding a way to partner was another. Fortunately, Bad Daddy's and Good Times meshed well in terms of both expertise and the type of partnership each was willing to form. "They're very entrepreneurial concept creators. We're more larger infrastructure and systems and process oriented. They didn't want to sell the concept; we didn't want to buy an early-stage concept. So we agreed to get creative," says Hoback.
Creativity in this case led to the birth of Bad Daddy's Franchise Development, which is 48 percent owned by Good Times and 52 percent owned by Scibelli and his partners. Since its formation just over a year and a half ago, Good Times has opened two locations in the Denver area as a licensee, providing it with the perfect opportunity to hone and systematize the concept's operations.
These efforts include developing training materials, refining operating margins in the labor model, fine-tuning the purchasing and distribution system and, of course, perfecting the concept's kitchen design.
A Chain-Ready Kitchen
Operationally, the Bad Daddy's kitchen gets moving each morning with a handful of staffers coming in to prep for the day. The prep area sits at the back of the house, behind the main production line. It consists of two walk-in coolers — one for fresh produce received three to four times per week, and one for beer in both bottles and kegs. Workers at the two prep tables hand-cut potatoes for french fries and prep ingredients for salads and sandwich toppings. Equipment in this area includes a tabletop mixer and immersion blenders for making sauces and desserts; a slicer for cheese, vegetables and potatoes for house-made chips; and a high-end food processor for grinding ahi for tuna burgers.
A wall separates the Bad Daddy's prep area from its cookline, which is partly visible through an expediting window. The line starts with an upright, double-door reach-in refrigerator that holds proteins and cheeses.
Next to the refrigerator sit a pair of three-foot flattop grills with refrigerated drawers underneath. The chain initially used a single six-foot flattop but found several benefits in moving to two smaller units, Hoback says. Having two flattops gives the chain redundancy in case one grill goes down, allows Bad Daddy's to train new staff members without disrupting the kitchen and makes it easy to have two staffers working the grill station at once. In addition, by cooking beef on one grill and nonbeef proteins on the other, the chain avoids mixing flavors.
Beside the grills is a six-burner stove with a convection oven below. Staff use the stove to cook fried eggs — an add-on topping option — and heat chili and sauces. Throughout the day staff use the oven to cook bacon. Initially the stove had just two eyes, Hoback notes, but the chain found it simply needed more burners to operate efficiently.
After the stove is the fry station. A bain-marie holds batter for some of the chain's more unorthodox offerings, like fried pickles and fried buttermilk bacon. The bain-marie itself rests on top of undercounter refrigeration in which items like sweet potato fries are stored before they are cooked.
The next station features four self-filtering fryers — for heavily battered items, fries, chicken wings and potato chips, respectively. A hot-holding unit for fried items sits next to the fryers.
Turning away from the fry station, team members find a large salad table with dozens of wells. Here, staffers make both side salads and entrée salads like the Texican Chicken Salad (romaine lettuce, buttermilk fried chicken, cilantro, red onion, tomato, black beans, tortilla strips and corn tossed in chipotle ranch dressing) and the Tree Hugger (spinach, walnuts, strawberries, mandarin orange segments, pecans, grapes, and red onions tossed in balsamic vinaigrette). Beneath the salad table sits undercounter refrigeration that holds back-up salad ingredients.
After the salad station is a steam table that holds queso, bacon and chili, followed by the expediting table. Staff at this station receive burgers from the flattop grill and add the toppings ordered by patrons. Options include standards like lettuce, tomato and ketchup, as well as more unusual toppings like rosemary ham, pineapple, jalapeno bacon, garlic mayonnaise, horseradish mayonnaise and pimento cheese, among many others. At the end of the expediting station sits a bun toaster. Once a burger is completed it is passed through the window, along with any sides, to servers who deliver the plates to hungry customers.
A Child of the '70s
The dining area where these customers sit, Scibelli says, has a feel that can be described as "industrial garage meets the 1970s." At the prototype store, a deck that's accessed through a roll-up garage door is decorated with items from the decade when Scibelli grew up.
"I wanted it to feel like a place that had been there for 50 years, so we bought a lot of vintage memorabilia," Scibelli says. "When you hear that, you think it's like an Applebee's — it's not like an Applebee's."
Indeed, decorations include items like "Dukes of Hazzard" lunch boxes and Farrah Fawcett posters. And while the restaurant does display memorabilia and jerseys from local athletes, Bad Daddy's skips the obvious and goes for the truly local stars. In the Denver location, for instance, the posters don't feature John Elway; they celebrate Kiki Vandeweghe and the Three Amigos instead.
The decor gives Bad Daddy's a cool vibe, which is reinforced by its team members. The chain has no problems with tattoos and piercings, and waitstaff are encouraged to interact and engage with customers. "There's people who walk around with a smile on their face, and there's people who don't," Scibelli says. "We try to hire people with a smile. A lot of times that's more important than their technical capabilities as a server."
Ready for Growth
With the concept's operations nailed down, Bad Daddy's is ready for — and in fact is anticipating — serious growth. Initially, says Hoback, the concept will likely grow through company-owned stores — Good Times itself is a licensee in three states — and then franchised units will be added. And, says Hoback, Bad Daddy's development is on the verge of signing its first multi-unit franchisee, "after which we expect other dominos to fall."
One of Bad Daddy's biggest challenges going forward, according to Hoback, will be managing this growth well. The chain must be careful to choose the right partners and find locations that match the operation. "This is an upscale concept, so we're looking for upscale retail and entertainment, upscale neighborhood lifestyle centers, ideally endcap spaces." And as new stores open, the Bad Daddy's team will have to monitor food quality and service standards to ensure they stay high, Hoback adds.
To help manage these challenges, Bad Daddy's and Good Times have brought in a number of restaurant industry veterans. These include the former director of operations for Lone Star Steakhouse as well as the former vice president of franchising for Buffalo Wild Wings, who will serve as Bad Daddy's franchising VP. This level of expertise, says Scibelli, should enable the chain to manage its impending growth.
For Scibelli, who's truly passionate about this concept, having this talent on hand to help manage Bad Daddy's growth and maintain his vision for the concept is key.
"I'm a control freak, but I have a great level of confidence in who we have as a team," he says. "We've loaded up the bench with talent. It's going to grow, but not so much that we can't manage it."
Facts of Note:
Chain headquarters: Charlotte, N.C.
Year founded: 2007
Signature menu items: Bacon Cheeseburger on Steroids (basic burger seasoned with bacon salt, three pieces of jalapeno bacon, three pieces of applewood smoked bacon, topped with Monterey Jack cheese, house-made bacon mayo, lettuce, onion and pickles); The Frenchie (turkey burger, Brie, applewood smoked bacon, grilled apples and garlic mayo); Texican Chicken Salad (romaine, buttermilk fried chicken, cilantro, red onions, tomatoes, black beans, tortilla strips and corn tossed in chipotle ranch dressing); fried pickles.
Number of units: 12 by end of 2014
Average unit size: 3,300 to 3,600 sq. ft.
Check average: $14.75
Key Players
Founder and CEO, Bad Daddy's International (BDI): Frank Scibelli
Cofounder and Comanager, BDI: Dennis Thompson
CEO, Good Times Restaurant Group: Boyd Hoback
Interior Designer: Carrie Frye Interior Design
Kitchen Design Consultant: Chris Nichols, TriMark Foodcraft
Equipment Dealer: TriMark Foodcraft