Observations from The NAFEM Show. A c-store tests delivery robots. Plenty of mixed labor news. These stories and more This Week in Foodservice.
People are anything but static beings. And because the foodservice industry exists to first and foremost serve food to people it should come as no surprise that change is a constant, no matter your role in this community.
It should also be no surprise that change is a current flowing through The NAFEM Show, which convened in Orlando last week following a four-year Covid-induced hiatus. Indeed, plenty had changed not only among the NAFEM member companies exhibiting at the show but also among the foodservice professionals attending the show.
There was a fair amount of new products on display in all corners of the Orange County Convention Center's South Hall. This show had a little something for everyone. Everything from robotic arms to products that will automate drive through services to artificial intelligence-inspired management tools were on display. There was much to see, for sure. And if you did not see something new or interesting you were not paying attention. If you're curious to learn more about some of the new products, download N+, The NAFEM Show app. There's plenty listed there.
As previously reported, there had been plenty of merger and acquisition activity among the factories since the last NAFEM Show. It was interesting to see the different approaches to integration. For example, Hoshizaki formed what it calls an "alliance" for its brands. And Electrolux Professional integrated the individual brands it acquired from Unified Brands but seems poised to retire the Unified Brands name. Other brands hosted demonstrations of how their multiple lines work together to create and serve food in a timely manner.
Factory consolidation led to change in other areas, too, most notably among the reps. The show floor was ripe with news about rep firms resigning one line for another and the opportunity to expand their territories. The ripple effect is notable, and it would seem more rep groups are poised to shakeup their line cards in the coming months. This will impact not only rep groups but the way consultants, dealers and service agents access product and important information about those products.
The NAFEM Show also served as a coming out party for a new entity called The Hospitality Advisory, a design and procurement firm that "provides tailored solutions to multinational foodservice operators." The Hospitality Advisory also consults with foodservice and hospitality operators on branding continuity, menu concepts, beverage development, and more.
Based in Columbus, Ohio, THA is comprised of foodservice professionals from a variety of fields that will take "a unified approach to reconstruct, design, and ideate for new and existing brands efficiently and creatively."
Overall, the energy and excitement generated by The NAFEM Show was refreshing. It's hard to describe the atmosphere on the first day. The closest thing I can compare it to is when the Cubs made it to the World Series in 2016. It was the first time since 1945 that Wrigley Field had hosted the fall classic. When the Cubs returned from splitting a two-game set in Cleveland, Patty (my wife) and I took a stroll around the ballpark and the surrounding neighborhood to soak up some of the atmosphere. The streets were packed with people, and everyone was in a great mood – hugging, high-fiving and more. We had been to Wrigley hundreds of times over the years but this was just different. People were just happy to be there and to be together to celebrate something so unique and something that had eluded so many for so long.
That's what it felt like walking the floor at The NAFEM Show on February1, 2023. People were stopping in the aisles shaking hands, hugging and generally happy to catch up. Yes, the booths were packed with products and people who came to learn more about the foodservice equipment and supplies that were on display. But make no mistake: the air was festive. The next day settled back into a more normal trade show rhythm save for the fact that aisles and booths remained packed until the very end of the show and the energy was high all day. It was good to see large groups of dealers on the show floor early getting their training and the foodservice consultants were well represented, too. That level of engagement is good for the entire industry.
Foodservice News This Week
Restaurant industry performance showed moderate improvement in December, per the National Restaurant Association. The NRA's Restaurant Performance Index stood at 101.8 in December, up 0.7% from November. The NRA attributes the growth to improving same-store sales and customer traffic.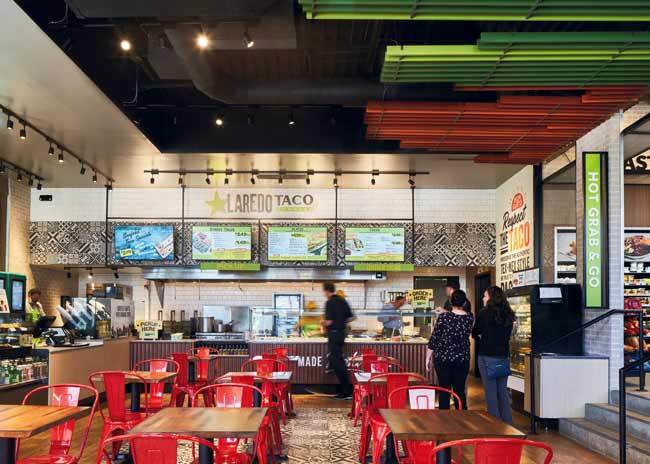 Laredo Taco is one of 7-Eleven's restaurant concepts.
7-Eleven is testing delivery robots in California. Customers can order food through the c-store chain's app. And because you don't have to tip a robot, consumers can potentially save a little money using this service. 7-Eleven reported robots have completed more than 20,000 deliveries. And if the test goes well the chain will expand this program.
Cava Restaurant Group is exploring going public. Details continue to emerge about the number of shares, price range, etc. This is one of the first restaurant companies to file for an initial public offering in 2023.
Micro food hall concept Local Kitchens will open five locations in Northern California, including one each in Novato, San Bruno, Granite Bay, Citrus Heights and Natomas. Each location features a unique mix of 5 to 10 restaurants cooking food fresh to order. These locations offer takeout, delivery and dine-in. Guests can order online, via an app or by using an on-premises kiosk.
Betco Corp. has acquired certain wastewater business assets from Novozymes A/S. Novozymes provides biological solutions and enzyme and microbial technologies to improve industrial performance while preserving the planet's resources.
Burkett Restaurant Equipment & Supplies was recognized a Top Workplace 2023 in Northwest Ohio by The Blade, a Toledo newspaper. The Blade partnered with Energage, an employee survey platform, to gather employee feedback through an anonymous survey that helps identify 15 culture drivers critical to success in an organization.
Growth Chains: Velvet Taco opened a location in Grapevine, Texas. The chain now has 36 units throughout the Lonestar State. Taziki's Mediterranean Café opened a location in Holly Springs, N.C. Great American Cookies opened a location in Albuquerque, the chain's first unit in New Mexico. Toasted Yolk entered the Florida market with the opening of a restaurant in Sarasota. Emerging chain Big Bad Breakfast opened a location in Pittsburg, Tenn., running its unit total to five systemwide.
Economic News This Week