For the longest time, when someone mentioned food sold at a convenience store, the first thing that came to mind was not so much a menu item but a piece of equipment: the roller grill.
While c-stores continue to serve hot dogs and other items cooked on roller grills to stay true to their long-term customers, the fact remains menus at these operations continue to evolve to meet consumers' changing palates and lifestyles.
Billy Plummer, Principal, CRTKL, Dallas
Take, for example, 7-Eleven, one of the country's largest c-store chains, which operates, franchises or licenses more than 13,000 stores in the U.S. per the company website. Even 7-Eleven has to evolve to stay relevant. The chain has been working with architecture and design firm CRTKL to reimagine its stores and to attract the next generation of c-store consumers.
The relationship between the two organizations dates back to 2017, when CRTKL came up short on a pitch to develop a new 7-Eleven prototype, according to Billy Plummer, principal of specialty, food and beverage based out of CRTKL's Dallas location. A few months later, though, 7-Eleven came back to CRTKL to discuss working together to develop what the c-store chain describes as lab stores.
Carlie Russell, senior designer of specialty retail, CRTKL, Dallas"We work with lab stores, the ones that are used to test new products and food and beverage lines," Plummer says. "And then they get rolled out to the franchisees."
Some of these stores include what amount to fast-casual restaurant brands, including Raise the Roost Chicken and Biscuit, Parlor Pizza and Laredo Taco Company, the last of which is a concept the c-store chain acquired.
The approach was successful almost overnight. "They hit three-year sales goals within six months of it opening," Plummer says. "We've done a dozen of these lab stores, and all but one of them are overperforming like that."
Here, Plummer and Carlie Russell, senior designer of specialty retail, also in CRTKL's Dallas office, discuss how c-store foodservice will evolve based on the work they have done with 7-Eleven.
Q: In what ways have c-stores evolved in the past few years, and what role has foodservice played in that evolution?
CR: A lot of it comes from the overall higher expectations consumers have with respect to their food. There's also the convenience that c-stores and grocery stores offer in terms of food. You can walk in and grab something really quick or even order it from your phone. 7-Eleven was known for its food innovation and felt they had gotten away from that. So, they needed an environment that would apply a sense of freshness to the products available in the store and back that up with an open, clean and well-lit environment to really support those types of offerings.
BP: They still have some of the legacy menu items, like the food that's on the roller grill to keep their existing clients.
CR: They don't want to alienate their existing customers but also want to attract some customers who were not coming in recent years.
BP: When we design, we are trying to use materials that create an elevated experience, but they are not the most expensive materials, either.
Q: How do you anticipate c-stores evolving in the coming years?
BP: Electric vehicle charging is huge now, and the food offerings can now include a pizza concept and a chicken concept inside the stores. So we are designing bigger spaces to accommodate these changes. We are putting in more seating, including lounge areas. It takes longer to charge an electric vehicle than pumping gas.
CR: Some of these stores we are working on do have larger footprints. They have television screens and other features that make the space comfortable and make you want to stay. We have also designed some locations that have smaller footprints, too. Discovery is also important. We want to give customers something to discover while there and a reason to come into the store. This can include the customization of food and drink. With the newest store we just designed, there are more than 1,000 ways you can customize your coffee. So when you come in you can get a new drink every time.
BP: A lot of those design changes are for the linger time. For the fast in-and-out customers, there's kiosks in the store so you don't have to sit and wait at the point of sale. You can go through and pick your items and bag your own. And we have places for third-party delivery cars to park to support 7-Eleven's 7NOW [delivery] program. We also designed their first drive-thru. That includes selling food items and some c-store items. Adding that drive-thru component to c-stores will be big in the coming years.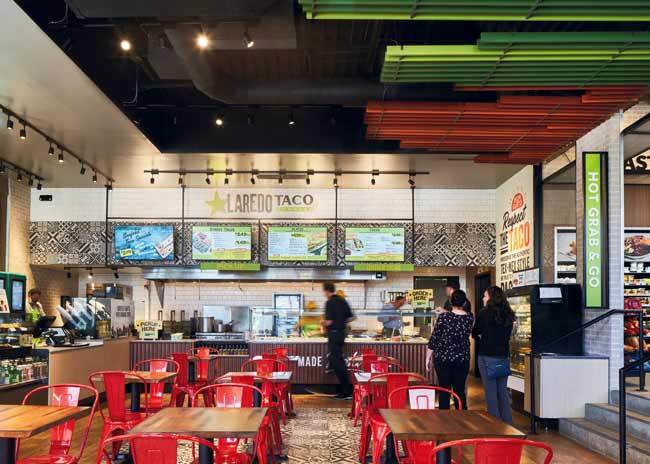 Laredo Taco is one of 7-Eleven's restaurant concepts.
Q: How do all of these changes impact space allocation?
BP: We still don't allocate much space to the back of the house. We want to evoke images of freshness so that means customers want to see the food prepared and so forth. So more than roughly two-thirds of the space is allocated to traditional retail, and probably one-third is allocated to the restaurant concept. And, in some cases, we are putting in wine cellars that are selling wines that go for up to $200 a bottle.
CR: These ideas have been tested in a lot of different markets and demographics. 7-Eleven tests quite a bit. When you talk about adding the wine cellars, some places may have a bigger one because they know there will be more sales there. In other instances, there may be a smaller wine cellar and bigger restaurant.
BP: Safety has become a big feature of the stores today. That will impact where we place the ATMs and even the restrooms. And we lowered the height of the gondolas so the employees can have a view of the entire store.
Q: How do these changes impact the equipment package?
BP: There's food in most 7-Eleven locations we've done. We've put hot food cases in those locations. Most of the food is prepped in those locations and not in a commissary kitchen. There's still some frozen pizzas and things like that, too.
CR: The old pieces of equipment were tall and big and took up a lot of space. The restaurant platforms are pretty much fast-casual concepts. Customers see staff pressing the tortillas and making the pico de gallo. So it's like any other fast-casual operator, where it's made in front of you and you pick what you want. To support this experience and type of production, the equipment package includes flattops, fryers, rapid-cook ovens, a hood and other items that you would see in a fast-casual restaurant. In the back, there will be a walk-in freezer and refrigerator. In terms of back-of-house storage, we will try to go as vertical as possible. We still include microwave ovens, too.