The U.S. Census Bureau's Advance Monthly Retail Sales for May reported total retail sales declined while sales of food services and drinking places increased. A top executive exits Starbucks. The National Restaurant Association urges the President and Congress to cut tariffs that are driving up inflation. These stories and a whole lot more This Week In Foodservice.
The Census Bureau reported U.S. Total Retail Sales decreased 0.3% in May from April but were up 8.1% from May 2021. In the first 5 months of 2022 total retail sales rose 10.6%. Advance Total Retail Sales for were revised down slightly from up 0.9% to up 0.7%.
Advance Food Services & Drinking Place Sales increased 0.7% in May from April. In the first 5 months of this year, Food Services & Drinking Place Sales are up 23.6% over the same period last year. The advance sales number for Foodservice & Drinking Sales for March to April was revised upward from +0.2% to +2.5%.
The key question will be can restaurants continue to outperform the retail market as a whole?
There are some things to consider when reading the report. The survey does not cover the entire foodservice industry but only the restaurant market. Thus, excluded from the data are employee feeding, schools K through 12; colleges and universities; healthcare; and military feeding. The sales numbers are adjusted for holidays and seasonal variations but not for price changes.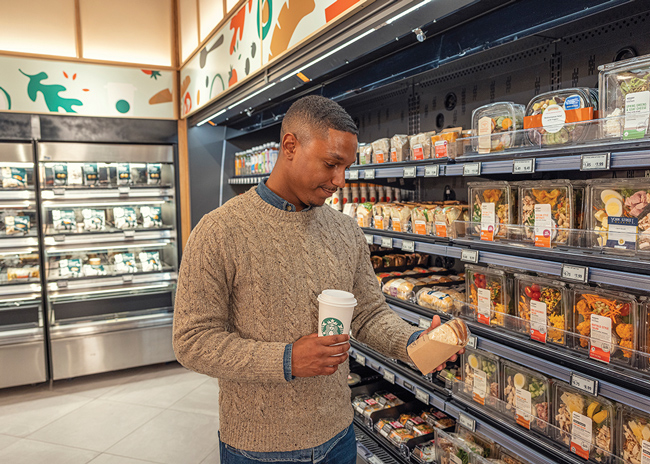 The co-branded Starbucks Pickup with Amazon Go location in New York City lets customers choose the experience they want. Read "What Restaurants can Learn from Retailers" on rddmag.com. Image courtesy of Starbucks
Economic News This Week
Initial jobless claims decreased by 3,000 for the week ending June 11, per the U.S. Department of Labor. The 4-week moving average totaled 28,500, an increase of 2,750 to 218,500.
The producer price index for final demand increased 0.8% in May, per the U.S. Bureau of Labor Statistics. Total final demand increased 0.8%, final demand for goods increased 1.4% and final demand for services grew by 0.4%. However, produce food prices in May were unchanged from the previous month. The Producer Price Index for energy rose 5%.
Foodservice News This Week
The National Restaurant Association urged Congress to drop some tariffs in an effort to control inflation. Some food items that have seen prices skyrocket in the past year include eggs, which are up an incredible 259.9%. Also zooming up are butter (up 50%) and fish (up 47.3%.). Usually, complaints about tariffs focus on food products but this time foodservice operations are joining the anti-tariff chorus against steel and aluminum, which continue to drive up the prices of foodservice equipment, HVAC units and more.
Changes continue at Starbucks. The coffee chain's president of North America, Rossann Williams, resigned after 17 years with the company. Some published reports attributed Williams' departure to the unionization efforts at Starbucks. Certainly, the union situation is making a tense situation for the company but there are also other factors at Starbucks, including the lack of a permanent CEO. It is highly likely that other veterans will leave the company, too. Some will go because the company has announced the top job will go to someone outside the company. Some executives may stay until they can get a reading on the new top executive and at least some will conclude there is not a good fit. Others will be pushed out the door because CEOs want their own people around them. If Starbucks is typical of these situations, there will be turnover among the second-tier executives as well for many will feel they are blocked from advancement. And so it goes.
Growth Chains: Mexican chain Rosa Mexicano saw its unit count fall from 12 to 6 after the company was acquired in 2018 but is now growing again with 4 locations set to open in the next few months. The new operations will be in Ardmore, Pa.; West Hartford, Conn.; Washington, D.C. and Boston. Also in the development pipeline are restaurants in Orlando and Las Vegas.
Comparable Store Sales Reports: YUM! (Habit Burger up 17%, KFC U.S. up 1.0%, Pizza Hut U.S. down 6.0% and Taco Bell US up 5.0%.), YUM! China (KFC China down 9% & Pizza Hut China down 4%)
For same-store sales of other chains, please click here for the latest Green Sheet.