Inflation. Partisan politics. Supply chain challenges.
Bob Ray, Chief Operating Officer, Margaritas Mexican RestaurantsWith almost everyone having to face at least one of these issues, who wouldn't want to take a vacation? Well, unfortunately, not everyone can afford one. But most can afford a margarita. And Margaritas Mexican Restaurants strives to serve its namesake drink and provide a high-quality experience that allows customers to take a brief vacation (or perhaps a staycation?) while visiting their restaurants.
Founded in 1986, the 25-unit chain features a mix of franchise and corporate-owned locations throughout Massachusetts, Maine, New Hampshire, Connecticut, New Jersey and Pennsylvania. When it first opened, Margaritas served only the dinner daypart, but over time, it added lunch. During the pandemic, though, the chain adjusted its operating hours and, for the most part, eliminated lunch. In fact, only four of its locations currently offer lunch, and that's limited to Saturday and Sunday afternoons, per chief operating officer Bob Ray.
After taking a fresh look at the business, Ray and the leadership team at Margaritas Mexican Restaurants see the chain as positioned for growth across the Midwest and Southeastern U.S. Ray discusses these changes and more.
Q: You describe the chain's approach to the way it serves its customers as "putting on a show." Can you explain what that means?
A: It's a combination of the atmosphere we set with the facility and the hospitality. We are renovating some restaurants that are 15 years old or so. We are moving decor around and changing some elements to give it a fresh look. Our guests really appreciate it, and we have our staff present to gear up for that one daypart. That show is about our hospitality and energy and food being right. For the guest, the show is whatever they want it to be. We are trying to deliver a little bit of a vacation.
Q: What role will off-premises play in the newly engineered business model?
A: We did almost no off-premises business prior to the pandemic. At our peak, we did about 20% of sales and have now settled back into the low teens. It is significant for us, but it also comes at the same time where we are executing that dinner experience. Our sales have shown us, though, that customers want to come in for that Margaritas experience. So, people are taking advantage of coming into our restaurants and lounges. So, we think we've landed at the place where guests want us to be, and they want to dine with us and have a margarita. People really like having that as part of the Margarita's experience, and that's different from having it delivered and not having the margarita component.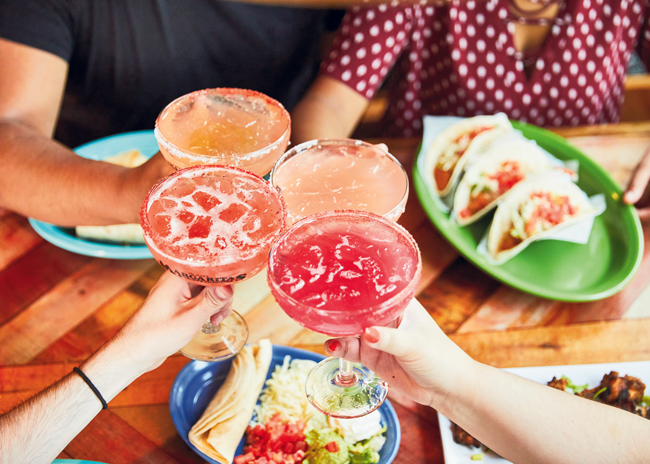 Image courtesy of Margaritas Mexican Restaurants
Q: How has Margaritas Mexican Restaurants incorporated technology into its operations?
A: A year ago, we began initiating a change, and we are now on handhelds [devices that allow them to take orders and process payments]. That really helps with labor and keeps the servers present. In some areas where we see higher takeout volumes, we've made some adjustments with technology to ensure that flow. Once an order leaves the building, it's hard to adjust that takeout experience. So, we've added some monitors, for example, and another program to consolidate our online and third-party orders to better
coordinate the flow.
Q: What impact will these changes have in the back of the house?
A: Not a lot of change in the back of the house for us. The fact that with online ordering, you can fill all of the seats in your restaurant and increase volume through third-party deliveries can create some challenges, but we did not have to update the back of the house. When we reopened in 2020 and streamlined the menus, we wanted to make sure that our workforce was focused and locked in on that dinner daypart and could execute through that big push. It was more about prep and stocking the expo line to prepare for what we could in advance of the takeout orders being placed. And there was some reorganization of how we use refrigeration. But for the most part, the structural changes were minimal.
Fresh-made margaritas and a festive atmosphere are key elements in the experience offered by Margaritas.
Q: Based on how your business has evolved, have you given any additional thought to overall restaurant design or site selection?
A: Our experience primarily is in second-generation spaces and conversions. We have to be flexible, but that gives us the chance to get great deals. Before things were changing, our opinion was that smaller was becoming better. And then when things became 50% open, that turned out to be a real advantage. Depending on where a location is, we have different ideas as to what works best. Having a dining room for families and date nights and then a bar and lounge, which has a different vibe — we need space to execute those types of experiences.
Q: And have the well-documented supply chain issues impacted the ability to open locations?
A: We have one company restaurant in the works, and the supply chain issues have affected our timeline. We are comfortable with it, though, and we are not on an aggressive growth schedule. We will get this one restaurant open in Maine in 2023, and we will look to get the next one open in 2024. We've planned ahead on some things. There are things we were trying to get a year ago that we knew would have long lead times, like HVAC units. So, we are just planning for it. We are looking to grow and add the right franchisee partners, and we would like things to get a little easier as they get into it, too.
Q: What's one thing that excites you about the restaurant industry as it heads into 2023?
A: There are some things we have been working on the past couple years that make me feel we are well positioned to take care of our guests. We feel really good about our team. We have a great loyalty program we are focused on leaning into and growing. We feel like we're well positioned for people who like margaritas. We are excited about the work we do in our existing restaurants and feel we will have more customers coming in our restaurants in the coming year.