For multiconcept operator FAT Brands, 2021 was an active year, one in which the company diversified its restaurant portfolio and expanded its reach through a series of acquisitions.
Andy Wiederhorn, CEO, FAT Brands, Beverly Hills, Calif.For example, FAT Brands acquired Global Franchise Group, which franchises and operates a portfolio of five quick-service restaurant concepts: Round Table Pizza, Great American Cookies, Hot Dog on a Stick, Marble Slab Creamery and Pretzelmaker. In addition to purchasing the restaurant chains, FAT Brands also acquired GFG's manufacturing operations. Three months later, FAT Brands acquired Twin Peaks, an 82-unit polished casual, sports-oriented chain. And, finally, FAT Brands struck twice in November, inking deals to buy Fazoli's, a quick-serve Italian concept that had more than 200 restaurants across 16 states at that time, and Native Grill & Wings, a 20-plus-unit chain.
None of these acquisitions were done by chance. Instead, they were done to complement the company's existing concepts, pave the way for co-branding and more. And the company is not done. FAT Brands intends to continue using that diverse portfolio to further grow the company.
Andy Wiederhorn, CEO of FAT Brands, discusses how these deals fit into the company's long-term vision, the strategy behind co-branding and more.
Q: FAT Brands went on something of a shopping spree in 2021, buying four restaurant chains. What are some attributes FAT Brands looks for in an acquisition target?
A: It's been a slow and strategic lead up to where we are today. Many of these conversations started months, if not years, ago and have just begun to come to fruition. When bringing on new concepts, we look for opportunities that will allow us to continue building our portfolio while maintaining an asset-light business model. We want restaurants that have brand equity that will stand the test of time with strong sales and optimistic growth potential.
Q: How do these acquisitions fit into the longer-term vision for the company?
A: Long term, we want to diversify our portfolio into different sectors of the franchise space. For each deal that we make, we're also deliberate about finding concepts that have synergy with our existing brands.
Prior to acquiring Global Franchise Group earlier this year, our portfolio didn't have pizza, cookie, ice cream, and pretzel brands. When we closed that deal, we were able to expand our footprint into those spaces. With Fazoli's, we are set to make our first foray into the premium Italian category, and with Twin Peaks, we can now say that we have a presence in the polished-casual dining sector.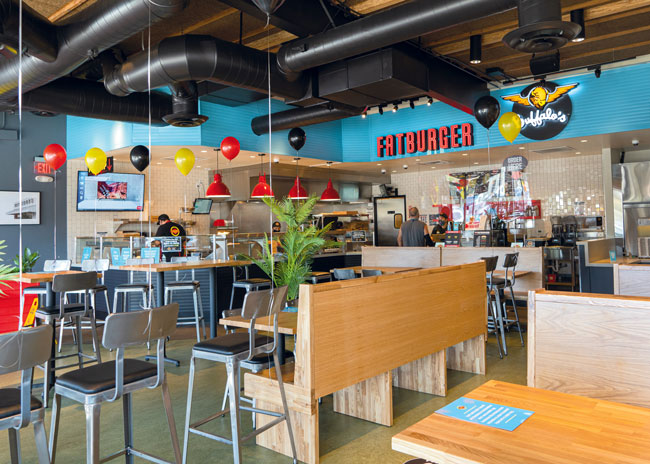 FAT Brands co-brands more than 50% of Fatburger locations and the company has seen an increase in average sales volumes as a result.
Q: FAT Brands has started co-branding some of its concepts. Do you anticipate doing more of that in the future?
A: We absolutely plan to continue our co-branding strategy. We started co-branding nearly 10 years ago when we acquired Buffalo's Cafe and it was incredibly successful. Global Franchise Group has also found much success with co-branded Marble Slab Creamery and Great American Cookies locations. Our franchise partners are eager to continue to adopt this model. Today, more than 50% of Fatburger locations are co-branded, and we've seen a 20% increase in average sales volumes as a result. We plan to develop more co-branded Elevation Burger and Hurricane Grill & Wings locations and are planning to integrate Hot Dog on a Stick into some of our Fatburger restaurants.
For co-branding to work, both concepts must be established brands and have consistent, equal product quality. With this formula, concepts will benefit from greater menu diversity. It also allows brands to be introduced to new audiences where they might not have a presence yet. For example, Fatburger has a strong following on the West Coast; however, when we started co-branding with Buffalo's Express, they were solely on the East Coast. Through co-branding, we were able to build the following of Buffalo's Express on the West Coast through its pairing with Fatburger.
Q: How does co-branding impact overall unit size? It would seem that more and more restaurants, particularly in the QSR and fast-casual segments, are developing smaller prototypes. Has your company made any adjustments?
A: We have not. Co-branding marginally impacts a unit's size as only a few more pieces of additional equipment and signage are needed. These extra items take up little space, and, therefore, we haven't had to make any changes to our locations' layouts.
Q: When co-branding, how do you go about designing the kitchen to ensure it meets the needs of both concepts without compromising flow and efficiency?
A: When co-branded units are in the build-out phase, the operations team meets with the restaurant designer to coordinate what the kitchen layout should look like. This collaboration between operations and designers ensures that kitchen flow and efficiency are not compromised.
Q: What excites you most about the future of the restaurant industry?
A: I'm excited to see what happens from a consolidation standpoint. 2021 saw a sharp increase of mergers and acquisitions across the board following a dip in 2020. The recent activity in restaurant dealmaking is a strong indicator that the restaurant industry is back. I can say from a FAT Brands standpoint, we are not slowing down any time soon in terms of growth with our current port-folio and from an acquisition perspective.