For many restaurant guests, enjoying a glass of wine or even sharing a bottle with their dining companions is all part of the experience. Realizing this, many restaurant operators spend significant time and thought developing wine lists that match their menus. Equally important, though, is developing the infrastructure that supports such a program, including glassware, storage and more.
Bill Hanson, Corporate director of food and beverage operations, Davidson Restaurant Group, Atlanta, davidsonhospitality.comTake, for example, Davidson Restaurant Group in Atlanta, the food and beverage operating arm of Davidson Hospitality Group. It operates and manages 170 bars, restaurants and cafes of varying levels of size, shape, concept and sophistication, including many restaurants in hotels. As one might expect, many of the company's casual- and fine-dining restaurants feature well-curated wine programs that reflect the unique nature of each operation. "We don't carbon copy our concepts. We stylize them to the market to make sure they fit, and there's plenty of room for organic development," says Bill Hanson, corporate director of food and beverage operations for Davidson Restaurant Group.
Hanson shares his experiences and expertise around building the necessary infrastructure to support an effective wine program.
Q: How do you pick the right glassware? Lots of options out there.
A: Glassware is highly personal. The mantra of red wine for red meat and white wine for chicken has been tossed out years ago. So, we start the glassware specification with the style of the hotel and the anticipated volume. The glassware has to be harmonious with the product you will serve. It's not as hard as it used to be to create a wine list today, thanks to various online tools. But if you choose the wrong wine glass, you will look like you don't know what you are doing. The glassware has to live in harmony with what you serve. It's like matching your wine to your food. If you have some high-end glassware with some pretty middle-of-the-road wines, it won't look right — almost like the wrong tie with a suit. If it's a high-volume, middle-of-the-road wine list, it's OK to have that durable glass. For us, though, we suggest one Bordeaux and one Burgundy glass.
Q: How do you approach washing and storing the glassware?
A: In an ideal world, it would be great if we could soak our wine glasses for 20 to 30 minutes, handwash them and polish them before putting the glasses away. I've never been in that ideal world, though. We have to get them clean from a sanitation standpoint and polished from an aesthetic standpoint. It's OK to run them through the dishwasher so long as the glasses are in racks or some other device so they do not bang against one another. And it's important we don't place a warm glass on the table. The wine glass needs to have enough time to come back to room temperature. Polish the glassware to make sure the rim is clean and shiny. It just enhances that overall experience. But it does start with having the right inventory of glasses.
Q: How do you get to the right inventory?
A: You have to understand your mix of sales between food and beverage. A standard example would be 70% food to 30% beverage. And then among the beverages, you have a mix of beer, liquor and wine. And among the wine, what percent of sales is by the glass or by the bottle? You really need to understand your concept and whether you are driven by bottle sales or by-the-glass sales. Much like with silverware, where you want to have two to three times inventory, you should have a glass and a half per guest minimum. If you don't preset your tables, that number can change a little. I came up working in independent restaurants, and each one was so different.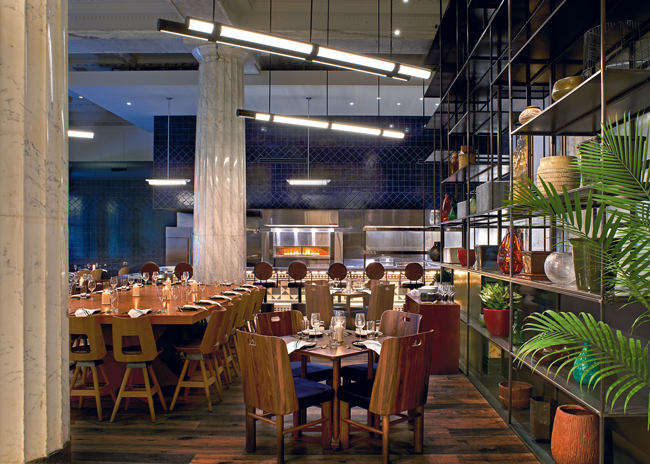 Giulia at Emery Minnapolis
Q: During the pandemic, lots of tabletops went bare. Is now the time to bring back preset tables with wine glasses?
A: I travel every week and am in a different market every week, and [the preset table] is coming back. That's not to usurp the local authorities or anything like that. But where it is allowed, I have felt great where the table was preset and was ready to order a beverage when I sat down. As a company, we have not seen a negative response from guests for presetting the tables. The benefit we have in most markets is that tables are still spaced, and that can help reduce risk.
Q: How do you determine when to use a logoed wine glass?
A: It's right for you if your operation carries extra inventory because logoed glasses will walk more with guests. If your main objective is for people to capture that Instagram moment, a logoed glass may be right. To me, the logoed glass is for a very specific operator who is trying to get their name out there via social media or via a giveaway. A pool bar or beer glass is probably a different story. They connote that fun party atmosphere where the logo could be more appropriate.
Q: Looking at wine storage, when is a dedicated wine cooler necessary?
A: There is never a good time to have wine cook. So, if you don't have a cool-ish storage area, you should invest in refrigeration. Sharing a walk-in beer cooler is an easy answer to this. If you have a rotation system, hopefully you can pull out the wine before serving. If you have a wine-by-the-bottle list, though, you should be able to control the temperature in some way, preferably with a cooling system. A lot of people serve their white wine too cold. It's usually by the end of the bottle when you can finally enjoy the true flavor of the wine. If the wine sits there and cooks all day long, it's not going to express itself the right way to the guest.
Image courtesy of Solamar San DiegoQ: Can backbar refrigerated storage drawers play a role in a good wine program?
A: It all goes back to space and availability, etc. Those systems are perfectly fine for operations that don't have proper back-of-the-house storage and do the volume that can support them well. You have to make sure your program moves enough volume.
Q: When does it make sense to serve wine on tap? And what goes into fleshing out the infrastructure?
A: Where this really works — crushes it — is when you have that all-day cafe or coffee shop and you want to add wine but don't want to start a by-the-bottle program. If you have great bar presence, meaning guests sitting at the bar, they will ask for it, and that will spark good conversation. But the bartenders need to be well versed in the wine and be able to speak to pressurization, temperature and other factors — just as they would answer questions about a bottle. If your tap system is not visible to the guest or well merchandised or your servers can't sell it correctly to the guest, then all you are doing is taking up a beer tap handle. Don't chase this because it's trendy. Do it because it fits your concept.
Q: What goes into designing a special temperature-controlled wine storage area where you can host tastings, etc.?
A: When you create a space like that in a restaurant where it eats up dining tables, what's the trade-off? The benefit is when guests walk in and see this private area. They see it's cool and want to be a part of it. As an operator, you have to materialize that into revenue, and hopefully your sales team is savvy enough to do so, both in person and via social media. So long as it works with your concept, it will be awesome. Your guests, while seated in different parts of the dining room, should be invited to check it out. The area needs to be aesthetically pleasing and fit the concept. I hope wine storage areas never go away.