Modern Market Eatery has grown from a 2009 startup in Boulder, Colo., to a 29-store chain that now franchises.
Beth Hardy, Vice president of marketing, Modern Market Eatery, Boulder, Colo.The menu focuses on chef-driven, made-from-scratch fare; popular menu items include Modern Market's bowl lineup, such as its Blackened Chicken Mango Bowl made with organic rice and quinoa, as well as toasted sandwiches and brick oven pizza.
Beth Hardy, vice president of marketing, discusses the chain's strong connection to digital engagement.
Q: How have Modern Market Eatery's digital marketing-related efforts developed since first launching them?
A: The Modern Market loyalty app has been one of our key marketing channels since its launch in 2017. As our loyalty membership grows, we're able to learn more about guest purchasing behavior and create personalized rewards that generate unique guest experiences.
When looking for a loyalty partner, we knew we wanted a flexible platform that could grow with us that would also make ordering from the app or our website quick, convenient and loyalty focused. One of the reasons we chose the program we did was because guests can link multiple credit cards to their account (not something other platforms offered at the time).
The API [application program interface] architecture of this program was also a deciding factor. It allows us to custom develop our website to the API, which generates substantial loyalty functionality on our site.
Social media has always been a solid awareness driver for Modern Market since the company's inception in 2009. We've grown our following organically over the years and utilized it as a crucial tool. Social can also act as an informal research tool to gather information from our most loyal fans, such as gauging interest in a new or prospective menu item.
Q: What other benefits have you experienced against these marketing initiatives?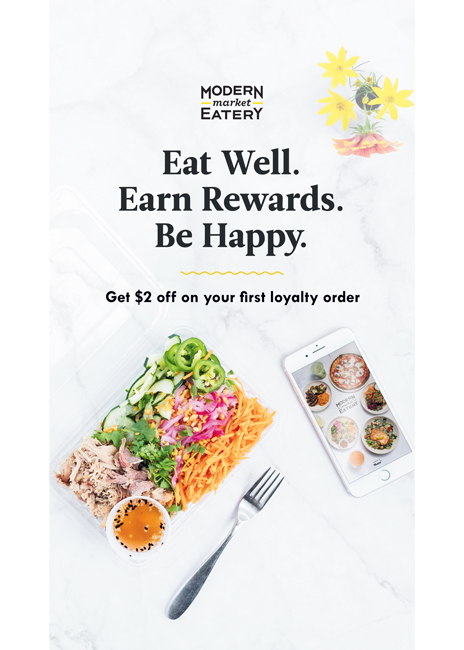 A: Even before the pandemic, we had over 50% of orders originate digitally. Our marketing platforms were critical to informing guests that we were open for business and communicating the initiatives we implemented to keep them safe as well as the new ways we were able to serve them throughout the pandemic including curbside, meal kits and grocery boxes.
Our third-party delivery platforms are also a form of marketing for us. We joined our first platform in 2016. Particularly in new markets, we're able to gain exposure to guests who may never pass by one of our restaurants, receive our direct mailers or be served one of our digital ads.
Q: How did Modern Market Eatery implement these programs?
A: Many people often visit a brand's social feeds before ever visiting their website to learn more about the brand and if they align with their values. With that knowledge in mind, our strategy has always been to share news and information on social that tells a more in-depth story of Modern Market. We might offer a peek behind
the counter to see how our recipes are created and made in our restaurants, and who makes them. Social is ever-evolving, but it's a storytelling tool that will likely always play a large part in our digital
marketing strategy.