The restaurant industry remains rooted in a certain entrepreneurial spirit. Everyone loves the story of two friends sketching out their business plans on the back of a cocktail napkin as part of a late-night conversation for the ages. These days, the industry continues to attract entrepreneurs but in a slightly different manner. Enter Nili Malach Poynter, president of ChefReady, a Colorado-based ghost kitchen operation.
Nili Malach Poynter ChefReady President ChefReady Denver This email address is being protected from spambots. You need JavaScript enabled to view it.Poynter's background is not in the restaurant industry. Rather, she spent two decades working as an international lawyer before teaming with her husband Robert Poynter to co-found Vinyl Interactive, a performance-based data science and marketing firm, in San Francisco in 2004. Fast-forward 14 years, and the Poynters could not help but notice the struggles many of their friends in the restaurant business were having. A little research led them to the concept of virtual kitchens, giving birth to ChefReady, which is slated to open by March 2021.
Like so many other trends emerging before the pandemic, COVID-19 really served as an accelerant for virtual restaurants/ghost kitchens. In fact, this segment of the restaurant industry could grow to more than $1 trillion in sales by 2030, according to estimates from market research firm Euromonitor.
Poynter shares her vision for the business, the outlook for virtual kitchens and more.
Q: Your background is from outside the restaurant industry, and the idea of a virtual kitchen is not something most outsiders would even know about. So, what was the inspiration behind ChefReady?
A: My husband and I were raised in Denver, and we had lived in San Francisco for years. We had friends who are chefs that owned or worked at restaurants. Some had owned multiple restaurants. And over the years, we saw them lose their jobs or close their restaurants one by one. That got us to start thinking about virtual kitchens, and we began to research the concept. Virtual kitchens were available in other countries but not here. These places often had a churn-and-burn mentality. We wanted to offer one that had a greater efficiency with more personalized service. We saw Colorado as an emerging market. And we partnered with a Denver-based chef, Jensen Cummings. He's been a restaurateur for a long time and hosts his own podcast called "Best Served." He works with restaurateurs as they sign on to go over what they should do, how their processes should work and more. Their success is really our success.
Q: ChefReady will open in the midst of a pandemic. How's it going so far?
A: We are pretty close to capacity. Only a few spaces remain. We've been pretty picky with the tenants we select. So it's taken time to fill the space. We wanted to build a community instead of just putting someone in our spaces. Some are established restaurateurs. Some are just starting out. When you own your restaurant, you essentially work for the landlord, and that's not what we wanted. My husband and I are entrepreneurs, and we wanted to give others the chance to be successful.
Q: Each kitchen space comes with some specific infrastructure elements, and then the operators supply their own equipment. Can you list what ChefReady provides and how everything transpires from there?
A: ChefReady equips each space with a 10-inch hood, a vegetable prep sink and a handwashing sink. Unless you are a cold kitchen, you will need a whole array of additional equipment that differs by concept. For that reason, it would not make sense for us to supply equipment beyond what's there. We have shared walk-in refrigerated storage and dry storage. If someone is interested, they come in and we help them get permitted. Our architects will help with the layout. We also supply the technology that allows all the third-party ordering platforms to integrate into one. The order then comes into the kitchen, where the ticket is then printed. The operator can bump the ticket to the front, where our employees will serve as the runners and work with the customers and delivery drivers.
Q: What ChefReady provides its restaurant clients extends beyond space and the other items listed above. You also provide some staff to run orders to delivery drivers and so forth. Why do this?
A: Our goal is to make our tenants as successful as possible, and that happens when they are in the kitchen making their processes as seamless as possible. So when they don't have to run to the door to work with delivery drivers, they can focus and run their businesses better. We offer takeout, and a lot of other virtual kitchens do not.
Virtual kitchens also cut out a restaurant's front-of-the-house costs. You don't need tables, chairs, plates, servers or even GMs [general managers]. That's all cut out. When talking to chefs, I tell them the majority of their expenses have been cut in half.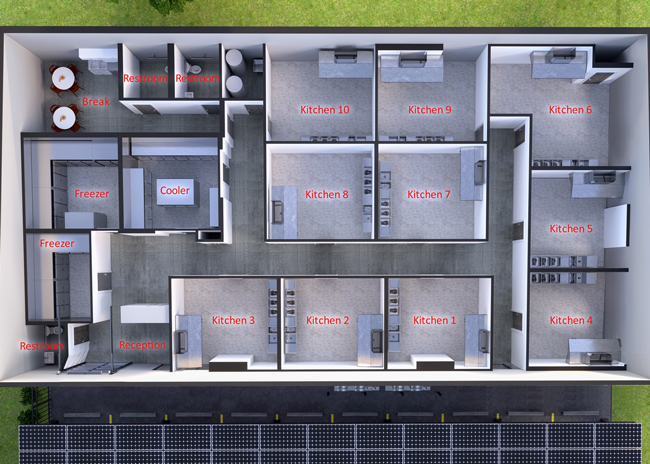 ChefReady equips each ghost kitchen space with minimal equipment — a vegetable sink, handwashing sink and hood — operators handle the rest.
Q: Your operation also strives to be very environmentally friendly. For example, composting is a point of emphasis at ChefReady.
A: We lived in California for so long that it's second nature for us. When you go somewhere else, it's like, "Wait, you don't compost?" We're also building a canopy that makes it easier for drivers to get in and out in bad weather, and there will be solar panels up there. We are doing this to save energy and bring everyone's costs down.
Q: And to be clear, virtual kitchens are not commissary or communal kitchens, right?
A: They are very different. A commissary kitchen is a shared kitchen. You can book your hours and days. It's good if you are doing catering. A virtual kitchen is yours. You can access it 24/7, 365 days a year. A commissary is more like a WeWork [a commercial real estate company that provides flexible shared workspaces]. A virtual is like having your own office.
The configuration of ChefReady's ghost kitchen setup includes individual kitchens with shared refrigerated and dry storage space.
Q: Do you have plans to expand?
A: Our hope is to expand. We are getting this one up and running, and our goal is to open a few more locations in Colorado. We are scouting those locations as we speak. And then we would look to expand outside of Colorado. We are looking at second- and third-tier markets because there's a need for virtual kitchens everywhere. Our tenants are excited about the fact that when we do expand, they get the first right of refusal for a space. So they can expand with the ChefReady brand as well.
Q: How do you view the long-term outlook for ghost kitchens?
A: They may not grow as fast as they did during COVID-19, but ghost kitchens will continue to grow. Before the pandemic, virtual kitchens were being sold to two types of operator: The aspiring chef, who might not have had the money to open their own brick-and-mortar location, and brick and mortars that were really popular, with lines out the door. But those places had one kitchen serving their dine-in and delivery customers. Those operators started to use virtual kitchens to handle their delivery customers. So, the market for virtual kitchens — there still will be that need.