After a 9-month closure due to the pandemic, multiconcept operator 50 Eggs Hospitality Group reopened CHICA Miami, a high-end Latin-American restaurant in Florida, on Dec. 9, 2020.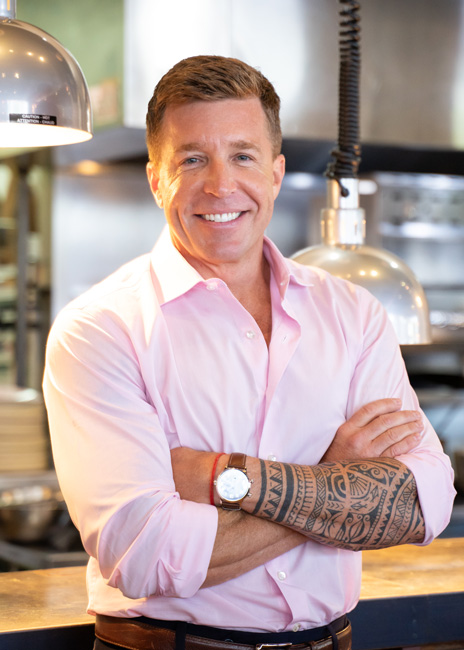 John Kunkel, Founder and CEO 50 Eggs Hospitality Group, MiamiThe restaurant's Las Vegas flagship location reopened earlier in the year. Just because the restaurant was dark for nine months, though, that does not mean the behind-the-scenes activities ceased. Under the leadership of celebrity chef Lorena Garcia, the culinary team refreshed CHICA's menu. Here, John Kunkel, founder and CEO for 50 Eggs Hospitality Group in Miami, explains a few other steps that took place to bring this fine-dining restaurant back online.
Q: The restaurant was closed for roughly nine months before reopening in December. How did you decide the time was right to reopen?
A: We are having to make real-time decisions as restaurant operators, and it was looking like we were moving in the right direction. We had moved to 100% capacity in Miami. People were more comfortable coming out to dine. And our Dallas Yardbird restaurant was open and doing well. We used some research and our gut to make the decision to reopen. Plus, the closer you get to Christmas and the holidays, it gets tougher to reopen. There's no talk of Miami rolling back dining restrictions. While we do see other states taking precautions, we are at a path of no return with the reopening. We've hired everyone, and we are moving ahead.
Q: How did your team spend the downtime?
A: We used the downtime really effectively. We are leaner and meaner and are coming out of this so much stronger. When we open one of our concepts, we take the time to look at existing recipes and look to develop new ones. With Yardbird, we developed great to-go packaging. For other concepts, we take the time to ask, What are some new dishes we can introduce? And we recognized the need for a more casual concept. So we developed CHICA Cantina, which will be a fun, more casual concept that will operate late night. CHICA Miami operates from a big beautiful space, and we wanted to offer more of what our customers are looking for.
After being dark for nine months due to COVID-19, CHICA Miami reopened its doors last month.
Q: What drove the decision to develop this additional service format? And how does that connect to the company's vision of the future for CHICA Miami?
A: One of my big wins early on was a fast-casual Mexican chain that I had built up and sold. So I knew the space well and there's certainly a market for it. And we had talked about it in the past for CHICA but it was not the right time. When developing an offshoot of a finer-dining brand, one of the bigger concerns is determining how to keep the brand experience intact. It was an issue we had addressed when having similar discussions around our Yardbird brand. With CHICA, we did not feel there was a way with the current menu to transition that into off-premises. The menu had shared plates and large tomahawk steaks. But Lorena immediately jumped on the idea. It's a fun and creative outlook. Depending on how well it does, we could see some more CHICA Cantinas. Right now, everyone's ordering more takeout, and this allows us to capitalize on our existing infrastructure to work with third-party delivery to meet that need without compromising the experience. The CHICA Cantina menu consists of tacos, burritos and bowls. Plus, because we have a liquor license, we are able to offer signature cocktails, margaritas and beer. We are cross-utilizing some of the ingredients we have in-house and some of the equipment, including our smokers and sous vide equipment. You are able to get an amazing product at a fast-casual price point. It works for us because the labor and the equipment was already there.
CHICA Miami's patio gives guests the option to dine alfresco, which has become increasingly popular during the pandemic. Q: During the time the restaurant was closed, CHICA Miami did not offer carryout or delivery, which means the restaurant's equipment sat idle for that time. What steps were necessary to get that equipment infrastructure up and running again?
A: When shutting down, we had to empty the coolers, secure the equipment and transfer the liquor to another store. So when it came time to reopen CHICA Miami, it was a complete restart. All of the equipment and interior was in good working order. We checked on the equipment and had it serviced. We went back and reorganized and recleaned. It was a full shutdown and full restart.
Q: Higher-end concepts like CHICA Miami rely on a well-trained staff to deliver on the restaurant's brand promise. What steps were taken to get staff back up to speed?
A: We were able to keep some of our key personnel, like general managers and mixologists, and shift them to other restaurants, specifically the South Beach Yardbird location. But for the most part, CHICA Miami has a brand-new staff. We now have the best of the best in terms of hospitality staff. As sad as it is with all the closures, there's so many good people out of work. Prior to COVID, our biggest problems were finding good and affordable real estate and finding and keeping good people. We now have the best team we've ever had in the company. We had to restaff and retrain. It was a risk, but this is a concept I believe in, and I did not want to see it not come back. Normally when you lean into an opening or a reopening, you look at hospitality and food, but now those are the least of my concerns. Now my concern is getting people to come out and be comfortable. We have a fresh outlook on our business and hospitality. In normal times, people can have a tendency to get bogged down in the day to day, but there's none of that. Everyone's happy to be coming in and to be part of the team.