Through the years there has always been something very transactional and predictable about a restaurant. Perhaps not anymore.
Ed Doyle, President, RealFood Hospitality Strategy and Design, Newton, Mass. This email address is being protected from spambots. You need JavaScript enabled to view it.From horse-powered to self-driving, automobiles have evolved over the centuries. Their main purpose, nevertheless, has always been to give people the ability to travel from point A to point B. Ford Motor Company's Model T was the earliest effort at simple, reliable transportation that everyone could afford. Tesla's current Model X (or S or Y) offers the function of a Model T but with an iconic driving experience, rich digital engagement and, for some, a perceived social status.
Like the automobile, the restaurant has functioned in society for some time. Evolving from its earliest version of roadside inns offering essential provisions and shelter to travelers, eating in restaurants was not considered a leisure activity until later in history. As time passed, restaurants started offering a convivial atmosphere for people looking to dine outside of their homes. Street-side vendors appeared in crowded cities, and Europe introduced fine dining to the world. In recent years, the abundance of restaurants has made just about any type of food accessible (and postable to social media) for the consumer.
Through the years, though, there has always been something very transactional and predictable about a restaurant. Perhaps not anymore.
COVID-19 has been a vast accelerant for restaurant trends, and industry professionals likely never anticipated jumping into what's happening now as fast as they have. The pandemic has been an invitation, welcome or not, to ask more "what if" questions and to investigate preconceived notions with questions that lead to deeper inquiries. Like the Model X, the restaurant of the future will exist beyond its original function.
Technology, Finally
Technology has always been something that sits in the background of a restaurant. We've been begrudging partners. Our technology is siloed, with different platforms running for different aspects of the operation. But it goes beyond point-of-sale systems and guest-facing order and reservation systems. Front of house and back of house will be connected as a whole house. Multitemperature ovens with programmable recipes will use technology to cook at different temperatures in the same oven and offer more consistent outputs. Robots will expand their role beyond simply making salads to become a more hygienic assembler of bowls, thus giving fast-casual a new flavor.
Beyond the Four Walls
Interaction with guests will no longer be limited to what happens on-premises — the restaurant experience will extend beyond four walls into people's personal spaces. Take-home can compromise food quality, temperature and plate presentation, and personal attention and service becomes more difficult to convey with this mode of service. As industry professionals, we're being asked to leave that sentiment behind and actively embrace the idea of hospitality excellence beyond the perimeter of the property.
Modularity and Flexibility
Restaurants will need to be more nimble than ever before. The design of foodservice spaces includes flexibility and modularity, with the goal of increased efficiency. The days of the brown bags behind the host stand are gone, and takeout centers will be intentionally designed as an integral part of the guest experience instead of as an afterthought, with function and form that do not disrupt other aspects of the foodservice operation. As takeout revenues take up more space on financial statements, to-go experiences will require their own mapped guest journeys. In a touchless culture, finding more touch points in this process will be paramount.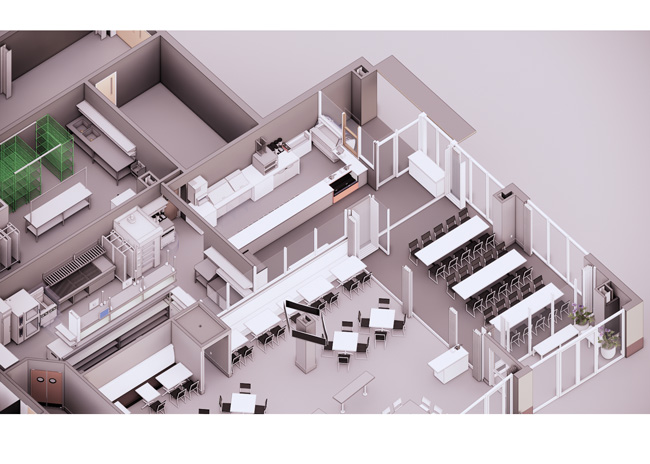 The design team at RealFood Hospitality Strategy and Design created this modular experience foodservice design. This self-sufficient takeout center design shows how takeout orders from the main kitchen flow (A) into the takeout station (B), where staff finish and hold food. Guests enter a designated vestibule (C) where they can pick up their orders without disrupting the host station or dining room.
Hospitality Experience
As technology makes its way in, don't let the door close on experience. Hospitality is rooted in warmth and generosity. Remembering why restaurants exist in the first place will guide us. Just as it did for transportation, the shift toward designing for the experience has accelerated. Hospitality is an exchange between a guest and a host — and as the hosts, we will design experiences to meet our guests on more of their terms; they will decide how they interact with us. We have to be more openminded to exploring avenues of revenue and guest engagement that we've never considered before. This blue-sky thinking will allow our industry to evolve with consumer habits or even inspire new ones. In the restaurant of the future, the hospitality experience, from the perspective of the guest, will reign.