The shutdown of indoor dining due to coronavirus favored quick-service restaurants, but that did not mean full-service concepts sat idly by.
Oliver Badgio, Chief Brand Officer, Prime Steak Concepts
The shutdown of indoor dining due to coronavirus favored quick-service restaurants, given their predisposition to serving off-premises customers via drive-thru service, takeout and delivery. But that did not mean full-service concepts sat idly by, biding their time.
Oliver Badgio, chief brand officer for Prime Steak Concepts, explains how, when one full-service operator received the OK to open its dining rooms again, it took the opportunity to train its staff on welcoming guests back to its restaurants while providing a high level of hospitality. Prime Steak Concepts operates six steakhouse concepts: Dominick's and Ocean 44, both in Scottsdale, Ariz.; Steak 44 in Phoenix and three Steak 48 restaurants, one in Houston, another in Chicago and the newest location in Philadelphia, which opened Sept. 15 after the coronavirus delayed the originally scheduled April opening.
Q: Tell us a little about Prime Steak Concepts and Steak 48.
A: It's a family-owned business, and I have worked there for the past 30 years. The restaurant is built on a traditional American steakhouse platform, but it's more than steak. We provide a luxurious, yet relaxed, customizable steakhouse experience. The restaurants are large, but they are a collection of different rooms. We do that so you can offer a more intimate experience one night and something different the next time customers visit. The totality of the experience is what we offer. It's a compliment every time someone chooses your restaurant for dinner.
Q: Early on in the pandemic, lots of things were changing quickly, including the guidelines required by city, county and state officials. What was it like
navigating that?
A: It was certainly an unknown. We had the benefit of Jeff and Mike Mastro guiding us as a company. They were encouraging us to be patient and precise. The situation was not one we could change, but we could improve and grow from there. And we did that. We looked for information from local health authorities and the CDC. We improved what we do during the downtime and spent time training our existing employees about what life would be like once we could reopen. All of the reopenings have been slow and measured, and that's important.
Q: Safety protocols seem to have stripped much of the hospitality element from dining out. What are you doing to provide some of the familiar hospitality that's so common in steakhouses?
A: Hospitality can be defined as kindness and consideration — making others feel at ease. So right now, if these steps are what makes others feel at ease, then that is the definition of hospitality.
Q: Did your restaurants offer takeout or curbside pickup during the shutdown?
A: Before reopening in all of our markets, we did offer curbside and delivery for our restaurants.
Q: What was that learning curve like?
A: It was interesting. We limited our menu because the last thing you want to do is overpromise and underdeliver. So, we limited the menu to items that would travel really well. Our approach was to be conservative so we could meet customer expectations.
A glassed-in expo kitchen allows diners a peek at the action in the back of the house.
Q: Did you have to make any back-of-the-house changes?
A: Being only open for dinner, we are prepping during the day. So, we have a limited number of people in the building during the daytime versus the evening. That meant we did not have to change much.
Q: As you opened the new location in Philadelphia and reopened your other locations, how did Steak 48 update its service approach to ensure a safe experience for guests?
A: We spent time with our staff and employees making sure they were safe and comfortable. Then we made sure they were able to provide a safe and comfortable experience for our guests. This included everything from hand sanitation to breathing awareness and more. They had to get used to the fact there would be no salt and pepper shakers on the table and that bread was served upon request.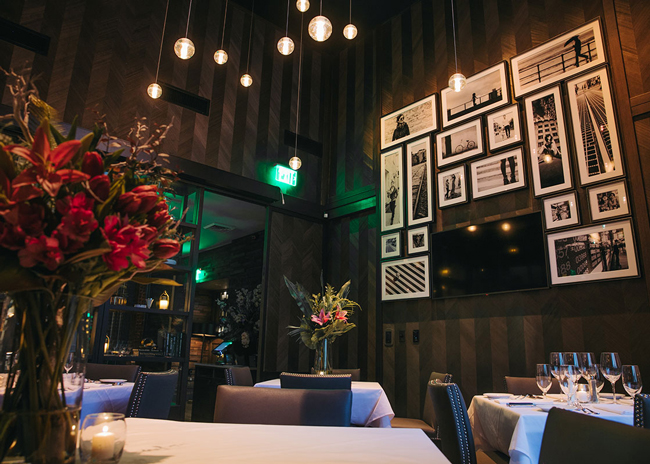 To keep the ambience cozy at the Steak 48 in Philadelphia, staff place large flower arrangements on the tables not available due to social distancing protocols.
Q: How did you update the dining rooms to promote social distancing?
A: We decided not to take any tables out because they provide a natural barrier. Instead we placed these two-foot by two-foot floral arrangements on tabletops that were not in use and added a couple of candles around them. It added to the experience and level of comfort because when you sit down you know there would be nobody sitting at the table next to you. We also received some guidance from local health organizations and the CDC to help with placement of hand sanitizer stations in the restaurant. All of these things are expensive and take a lot of effort, but in the big scheme of things, it's well worth it so we can get back to doing business and grow. We wanted to keep the totality of the experience while adding a layer of safety.
Q: Did you make any updates to the tabletop to support these changes?
A: Depending on guidance received in various markets, some locations went to setting the tables after guests arrived. By and large, everyone said no condiments on the table. Our menus went to QR codes or disposable menus that get tossed after a guest uses them. We have a unique advantage because we are a white-tablecloth concept. That gives us the opportunity to change the tablecloth and wipe everything in between guests. There's always people in the dining room, so the staff is trained on how to unobtrusively clean and change the tables. But people are much more attuned to these steps. We did add stewards who walk around throughout the night sanitizing the high-touch areas like doorknobs and railings.
Q: What's next? What does the future hold for Steak 48?
A: Charlotte is our newest location. It will open in mid-December. And all of our locations will continue to learn from the process and improve any way we can. We are always looking to see if there's anything additional we can do. And that goes to the heart of hospitality.