Restaurants are not alone facing enormous COVID-19-related challenges as they strive to serve their communities.
Blake Thompson | Chief Supply Chain Officer Feeding America Chicago feedingamerica.orgFood banks, which provide hunger relief to those in need throughout the country, continue to face a cadre of challenges, too. Like their restaurant brethren, food banks continue to develop new and innovative ways to carry on their missions. Here, Blake Thompson, chief supply chain officer for Feeding America, discusses how his organization and others in its network continue to rise up to meet the unique set of challenges COVID-19 delivers on a seemingly daily basis.
Q: How has the pandemic affected food insecure people throughout the country?
A: It's increased the number of food insecure, and we believe that's about 17 million more people than before the pandemic. That's about a 46% increase prior to COVID-19. In the U.S., 54 million people are food insecure. And our food banks have reported a 60% increase in people coming in for assistance. And we estimate 40% are first-time users of food banks. The demand is higher than the supply in the charitable food system — probably double.
Q: Food banks traditionally rely on plenty of volunteer support. How has COVID-19 affected this?
A: A lot of our volunteers are senior citizens, and they are very much at risk. So, they have to stay at home. We also must protect the health and safety of the food banks' own employees. As a result, some food banks eliminated volunteers entirely to limit the risk of spreading COVID-19. That meant they had to get creative in staffing and supporting their food banks. In some cases, the National Guard came in to support those food banks. We've worked with Team Rubicon, a nonprofit organization that mobilizes teams of veterans that want to continue their service. Working with them has been very helpful, too.
Q: In what ways has Feeding America had to update its operating procedures?
A: Our food banks have had to overcome some monumental challenges in all of this. We do disaster response as well. Last year, for example, when Hurricane Michael hit the Gulf Coast, food banks in our network were able to rally to support the affected areas. With COVID-19, though, every food bank has been very challenged, and many food banks have had to get away from their normal operations. Instead of mixed loads of food, there are more palletized deliveries so we can drop off the food without any social interaction. We are building boxes of shelf-stable foods for distribution. And because the demand is so great, we've had to use a lot of sports arenas and convention centers to pack food. In Chicago, we used the United Center and in Boston, Fenway Park to pack food. Just about every community in America that has stadiums or convention centers was doing this work.
There are also remote distribution events where we alert the community when and where we will be, and they drive through to pick up boxes of food. We had 25,000 cars come through one event in Pittsburgh. In Seattle, Apple has committed some of their employees that are home on furlough to helping at pack sites. We have, as a network, distributed 40% more pounds of food since COVID-19 started. They have overcome a monumental challenge and have done so through innovation and partnerships. It's a tribute to our network's resilience.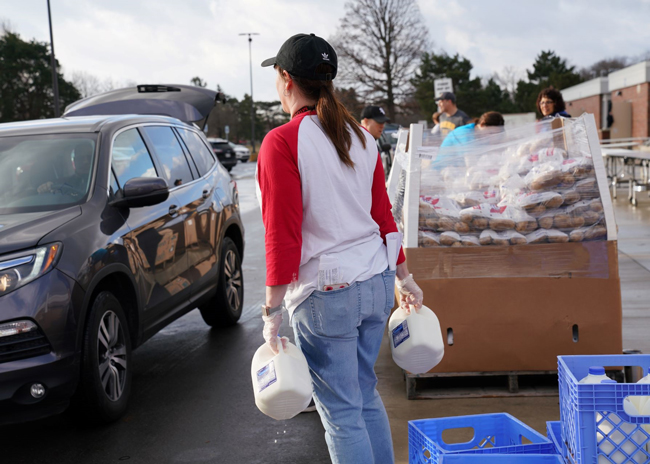 Q: Have you had to adapt the way Feeding America provides food to people to keep everyone safe?
A: One of the other challenges that food banks had early on was the acquisition of personal protective equipment, like hand sanitizer, gloves, etc. To make volunteers feel safe, there was more cleaning and sanitizing of our facilities. To allow for more social distancing, we have adjusted the schedule. The food banks were very cognizant of social distancing and worked to make sure PPE was used properly.
There also needs to be safe distance between those distributing the food and those receiving it. So, there were a lot of drive-thru distributions at churches or food banks. The recipients did not have to get out of the car, so there was no social contact.
Q: It's my understanding that Feeding America added grab-and-go meals, too. What prompted the organization to do that? How/where were the meals assembled and stored?
A: As schools closed, there were communities that wanted feeding programs. We received a waiver that allowed us to help. Kids or families could come through to pick up food to compensate for meals lost through the schools. In Tampa, there was a theater group that worked together to create 400,000 meals in that area. Some food banks created meals and distributed them to schools, including in Chicago.
Q: How have the people who rely on Feeding America reacted to this new offering?
A: Tremendously well. These are kids who would probably miss meals if these efforts were not put in place. A lot of these efforts are supporting government-funded initiatives. This came on early as schools started to close this past spring.
Q: Assuming there's no in-person and instead some form of remote learning from home, will these feeding programs continue?
A: Where there are resources and funding for this, absolutely. This is going to be prolonged. It's not a three- or four-month event. The challenge any group like this faces is the fatigue that sets in. From my experience with natural disasters, you are working 12- to 14-hour days, and the need is high. Another challenge food banks face is employees can burn out. The need is almost endless for charitable food right now.
Q: Earlier this year, NAFEM developed a social purpose platform, and its first initiative was to support Feeding America by matching member contributions. Can you describe the impact of NAFEM's efforts and programs like it on your organization?
A: They provided some funding, which is great. More important, though, they engage in our work. They understand the charitable food system, and their members have a lot of knowledge and expertise, which gets transferred to our network. There's some job training in our locations, and these organizations can hire some of those graduates. And they can encourage other associations to engage in our efforts, which is positive.
Members of the Foodlink Career Fellowship, a culinary training program, prepare meals as part of the Child and Adult Care Food Program of Foodlink Food Bank.
Q: What's the most important lesson you've learned because of the pandemic?
A: Prior to COVID-19, one of our constraints as a network was distribution capacity — the ability to bring in and distribute more food. In 2019, we distributed about 5.3 billion pounds of food through our network. This year, it will be close to 6 billion pounds. And next year, we plan to distribute more than 7 billion pounds of food through our network. We've been on a run rate of 7 billion pounds for about 12 weeks now. Our Achilles' heel is not being able to take in more food and distribute more food. COVID-19 showed us that we have got to find out how to fix that. With innovation, we've been able to address some of it, but we have got to have better capacity. We are not meeting all of our demand today. There's still a tremendous gap in the need for charitable food, even if COVID-19 were not around today. There is no silver bullet to fix it. Each food bank in their own way has leaned into partners. Some have loaned us refrigerated trailers that we have distributed through the network. There is capacity out there; it's just not easy to get at for food banks.