Kwik Trip's retail foodservice program goes beyond what most c-store operators offer, making Paul Servais' role as retail foodservice director a robust one. Among the offerings at the chain's 600 c-stores: grab-and-go breakfast items, classic lunchtime fare such as sandwiches and pizza by the slice, and a newly redesigned beverage area that offers hot and cold specialty espresso drinks, such as cappuccino and frappes, in a self-service format.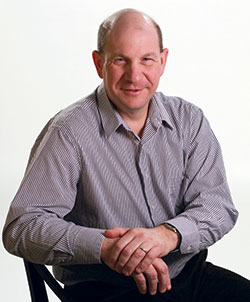 Paul Servais ,Retail foodservice director, Kwik Trip Inc.A 60,000-square-foot commissary on a 120-acre campus in the chain's headquarters town of La Crosse, Wis., supports it all. Inside, the commissary houses its own pizza-making production line. This year, Kwik Trip added a 200,000-square-foot bread and bun bakery — that's in addition to its other bakery for sweet goods. And, in 2020, the company plans to expand its main commissary to support a take-home meal program.
Q: Tell us a little about Kwik Trip's commissary approach — definitely not the norm in the c-store segment.
A: In the convenience sector, we are unique in this setup; we have an almost grocery-like approach to our food production and the commissaries are very important pieces of that puzzle. As a result, we have made significant investments in automated equipment and robotics, with many of our team members traveling all over the world to source state-of-the-art pieces that can work together.
Q: How much does the square footage of a c-store impact equipment decisions at the unit level?
A: The biggest challenge for me when it comes to equipment and design is figuring out how to do more with less space. That's what makes c-stores so unique in the foodservice industry. The more we can cook in a small space, the better off we work.
While we use a lot of hot-holding cabinets and warmers in the front, we have a small prep space in the back where we rely on things like rapid cook ovens that can recover fast during lunch rushes. We also use refrigerated prep tables in the back.
When it comes to design, we are constantly looking for ways to get more refrigerated display case space. It's easy to introduce more space like this when building new stores, but it's a challenge with legacy stores. We have had to move things around and get creative on many occasions.
Q: What's one foodservice-related challenge today?
A: Labeling has become a big challenge for us. Since the new regulations around nutrition labeling have come into effect, we have to label any and everything we prepare in the stores and we are looking for a more efficient way to do that.
When it comes to other wish list equipment related to this, it would be ideal if we could have a dual-sided refrigerated prep table — complete with undercounter refrigeration that has doors on both sides and overhead shelves for all of the labeling and packaging materials — to allow multiple people to work at the same station at a time without having to make multiple trips to the cooler. Right now, the way this station is set up is a 6-foot, stainless-steel table in the center of the kitchen with shelving overhead.
Kwik Trip stores offer everything from salads and sandwiches to pizza.
Q: What role does custom equipment play at Kwik Trip?
A: We have had many successes in working directly with manufacturers when it comes to custom pieces. While they may not be able to develop the pieces immediately, they do care and get to work on it.
For example, for our self-service beverage platform for smoothies and coffee drinks, we worked directly with a manufacturer on the design and execution over the course of three years and we just completed that project. We have also worked with vendors to improve our frying capabilities.
Q: Do you see foodservice growing at Kwik Trip and for the c-store industry?
A: Foodservice is becoming an increasingly important revenue stream in the c-store sector, with diminishing profit margins in gas and other products. That said, we are always trying to stay ahead of the curve with new items and are not afraid to take risks. We have a lot of room to experiment in that regard and, I will admit, we get a lot more wrong on the first try than right, but that's how we have been able to grow as a company.
This year, we plan to begin expansion plans as well as rebuild many legacy stores. Strong support from the equipment and supplier community will be imperative in helping us achieve our goals.