As the director of Culinary and Nutrition Services at UNC REX Healthcare in Raleigh, N.C., James (Jim) McGrody oversees a $14 million budget.
The private, not-for-profit healthcare system includes 460 acute care beds and 227 skilled nursing beds and treats nearly 34,000 inpatients yearly. The foodservice operation provides more than 1,200 patient meals per day through a 12-hour patient room service operation and an after-hours menu until 1 a.m. with limited offerings.
James McGrody, UNC Rex Healthcare, Raleigh, N.C.
Retail operations include a fresh salad and produce bar, Cib/o-grille and the Showtime Chefs in Motion station; Korner Café featuring Mezza Luna salads and Caprese's Deli stations; and Kardia Café, a restaurant in the Heart and Vascular Hospital adjoined to the main hospital. These operations serve 4,000 customers daily. Other meal operations include catering services, doctors' lounges, adult day care and an onsite childcare facility. Foodservice staff include 145 full-time equivalents, including 6 clinical dietitians and a team of 7 managers. The operation is also responsible for two 120-bed long-term care facilities providing 675 meals a day.
A 2018 IFMA Silver Plate Award winner, McGrody's foodservice career spans 32 years in hotels, restaurants, universities with15 of them in healthcare foodservice, including 9 at UNC REX Healthcare. The New England native and graduate of the Culinary Institute of America is an active volunteer in the Association for Healthcare Foodservice (AHF) and various charity events. He's also the author of "What We Feed Our Patients."
FE&S: How did the strong food culture at UNC Rex come about?
JMG: We started by bringing in The Black Hat Chef training program, which turned out to be more than a tool to teach our cooks how to be better. It was the cornerstone for a fundamental transformation of our culture within the kitchen. We went from a traditional institutional hospital foodservice to a kitchen full of passionate restaurant-quality cooks who are totally engaged at every level. We've evolved from there.
The highest praise we receive is when visitors come into our operation and are amazed at our food culture. It is the first thing they feel when they walk through the doors.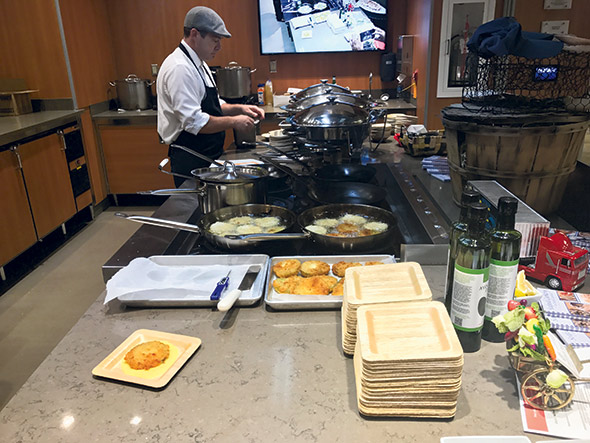 UNC REX Healthcare's teaching kitchen provides a space where culinary staff and dietitians can hold demonstrations for up to 150 people.
FE&S: How have your menus evolved?
JMG: Our menus evolved over the years to be more streamlined. When we started years ago we were offering many options. We've swung toward offering more healthy menu items. We removed our fryers years ago. We've always been chef-focused and have gotten better at it over the years.
FE&S: What's changing in your ongoing kitchen renovation?
JMG: Our kitchen was 40 years old and was built to serve 200 patient meals. Now, we're serving 500. We're reconfiguring the tray line to go from a single to a double. There's a lot of infrastructure, such as plumbing and floors, that must be fixed, as well. Facilities haven't evolved, which is why we have the renovation.
FE&S: How have your retail offerings changed?
JMG: We haven't made huge changes to our retail cafes, but we have made some changes to
The rotisserie oven at Kardia Café supports UNC REX Healthcare's initiative to expand healthy menu offerings. accommodate our healthier menus. For instance, we used to rely on prepared pizza dough and now we make our own and offer amazing pizza. We also make our own sauce. We serve more whole grains. And then we introduced Kardia, an entirely new operation in the Heart and Vascular Hospital adjoined to the main hospital, which opened in March last year.
We have many types of foodservice operations here and so do other hospitals, but restaurants are not as common as one might expect. In addition, attached to the new Kardia Café is a 150-seat teaching kitchen. A couple times a week our culinary staff works with our dietitians in the wellness center and put on cooking demonstrations. We've featured events with local Raleigh chefs. For instance, one chef presented French food with a wine pairing.
FE&S: How has your role changed in terms of education within the community?
JMG: We're doing more and more in the community. We go to farmers markets, conduct samplings and tastings, and even cooking classes with the public.
FE&S: How do you manage resources in a cost-conscious environment?
JMG: We've doubled revenue since we took over 10 years ago. We are always asked to reduce costs. We are very conscious of how we purchase. We're on contract with a group purchasing organization and make sure we get rebates and other cost-saving benefits. Having a chef-driven program, there is very little food waste. We track our production and tell cooks exactly what to prepare. Rather than buying cheaper food and downsizing our menus, we focus on cost savings on the back end. But we still get the quality we want.
FE&S: What's happening with your labor situation?
JMG: Labor's always a challenge. Unemployment is low now in North Carolina so it is hard to fill some of the foodservice worker positions. Our culinary team is pretty solid, however. We're always cross-training and asking people to do more and consolidating jobs. On the culinary side, retention
is good.
For recruiting, we've reworded our ads to attract hotel and restaurant employees. We focus on the quality of life and benefits we can offer here versus those offered by most hotels and restaurants.
FE&S: How is your team addressing the common speed-of-service challenge?
JMG: For us, it's all about throughput. We need to get people in and out quickly because people only have a half-hour break for lunch. During those times, we continuously grill and offer upscale burgers and sandwiches both cooked to order and grab-and-go.
FE&S: How have your operations adapted to app and kiosk-ordering trends?
JMG: We have kiosks in Kardia and are bringing some into the Courtyard Café. This will help to allow cooks to improve ordering accuracy and make sure they are ringing up the correct menu items and charging for the extras such as cheese and bacon.
FE&S: How do you see your operations evolving in the next three to five years?
JMG: We're building a new 50-licensed-bed hospital, Holly Springs Hospital, 20 miles away and will put in another Kardia. Instead of just being a stand-alone restaurant like it is now, the new one will also prepare patient room service food with a Mediterranean influence. We are also renovating
our kitchen, which will be completed next spring.
We'll continue to see a heavy chef presence in hospitals. Patients, staff and visitors are continuing to demand restaurant-quality food. Our challenge will be how to offer this and cut costs.