Ahuge fan of alliteration, Jeff Sinelli came up with the Which Wich name during a brainstorming session. He notes that many of the most iconic brands incorporate alliteration, such as Coca-Cola, Dunkin' Donuts, Best Buy and American Airlines. Since founding Which Wich in 2003, the chain has expanded to 430 locations and should come close to having 500 U.S. stores by next year. While the chain does have a few corporate locations, the operation primarily runs through a franchisee network.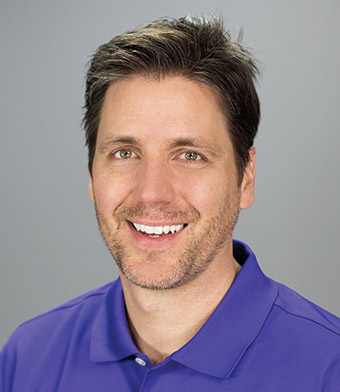 Jeff Sinelli FE&S: How do you keep Which Wich a step ahead of the competition?
JS: One of our main differentiators since the beginning has been our brown bag and Sharpie ordering system, but we understand that there are guests who prefer a quick point-and-order option. So, we updated our menu recently to cater to that type of guest with some delicious "favorites" options that don't require customization. We also introduced a brand-new kids menu that my wife and co-founder Courtney worked on with several franchisees and members of our corporate team who are parents.
In 2017, we've done a lot with investigating how music can play into the innovation and creativity of the brand, and we are working on some exciting things to roll out in 2018 and the years to come.
FE&S: Given that sandwiches are sometimes "in" and sometimes they're "out," how do you keep a sandwich concept relevant?
JS: Sandwiches will always be "in" as long as you're giving guests new flavorful experiences. It's a simple base from which to innovate. We have focused on making sure that our sandwiches are more unique, more delicious and of a higher quality than you can get from competitors. We also have focused on introducing new ingredients, styles and flavors that appeal to a broad set of different dietary wants and needs.
FE&S: What is your Project PB&J endeavor about?
JS: Project PB&J [peanut butter and jelly], which launched in January 2014, was born out of the simple comfort that comes from a PB&J sandwich. Courtney and I both grew up in homes where PB&J sandwiches were synonymous with nourishment, comfort and a little happiness — and that's what we want to provide through the initiative. For every PB&J sandwich purchased in a Which Wich location, we donate one additional sandwich to a local charity or cause and we bank a second sandwich for our global efforts in times of large scale crisis, like the aftermath of the recent hurricanes in Texas and Florida.
FE&S: How does Project PB&J connect with your corporate mission?
JS: While I was at the Conscious Capitalism conference in San Francisco in April of 2013, I introduced myself to Kip Tindell, CEO of The Container Store. He said to me, "On your business card it says that you want to make the world a better place. How are you doing that?" No one has ever called me out on one of the values or the mission of the company. There are a lot of brands that have their mission or their values on the wall but don't live them. I didn't want to be one of those companies.
That was a moment that changed my life. As soon as I landed in Dallas after Conscious Capitalism, I went to our headquarters location, made two PB&J sandwiches, walked outside, found two people in need, and gave them the sandwiches. So, the program started immediately. I made a promise to Kip, the universe, my wife, and myself — and I wanted to make sure I stuck to it.
Project PB&J isn't just writing a check to a charity and walking away from it. It's interactive. It's investing time and care into the community. That's the difference we want to show — that we're not just funding positive change, we're living it.
FE&S: How has Project PB&J helped hurricane victims?
JS: We've been able to help in the recovery efforts through our franchisees in the area who have been generous with their time and efforts to ease the hunger of both victims and first responders. One amazing young franchisee named Julio Chavez, who won our Founder's Award at our conference in April, owns three locations in the area impacted in Texas. His home in Humble, Texas, flooded, and he was staying with his father near Katy and just wanted to do something to help. So, he started making Project PB&J sandwiches to help feed those staying at the Cinco Ranch High School in Katy.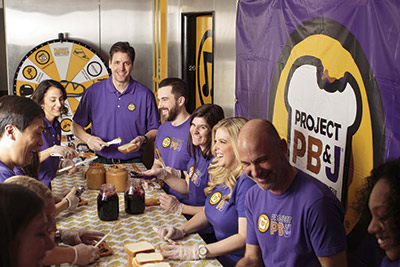 The Which Wich team assembles peanut butter and jelly sandwiches for the chain's philanthropic endeavor.I get inspired when our franchisees go that extra mile, so I wanted to do something to help. First, I went ahead and wrote checks to all of the employees who were unable to work because we had to close Which Wich locations in the area. I remember how important that paycheck was when I was in their position, so I wanted to step up and support them that way.
I also know we have a higher purpose and mission, so we got together to discuss what we can do with Project PB&J for the entire area, which lead to $2 for every Project PB&J sandwich sold through the end of September
being directly donated to our friends and neighbors in affected areas.
FE&S: How were Which Wich's stores affected by Hurricanes Harvey and Irma?
JS: We had several locations in Houston areas where there was significant flooding and damage, which required us to close for a few days.
Thankfully, our locations in Florida were not impacted to the degree that they were in Texas with Harvey. Right now we do not have plans to extend the program to those impacted by Irma; however, our local Project PB&J efforts in those areas can help assist with organizations involved in the recovery process.
FE&S: What goals and strategies have you set for Which Wich for the future?
JS: We are servants in our communities.
As we continue to grow, I also want us to be a leader in innovation. It's not just enough to keep doing things because they work. We want to look ahead, years into the future, to find out what we can be doing now to prepare. Investments in technology and in the R&D lab to keep enhancing our menu are keys to that long-term success.