The greatest show on earth (for me) is coming!
I am not talking about Ringling Brothers Circus, but rather the National Restaurant's Annual trade show and convention, which takes place May 19-22 in Chicago's McCormick Place.
I am in the process of finalizing my plan of attack for the show. In addition to spending time in our booth (#1472), visiting the Kitchen Innovations Showroom and listening in to some of the presentations on equipment innovation, along with group gatherings with colleagues, including Foodservice Equipment & Supplies magazine's annual Dealer of the Year and Industry Awards Gala, I am thinking through what else to accomplish while in Chicago.
I suggest that all of you do the same. Whether you work for a supplier or a restaurant concept, be sure to develop a game plan to get the most out of the show.
As foodservice consultants, we will hit the show floor looking for equipment, technology and other solutions that will help us as we apply Industrial Engineering principles to drive better unit economics for foodservice operators. When walking into a supplier's booth, our first question will be: "What's new in your arsenal?" The second question: "How is this new solution different from all the similar ones that are represented in the NRA show?"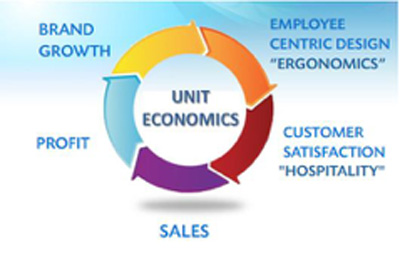 Foodservice operators should prepare to ask these questions, too, as you search for those items at the show that will help your concept become more competitive. Don't forget to look for products that can help improve the ability of your employees to drive a more consistent guest experience. You probably noticed that the protagonist of the prior statement is your employee, not necessarily the guest. The reason I suggest focusing on the employee and not the guest is that the former delivers the experience to the latter. A positive experience will drive sales and profits that support brand growth and the one in control of delivering the hospitality experience is your employee.
Look for supplies that can deliver better product quality and consistency, better labor efficiency, improved customer service and higher peak hourly throughput, among others. All of these, in one form or another can impact an operation's unit economics and facilitate growth. So perhaps when you think about technology and equipment, ask how this item can make the life of the employee better? Can this equipment remove inefficiencies and bottlenecks that keep employees from delivering the brand promise?
One hot topic of late among chain restaurant operators is the idea of reducing a restaurant's size to reduce building and operating costs. This exercise encompasses more than reducing development costs. It also focuses on ensuring the restaurant's processes can flow in an effective and efficient way to increase sales despite the smaller footprint.
In this day and age, sales can come from many modes including online, eat-in, take-out, catering, drive-through, etc. Not all sales are created equally, and each can impact different areas of a restaurant's design. For instance, online and take-out sales will impact production needs, but not dining room needs. Catering sales will also impact the production areas, but not during the operation's peak periods. As a result, an increase in catering sales does not necessarily result in the concept having to add more capacity, since the sales come during off periods. And thanks to app ordering, third-party delivery, meal kits and more, consumers tend to eat off-premise more these days, which lessens the need for dining rooms.
Given these changes in how consumers choose to use foodservice, it's becoming more of a challenge to right size the back of the house and all of the technology and equipment that goes in there. By applying an Industrial Engineering technique known as correlation analysis, though, it becomes easier to develop relationships between yearly sales, weekly sales, daily sales and peak period sales, which would in turn drive the capacity requirements in the production area, the dining room, and the storage areas, among other spaces in the restaurant.
So get ready for the National Restaurant Association show by doing the appropriate planning beforehand so you hit the show floor ready to find the right equipment and technology that you can apply in the right place at the right time that will allow foodservice personnel to do the right things to drive better unit economics.
See you all at the greatest show on earth!