Amid a sea of new and innovative products, one particular development caught the eye of FE&S blogger Juan Martinez. Want to find out which emerging foodservice equipment trend stole the show? Read on.
The 2015 National Restaurant Association show has come and gone – and with much fanfare. This venue provided us all an opportunity to stay on top of what is new in the foodservice industry in equipment, smallwares, menu items and décor, among many other areas of interest to the restaurant community. With the show as our backdrop we were able to attend seminars to learn new ideas from experts, catch up with old friends and make new ones, meet clients, and possibly lose some weight if you spent enough time roaming the substantial hallways of Chicago's McCormick Place.
I had the opportunity to once again attend Foodservice Equipment & Supplies Dealer of the Year and Industry Awards Gala, an event that is not only another great forum to catch up with friends and colleagues, but considering that Joe Carbonara has a good amount of time on the podium, it was very entertaining. By the way Maureen Slocum holds her own at the podium, too. A heart feltthank you to all the sponsors of this event.
So who what emerged as the star of this year's NRA show? Although the Kitchen Innovations Pavilion always catches my interest along with many other new supplier ideas, it was the presence of robotics in some equipment suppliers' booths that stole the show for this industrial engineering geek that loves automation.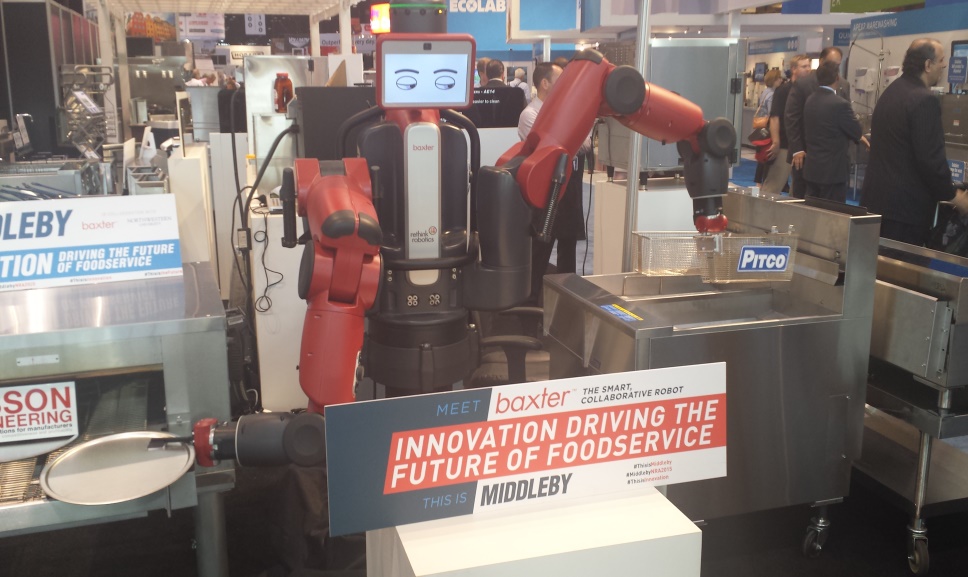 Robotics on display at the NRA Show 2015Forget, for the moment, that perhaps it will take some time before robotics enters the commercial foodservice industry's mainstream. The proof of principle alone was obviously of interest to many as it was to me. All you had to do was stand in front of a booth featuring robotics for a few minutes to see how many pictures were being taken of the device. Indeed, these types of products really got the paparazzi treatment from those attending the show.
As unions continue to press for higher minimum wages, one no longer has to wonder whether foodservice operators will eventually turn to robots to alleviate the pressure from rising labor costs. It's just a matter of time
Attendees also showed a strong interest in any products that help automate processes, reduce waste and generally promote the effective and efficient use of labor and food. This includes design services that can facilitate a more efficient operation that reduces capital and operating costs, resulting in improved unit economics. These trends undoubtedly have staying power.
If you did not attend the this year's National Restaurant Association show, make sure that you don't make the same mistake next year and let's catch up somewhere in Chicago. For those of you that attended the show, send me a note on what you thought was the star of the show for you.