Alvin Wang, Action Sales, Irvine, Calif.
Alvin Wang first got his feet wet in customer service while working for his family's hotel and bar in Texas. "I managed the breakfast area, where we had a chef," he says.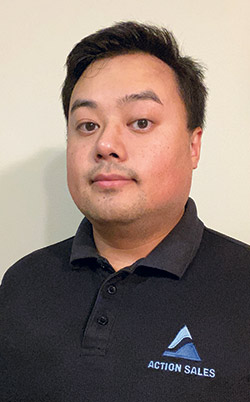 Alvin Wang, Action SalesWang had always wanted to make a move to California, and with his then girlfriend who became his wife originating from the state, he decided to head out West.
Wang's experience in customer service as it related to hotel customers and vendors was the deciding factor when he joined Action Sales in 2013. "I started in equipment sales, then spent time training, doing observations and shadowing salespeople," he says. "I then began processing orders and developing my own customer base; eventually I moved into a supervisor role."
His book of business includes both chains and independent restaurants.
Q: How has foodservice equipment evolved since you first got involved in the industry?
A: Trends are always around the ease of use in equipment we're selling. Today's units are more climate friendly and efficient, whether electricity, gas or water is involved. There also have been innovations in terms of technology. Equipment is slowly getting smarter, with computer controls, touch screens and user-friendly attributes. This includes combi ovens, convection ovens, kettles, fryers, etc. Controls are more precise and user friendly so recipes can be easily saved and multiple operators can use it with the same results. This equipment also has lower operating costs.
Q: What goes into writing a good equipment specification?
A: First off, listen to what the customer is looking for. If it's one item or more, everyone has a budget, so we need to find out their core interest and biggest challenge. It's best to solve the biggest problem first and then deal with the remaining details. By identifying the main challenge, operators can designate more money on that equipment, then the shelving or food warmers don't have to be top grade. This way, we can budget appropriately and be as efficient as possible.
Q: What is one lesson that chain operators can learn from independent restaurateurs?
A: Individual restaurant owners typically are involved on the operations side, while chains have multiple layers of management. In that regard, independent restaurants tend to have better communications between the owner and the operators. If chain management can maintain better communication channels with the operators, they would have better feedback and hopefully make better choices on equipment purchases, training and providing better customer service.
Q: What excites you most about the foodservice industry?
A: We help the business owners build their kitchens and restaurants. In this regard, it feels like I'm building with Legos. We spec out units together, talk about any problems and then I see units I was involved with in progress and come to fruition. I'm fully involved in the process from beginning to end, which is fulfilling and satisfying.
Q: What is the most important lesson you've learned?
A: Attention to detail is very important, as is listening to the customer and communication between us, the vendor and end user. If a customer has expectations with lead time or performance, we need to be very up front and clear on what we're providing in functionality and lead time. When we talk to the vendor, we need to be clear on what's needed and keep the channels of communication open until we deliver. A lot of things can happen, so keeping these lines open circumvents problems later on.