Adrian Tuck, Bargreen Ellingson
Working through the foodservice ranks as a dishwasher, busboy, server, bartender, cook and manager, Adrian Tuck had a lot to offer when a friend, David Sanders, asked him to help grow Bargreen Ellingson's Vancouver branch. He has been with the company for the last five years.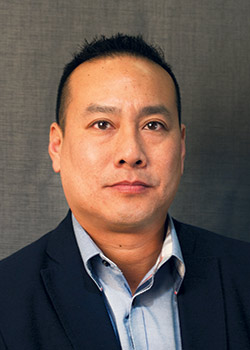 Adrian Tuck"I was in operations for a long time and was a partner in a couple of restaurants, but it became very difficult with a young family," Tuck says. "After I left operations to pursue other opportunities, including working for a custom sign manufacturer, in custom stainless-steel fabrication and doing marketing and advertising for a few years, I came back into foodservice on the dealer side."
Tuck feels as if his career has come full circle. "It draws me in, and I can live vicariously through other foodservice operators by designing spaces for them," he says. "I learned from my mistakes hands on, and they can benefit from that."
Tuck handles mostly highly specialized institutional work.
Q: How does your experience as an operator help you meet your clients' needs?
A: Due to my background, I can understand operations and expectations. I'm able to put together designs that suit them based on my experience as well as what they're looking for. We speak the same language. Rather than theoretical, designs tend to be more practical. And it doesn't have to be the biggest space to be effective.
Q: What are some secrets to executing a good back-of-the-house design?
A: There's clear flow. The receiving area is tied in to where you can put it in your coolers and where production will be. It's a clear linear flow of product moving through your space. This is not easy to achieve due to the geometry of spaces we're provided. We make sure to maintain those design principals the best we can.
Q: Describe what goes into writing a good equipment specification.
A: Typically, I talk to customers about expectations of budget and performance. I can then find manufacturers to suit that bill and see which is the best fit. It's important for me to meet all levels of performance. Purchase price may not be a top consideration if we can't get equipment fixed in a timely manner. This is why I try to bring customers more than just the numbers. I can always get a great price, but what happens after the sale can have a greater financial impact on their business.
Q: What's one lesson that institutional foodservice operators can teach other foodservice operators?
A: The way they handle their business is very different. On the institutional side, we're cooking for big numbers. We have to feed quickly and steadily. In commercial foodservice, it depends on flows, demand and seasonality. I'm sure they can learn from each other, but the demands are very different. Commercial foodservice is more up on trends. Everyone is trying to do more in less space. Ventless technology has expanded and changed the dynamics in QSR and fast casual. There's also more technological advances and development in the last five years than in the last 20 in terms of equipment.
Q: How has equipment changed for the better since you first entered the industry?
A: We have a lot of multifunctional and specific items that are changing the marketplace. On the institutional side, cook chill can put out large quantities. There are ovens with multiple cavities and temperatures in the same cabinet, the changes in high speed and rapid cook [equipment] have also expanded what operators can produce. It's mindboggling what chefs can do with the new innovative equipment available today.
Q: What's the most important lesson you've learned?
A: It's important to really listen when learning opportunities present themselves with factories and rep groups. Listening to what customer needs are, to hear and listen to what they need and deliver that solution is key. There are many ways to take what you did before and do it again, but it doesn't always make sense. It's about listening to both the vendor and customer sides and collating those two pieces into the perfect kitchen.