The foodservice industry has undergone significant changes in recent years, especially with the rise of take-out, delivery, and mobile ordering. In today's fast-paced world, people have less time than ever before to sit down and enjoy a meal.
Which means they are often looking for quick and easy options that they can enjoy on the go. This interesting shift in consumer behavior has put a great deal of pressure on businesses in the foodservice industry to provide fast and efficient service without compromising on quality. Thankfully, there are options like ventless, high-speed ovens to help relieve that pressure.
Ventless ovens are a game-changer when it comes to reducing cooking times and increasing output. These ovens are designed to cook food faster and more efficiently than traditional ovens, without requiring ventilation or a commercial hood system. This is extremely beneficial for owners and operators, as these ventilation and hood systems can end up being quite expensive, sometimes even more than $60,000.00. Additionally, the regular maintenance that ventilation and hood systems need in order to stay in operation, can also add up financially for companies. Businesses can install ventless, high-seed ovens in areas where it would be difficult or impossible to install a traditional oven, such as in small kitchens, food trucks, or other non-traditional foodservice locations.
One of the most popular and innovative ventless, high-speed ovens on the market today is the MultiChef, by Motion Technology, Inc. This line of ovens is designed to reduce cooking times by over 80%, making them the perfect solution for businesses that need to produce a high volume of food in a short amount of time. MultiChef comes in two different sizes, the MultiChef XLT and the MultiChef XS. They are both equipped with a technology that combines high temperature impinged air, precision microwaves, and a bottom heating IR element to cook food quickly and evenly each and every time. This essentially helps to eliminate human error and ultimately reduce waste, which is an extremely important focus point for members of the foodservice industry in 2023.
What sets the MultiChef apart from other ventless ovens? Most certainly it is its versatility and ease of use. With the ability to store over a thousand recipes, the MultiChef can be programmed to cook a wide range of dishes, from sandwiches and pizzas to pastries and desserts. This means that businesses can offer a diverse menu of high-quality dishes, without needing to invest in multiple pieces of equipment. The MultiChef also comes with a USB and USB port, allowing users to export and upload different menus, which can be useful for businesses with services ranging from breakfast to dinner, or seasonal businesses that are only open during certain times of the year.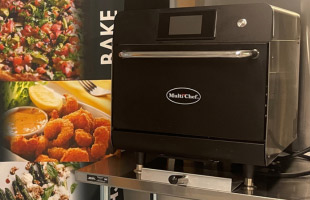 Another benefit of the MultiChef is that it is constructed of high-quality, American stainless steel, making it durable and easy to clean. Especially when using the MultiChef Oven Cleaner. This heavy-duty cleaner removes build up and debris from the ovens' interiors. This helps guarantee the quality and taste of finished product, and long-term operation of the equipment. This is especially important in a fast-paced foodservice environment, where equipment is subjected to heavy use and constant cleaning.
The MultiChefs' unique removable catalytic converter also makes it easy to maintain and ensures that it meets health and safety regulations.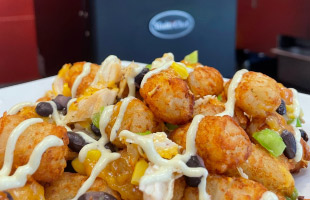 In addition to its speed and power, MultiChef is also capable of producing delicious, restaurant-quality food that is sure to keep customers coming back for more. The Motion Technology, Inc. test kitchen has developed a wide range of menu items that can be prepared quickly and easily in the MultiChef ovens. Everything from classic grilled cheese sandwiches to loaded pepperoni pizza fries to a full pork tenderloin can be served up in no time at all! With the ability to produce high-quality food in record time, MultiChef is a must-have tool for any business looking to increase output and maximize profits.
Ventless, high-speed ovens like the MultiChef are revolutionary for businesses that are within the foodservice industry. By greatly reducing traditional cooking times, these ovens are the perfect solution for any business that is looking to produce high-quality food rapidly and efficiently. The MultiChef's versatility, ease of use, and durability make it an absolutely ideal investment for businesses of all sizes, from breweries and convenience stores to full-service restaurants and cafes. So, what on earth are you waiting for? Contact a MultiChef representative today and see how this innovative oven can help take your business to the next level.