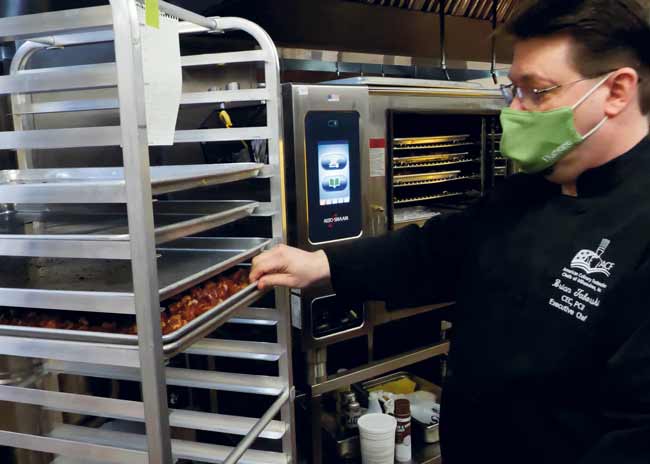 Chef Taborski getting ready to prepare an order of Saz's delicious ribs in the Alto-Shaam combi oven.
Saz's Relies on Alto-Shaam for Efficient Production
The Milwaukee-based Saz's Hospitality Group is in a unique position: It has successful businesses both on-site and off-site. Its flagship restaurant, Saz's State House Restaurant, has been a Milwaukee institution for more than 45 years. Initially a tavern, the State House added a bar menu soon after opening, and barbecue ribs with owner Steve "Saz" Sazama's special recipe barbecue sauce became a smash hit shortly thereafter. To this day, they're still a popular item on the State House menu.
By the mid-1980s, due to popular demand, Saz's business expanded to include catering as well. "People began asking us to do events at festivals and those kinds of things," says Casey Sazama-Schneck, Operations Director for Saz's Hospitality. The Wisconsin State Fair and the popular Milwaukee Summerfest music festival became two of Saz's first accounts. More off-premises work — such as tailgate events, weddings, picnics and corporate parties — followed, "so we built a catering division," he says. "We now have four different locations and a couple of exclusive venues in Milwaukee." And for customers who want Saz's flavor at home, a line of retail products, like frozen appetizers and "Sassy" sauce, is available.
Handling the Challenges Effectively
Like almost every other foodservice operation today, Saz's faces two main challenges. "Obviously, labor is our number-one challenge right now," says Sazama-Schneck. "Food costs would probably be the number-two challenge. The beef market, the chicken market — everything is ever-changing right now."
To help them produce a variety of menu items quickly and efficiently, Saz's turned to Alto-Shaam's complete system of combination ovens, holding cabinets and quick chillers. Using an Alto-Shaam combi oven, he says, made producing their signature ribs easier and quicker. "We've taken a lot of steps out of the cooking process with the Alto-Shaam combi ovens. We cut our cook time back from about eight to 12 hours to now around a four-hour cook time."
Sazama-Schneck explains the cooking process: "We have a three-step process with our ribs, brisket, short ribs and a couple of other items. We do a smoke cycle, a steam cycle and then a true cooking cycle. They'll go from that to one of the roll-in holding cabinets. From the holding cabinet, they'll go into the blast chiller. We can then take those items from the hot cook temperature to a food-safe temperature in a much shorter time. It gives us a much better shelf life, a much more stable product, and the quality is a thousand times better than taking something and wheeling it into our walk-in coolers, where it might take four hours to cool down."
Not only does Saz's Alto-Shaam system produce food efficiently, it saves labor as well. The integrated roll-in rack system saves users from having to move heavy sheet trays manually; the rack glides easily from one piece of equipment to another. "The cleaning process of these ovens is really good, too," says Sazama-Schneck. "They have their own self-clean cycle, which saves a ton of labor, especially when you go from smoking to baking in them. That's a big time-saver."