A taste-tempting meal in a bowl from Organic Krush.
Organic Krush defines itself as a "Lifestyle Eatery." At 10 locations on the East Coast, it serves a variety of health-conscious foods such as cold-pressed juices, smoothies, wraps and salads. "Our heart and passion is about the food," says Organic Krush President and Chief Operating Officer Alex Berentzen. "What is special about us is that we customize our food for the customer. We do what they want."
Much of Organic Krush's preparation and cooking is done at two commissaries, which also handle cooking for catering and special events. The commissaries provide the stores with about 80% of their food supply, which is delivered fresh daily. To help them produce food consistently with minimal labor, they rely on RATIONAL. Each commissary has a RATIONAL combi oven floor model; six of the stores have a RATIONAL SelfCooking Center, and some units also have a RATIONAL iCombi® Pro.
Producing Efficiently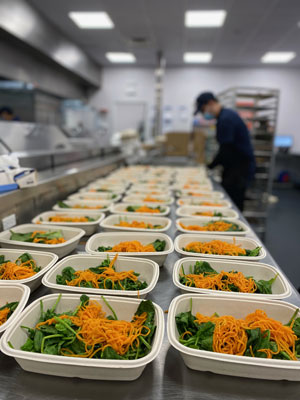 RATIONAL helps Organic Krush's commissaries produce delicious food efficiently.
While Organic Krush is renowned for its juices and smoothies, its savory items — like grilled shrimp, lemon-ginger chicken and breakfast egg wraps — are equally popular. And, like so many foodservice operations these days, takeout or grab and go dining has become a significant part of its business, so quick and consistent preparation is essential.
Before RATIONAL, the chain had been using a variety of single-function equipment, such as broilers, griddles and convection ovens. RATIONAL Corporate Chef Daniel Lessem worked with Organic Krush's Executive Chef Alejandro Duarte to get the Organic Krush team up to speed on the equipment and develop new cooking methods. "After six months of using our new RATIONAL, we encountered a new problem," says Duarte. "What were we going to do with all the equipment we don't use anymore?"
One of the hallmarks of Organic Krush's preparation methods is "small batches, more often." That means every serving has deliciously fresh taste and crisp texture. With the RATIONAL equipment, small batches are no problem, so food waste is minimized. At the commissary, the RATIONAL roasts fresh organic chickens, bakes vegetable lasagna and makes fresh soups and chowder. In the stores, the RATIONAL batch-roasts vegetables and performs other finishing tasks. "Almost 85% of our food is cooked or prepped in the combi," says Duarte.
Saving Labor, Time and Money
The versatile RATIONAL iCombi Pro.
The RATIONAL equipment is helping Organic Krush in several ways. First, it brings about real back-of-house labor savings. It also reduces energy costs and shrinks their overall kitchen footprint. Because it prevents food from burning, overall food costs are reduced as well.
Another benefit of the RATIONAL equipment is how easy it is to operate and train staff members on. "Before, we would have to train, train and train," Duarte says. "But now it is so easy because all staff members have to do is push a button on the screen we designed with MyDisplay."
Whether it's for dining in or for takeout, RATIONAL equipment is helping Organic Krush make its menu items with maximum consistency and minimal waste.