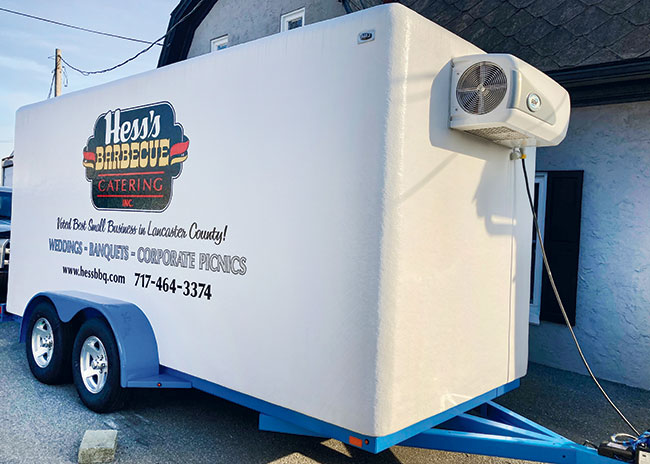 The Polar King Mobile trailer helps Hess's Barbecue Catering serve large-capacity events.Lloyd Hess is the third generation of the family to work in the business, and he explains how they got into catering. "Our shop is 108 years old, and we did custom butchering," Hess says. A few years ago, Hess started renting out pig roasters. "Before you know it, people would say, 'Could you bring coleslaw and potato salad? Could you come cater this event?' That's how we got started in the catering business," Hess says.
Soon the catering side of the business became more profitable than the butchering side. "We started out four years ago doing 10 weddings a year," he says, and the business soon exploded in popularity. "We're booked out for the total year," Hess says. "We're booking now for 2022. It's amazing."
A recent job pointed up the difficulties that large-scale caterers often run into. "I got a call from a company that needed 1,500 lunchboxes," Hess says. "How do you handle, carry and deliver 1,500 lunchboxes?" He found a custom-made trailer but there "really wasn't much refrigeration and they didn't want you to haul anything in it," he says. "It didn't work out."
Then he discovered the refrigerated freezer trailers from Polar King Mobile. Constructed with a seamless fiberglass design, they're available in three sizes: 6′ wide by 8′, 12′ or 16′ long. Each NSF-approved trailer features 54″ reinforced doors, 4-inch walls and a pallet-duty floor. The heart of the trailer is a GOVI arktik 2000US refrigeration unit which provides a temperature range from
0 to 50 degrees F.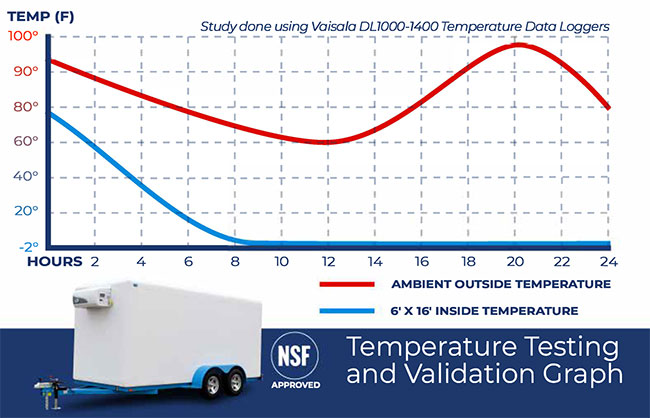 As the graph shows, the Polar King Mobile refrigerated trailer holds a constant temperature even when the ambient temperature rises.For the ultimate in convenience, the Polar King Mobile trailer operates on a standard 110 volt, 15 amp outlet. "We discovered that this is really nice for weddings," says Hess. We can take the Polar King Mobile unit to a wedding in the middle of a field and plug it into a 3,000-watt generator." For large events such as barbecue cook-offs, Hess would previously need several refrigerated trucks. "Now I can just load up product, plug it in and let it sit for three days," he says. "And the inspector loves this small refrigerated trailer, so we can make everything a whole lot easier and safer. It's efficient, quiet and you can plug it into any household unit."
When asked to rate his Polar King Mobile refrigerated trailer on a 1-to-5 star scale, Hess said, "I'd give them six." That's high praise indeed.