Marra Forni's Smart Brick Oven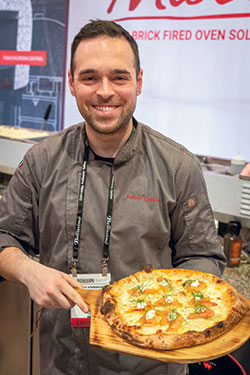 In today's foodservice market, it's a fact that pizza is a highly profitable product.
But nowadays, customers are demanding well-made, flavorful artisan pizza. That means that all types of operations are "upping their pizza game." Felice Colucci, culinary director for Marra Forni, has seen that first hand. "It's not just limited to restaurants," he says. "Everyone is trying to do pizza better…even schools. I just came from a college where they put in one of our Rotator ovens because they wanted their restaurant to be known as a good pizza place."
But there are challenges to producing great pizza consistently, particularly in operations where pizza isn't the prime specialty, Colucci says. "Especially in high-volume kitchens, like schools or hospitals, you need to be consistent. If you start burning pizzas, you've got to remake it and you've spent twice the time just to make one single pizza." With a traditional static oven, he says, "you always have to control the temperature. At the same time, you have to make sure the pizza is not burning on one side and raw on the other."
There is a solution to those problems. It's the Marra Forni Rotator oven, a brick oven with many advanced technological features. The "brain of the oven," as Colucci puts it, is its advanced electronic touchscreen. This sophisticated technology allows even inexperienced crew members to produce perfect pizza consistently.
More Than Just Pizza
But besides making great pizzas, Marra Forni authentic hand-crafted brick ovens can do so much more. They're great for baking, slow roasting and braising, as well as for searing meats, seafood and vegetables in cast-iron pans. These ovens are customizable, durable and energy efficient to let all types of foodservice operations easily perform high-volume cooking. That means operators can now offer their patrons many more delicious,
fire-roasted entrees and sides.
Marra Forni's ovens are easy to use with an innovative touchscreen technology that fully controls temperature, deck rotation direction and speed as well as the auto on/off powered exhaust fan, so there is no need for a highly-trained operator. That's particularly helpful in noncommercial operations, which face constant labor and budget challenges while needing to produce high volumes of food.
This touchscreen helps save on labor costs and increase consistency by allowing operators to store recipes and times directly in the oven to assure pizza — or any other food — is perfectly baked every time. Once a recipe is stored, "the temperature's going to be the same and the duration is not going to change," Colucci says. "That's the difference between a static oven and the Rotator. You have the same consistent product because you don't have to rely on a human being."
Through its ease of operation and modern technology, the Rotator oven is helping both commercial and noncommercial foodservice operators bring real "brick oven" flavor to many more dishes than ever before.