A Q&A with Erik Koenig, vice president, Strategic Marketing & Product Content, Heritage Foodservice Group
Q: What is the foodservice industry seeking when it comes to smart technology?
Erik Koenig: Equipment continues to get smarter; kitchens continue to get smaller and less redundant. Combine that with the growing demands of consumers for more specialized diets/options, and operators need equipment to become more nimble — serving many
different functions within a kitchen.
Q: What are the issues and challenges operators are dealing with?
EK: Today, operators are faced with increased competition and the need for menu diversity to compete. Who would have thought a few years ago that large fast food burger concepts would be bringing meatless options to their customers, and those options are just as popular as the traditional burger? Food safety and quality will also always be challenges, with the push for fresh, local, non-processed part of the consumer lexicon. All of this will make monitoring equipment more important.
Q: Is there technology on the horizon to overcome these roadblocks?
EK: Technology is out there today that connects equipment to monitoring, but it's still evolving. If you think about a traditional kitchen containing 15-20 pieces of equipment being provided by a number of different manufacturers, monitoring one location, let alone several, isn't the easiest. Let's face it, technology is supposed to make it easier for us to accomplish a task. For instance, there is a unit that allows customers to monitor proper refrigeration and freezer temperatures as well as humidity via an app helping to promote food safety and energy usage. It's very much a plug-and-play tool that is easy to install and get up and running. As you extend this to larger, more complicated units like combi-ovens, monitoring and uploading recipes certainly makes it easier to keep tabs. However, getting that information back to an OEM or to a service provider and end-user is, at the moment, siloed. Visualize an end user having to manage 20 apps just dedicated to this kitchen equipment.
Q: What does connectivity mean in the foodservice equipment industry?
EK: Connectivity is really important to the industry, and it's obvious by the involvement of all the large manufacturers bringing solutions to market. But it's all a data story. How can we monitor and use data to evaluate performance, quality and, ultimately, develop a ROI for both the end-user and manufacturer to better innovate as needs accelerate?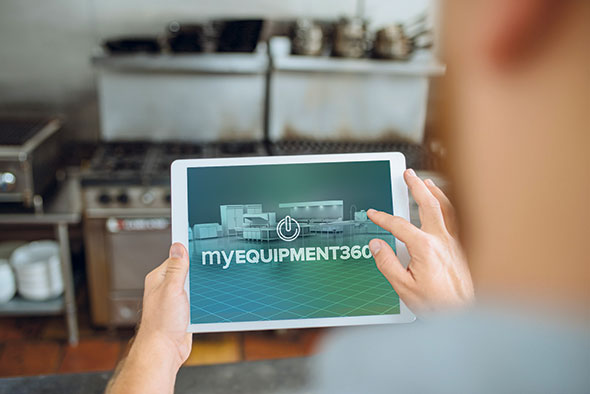 Store and organize critical information in a single easy to access library with My Equipment 360.
Q: How can all the elements be brought together to increase equipment performance and efficiency, while also improving overall product quality and customer satisfaction?
EK: I think, ultimately, we need to find and evaluate a solution that simplifies the experience for end users.
It needs to be manageable, otherwise adoption will be slow or never happen. For manufacturers, we need to respect their trade secrets and data security, but for connected equipment to really take off, we need an operating platform that is agnostic and easy to use.