A Q&A with Shashwat Nath, product manager, controls, Heatcraft Refrigeration Products
Q: How has smart technology impacted the back of house?
Shashwat Nath: Smart technology has ensured that users are no longer guessing what their equipment is doing. It's allowing them to either see the status in real-time or use one of their smart devices to get vital information. Best of all, they can access this information from anywhere, not just in their kitchen.
Q: What are the biggest benefits to operators?
SN: Having smart technology allows operators to focus on their customers and serve them more efficiently versus worrying about their equipment. Service calls and routine maintenance can be scheduled at periodic intervals where the equipment informs operators about problems in advance and provides insight on how long they have before the unit goes down. Smart technology optimizes equipment to run more efficiently and adapt to changing conditions, such as outside weather and store traffic, which saves energy and ensures a longer service life.
Q: How has Heatcraft implemented smart technology in its equipment?
SN: Heatcraft has introduced the intelliGen™ Refrigeration Controller into its existing refrigeration controls portfolio. intelliGen informs store owners about the status of their equipment both locally and remotely. The controller can send out alerts via email or text to users and their contractors so they can quickly respond to any issues. The intelliGen Refrigeration Controller also optimizes defrost via its patented Smart Defrost algorithm, which skips unnecessary defrosts to reduce energy usage.
Q: How has this increased efficiency in the kitchen?
SN: The intelliGen Refrigeration Controller tracks temperatures, and the data can be downloaded via a standard USB drive. This eliminates the need for the kitchen staff to periodically track temperatures required by some local codes. The intelliGen Refrigeration Controller also has a door switch connection, which tracks how long walk-in doors have been open and the impact on equipment performance.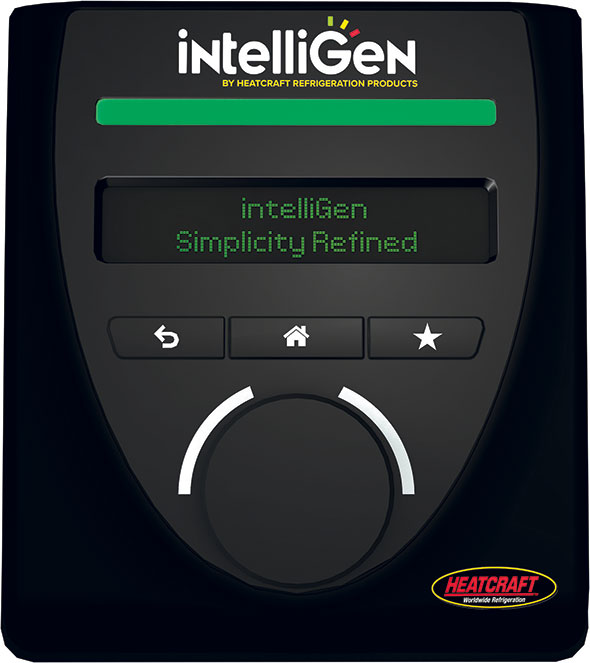 The intelliGenTM Refrigeration Controller helps reduce food spoilage by maintaining better temperature control and provides energy savings through optimizing defrosts.
Q: Have these innovations helped minimize labor?
SN: With intelliGen's quick start, contractors can configure unit coolers in less than two minutes, which ensures reduced downtime and quicker commissioning of the system. The human readable user interface ensures that operators know where the problem is and can fix it quickly.
Q: Talk about ease of use with smart technology.
SN: Smart technology democratizes information for everyone. With their smart devices, users can immediately pull up their systems and see what each one is doing. At the same time, with smart technology, changes can be restricted. This means that someone who doesn't have sufficient knowledge or training will not be able to change set points without passcodes.
Q: Can the newest technology cut costs?
SN: The end solution for the store operator is more cost effective due to the labor savings smart technology provides. Once equipment is installed, the savings are driven by operational efficiencies and less downtime.
Q: How has smart technology improved food quality and consistency?
SN: With smart technology, instead of using mechanical components, equipment utilizes electronic controls and sophisticated algorithms. This ensures a more stable
condition for food, which reduces supply chain shrinkage.