The legend of the Fresco collection began with an idea: make the look and feel of studio pottery accessible to a wider audience. Homer Laughlin collaborated with potter John Britt to create a full line of dinnerware where earthy tones swirled and merged into one-of-a-kind pieces. Next came Fresco Hues—bowls with brilliant color on the inside and natural tones on the outside. Now, the legend grows with the introduction of Fresco Hues mugs.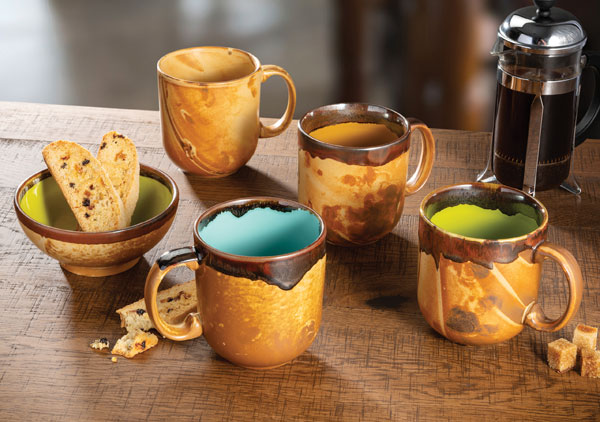 The four new mugs, in the 14 oz. size, are available in the same three exciting interior colors as the bowls—robin's egg blue, goldenrod, and lemongrass—plus one that matches the original Fresco, "un-hued."
With the earthy, terra-cotta look of pottery but the strength of HLC ceramic dinnerware, Fresco impresses, delights, and inspires. In this distinctive collection, every piece is a work of art, and no two pieces are alike. Fresco Hues takes the line in a bold direction, the counterpoint of striking colored interiors adding depth, dimension, and personality to the dining experience.
There's a surprise inside every mug, as the natural finish of the exterior gives way to brilliant color inside. More is revealed with each sip, providing an eye-popping contrast to beverage service of every stripe. Whether it's the icy coolness of robin's egg blue, the citrusy sharpness of lemongrass, the comforting warmth of goldenrod, or the depth of Fresco, each piece brings something a little different to the table.
"The popularity of Fresco and Fresco Hues has exceeded all expectations," said Mick Bowdler, director of design for HLC. "Users of the ware are hungry for more, and we're pleased to give it to them with the release of these mugs."
Fresco is created with the latest in ceramic design and pottery engineering, combining durability with the look and feel of handcrafted originals. The unique matte-finish glaze completes the look of natural beauty.
To find out more about Homer Laughlin's colorful plating options, visit