Chicago-based Four Corners hospitality group (4CBars.com) prides itself on being a go-to spot for guests.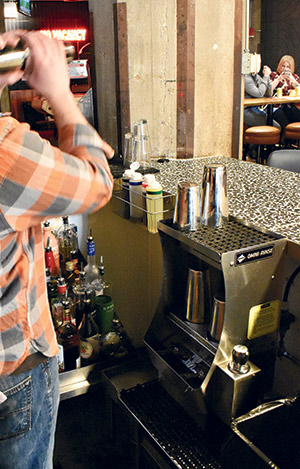 With just a few fasteners and a small amount of wall space, retrofitting the Auto-Rinse into an existing bar could not be easier."It is the place to go for a nice, casual and well-priced dinner with drinks during the week," says Tim Ryll, Four Corners' Bar Director. "It's a great place to watch your team play when sports are in full swing, and we have great spots to cut loose during the weekends. Our brunches are nuts and a ton of fun, as well!"
At all Four Corners' concepts, the guest experience is paramount, as no one likes waiting for drinks. And, of course, the cocktail is notorious for taking a lifetime to make.
The Omni-Rinse Auto-Rinse (formerly the Integrated Rinsing System) allows for the bartender's time between builds to decrease and his/her efficiency to increase. Rinsers typically only take care of the insides of tins and jiggers. The Omni-Rinse closes the loop by cleaning both the inside and outside of tins as well as both sides of the jigger at the same time, in addition to strainers and mixing glasses.
"The system makes the entire rinsing/cleaning process so much better," says Ryll. "The Omni-Rinse system is incredibly efficient, and the bartender can multi-task while cleaning is occurring."
Bartenders initially resist changing the way they work, but not only does the Omni-Rinse make a bartender's life easier and more efficient, it also improves speed of service.
"The fact that the dump for shaker ice is built in is the super bonus," says Ryll.