What exactly defines "good wash performance" in a commercial dishwasher? It's more than just a matter of getting the dishes and ware clean. To Mike Blosser, Water Plant Operator at Cedarville University in Cedarville, Ohio, getting good wash performance out of his dish machine is critical since the dining hall at Cedarville serves between 700 and 800 students for breakfast daily. Lunch is served to approximately 2,000 students, and the dinner service can range as high as 1,800 students. In Blosser's opinion, good wash performance is "being able to put a reasonably soiled pan in one end and [having] it come out clean at the other end. Along with that, we would like for it not to use too much soap, not to consume too much water and to maintain its heat well."
The Five Factors for Clean Ware
Getting the best performance out of your dishwasher depends on a combination of factors.
There are several factors — both mechanical and human — that combine to deliver good performance in a dish machine. First is the length of time the soiled dishes are actually in the machine and exposed to the chemical cleaning solution for proper washing and sanitizing. The proper times are determined by performance testing to NSF International standards.
Water is critically important to good machine performance and cleaning. The right temperature (150-160 degree F wash and 180 degree F rinse for a high-temperature machine) and the right hardness (3 grains per gallon or less) are essential for proper machine operation. Mechanical motion — the distribution of water and detergent — ensures effective cleaning of items in the dish machine. That works in conjunction with the pressure exerted by the wash arms. And chemicals – detergent and rinse aid – work to loosen and break up food soils and deliver spotless ware.
Finally, good procedures ensure good wash performance. Prescrapping to get rid of larger particles of food must be done consistently. The machine has to be loaded properly (and not overloaded) so that water reaches all the dishes and ware. And the necessary maintenance tasks, like checking chemical levels and proper machine cleaning, must be performed regularly.
Designed and Tested for Performance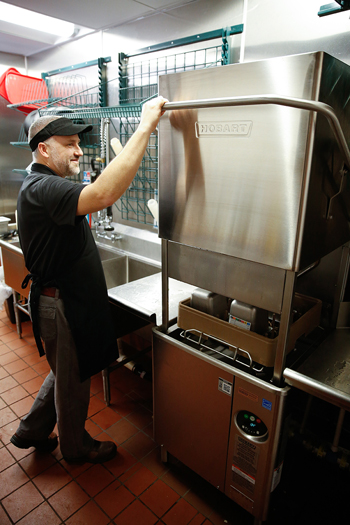 Behind every high-performing Hobart dishwasher is extensive research and testing.
High-performing dish machines aren't created just by accident. It takes years of careful design and testing to create a machine that delivers the ultimate in cleaning, according to Tom Grueser, Application Engineer for Hobart Warewash. "All our machines are NSF listed," notes Grueser, and have passed some of the most stringent tests in the industry. For example, in the NSF pot and pan test, pie filling is applied to both the inside and outside of pots and pans and then baked at 200 degrees F for an hour. To pass the test, all the filling must be removed during the wash cycle. In the "buttermilk test," buttermilk is baked onto a full rack of 36 drinking glasses. "We have to remove 100 percent of it," says Grueser. "It's a very tough test."
Beyond those tests, Hobart has a battery of internal tests that ensure consistent performance of its dish machines. A gross soil test puts a combination of typical food soils both on plates and in the wash water. "We're trying to simulate the water getting dirty," Grueser says. "The plates come out and we grade them. Do they have any food soil or specs left on? We look to see how dirty the water is." Rinsability tests are also performed to determine if plates are being rinsed and sanitized, with all detergents removed.
This rigorous testing is just one of the reasons why Hobart commercial dishwashers have won "Best in Class" award from Foodservice Equipment & Supplies magazine for 17 consecutive years. They deliver consistent cleaning while saving energy, water and chemicals. "We've saved thousands and thousands of gallons of water and about 40 percent on electricity," says Mike Blosser. But most importantly, his Hobart dish machine delivers good wash performance day after day. "We've never had a dish machine before where we could take a pan, throw it into the dish machine and it comes out clean at the other end," he says. "The wash capabilities of this machine are just phenomenal."
Learn more about Hobart commercial dishwashers at hobartcorp.com/products/commercial-dishwashers.
Content sponsored by Hobart