A Q&A with Brent Henschel, marketing manager, Server Products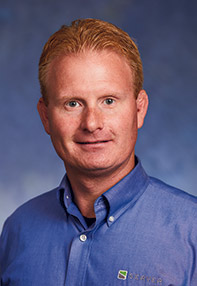 Q. Why is speed of service so important?
Brent Henschel: These days, people want immediate gratification. This is the case in all types of foodservice operations. Quicker table turns equates to more revenue, so speed of service is more important than ever. This is amplified for restaurants with drive thru windows, where operations gauge their success on the time between ordering and when the customer drives off with their order.
Q. Are there technologies or innovations that have enhanced speed of service?
A. There is so much technology behind speeding up service time and improving customer service and wait times. For example, when a customer checks into a fast-casual chain and is given a buzzer that tells them when their order is ready to restaurants that have customer names or order numbers cued up on a screen. One aspect of speed of service is portioning, which takes the guess work out of the equation and helps ensure accurate serving practices. Quick-service restaurants are employing serving rails with chilled or ambient temperatures that include pumps with toppings. Our units are modular for smaller footprints and easily transportable to accommodate multiple day parts.
Q. How does the flow of the restaurant's kitchen come into play when looking at time-saving equipment?
SlimLineTM dry product dispensers mounted on a wall can be set to optimal portions to add candies and other dry foods to menu items quickly and efficiently.A. Equipment should be in easily accessible areas for staff to plate food quickly. When it comes to the operational flow of a kitchen, it's all about holding and dispensing food and meal ingredients efficiently. Items may be packaged in cartons, jugs or pouches that need to be portioned perfectly. So strategic placement within the flow of the kitchen is key. From fountain or condiment pumps dialed in for optimal portion sizes to jars filled with toppings and inclusions, having equipment where it's needed most allows drinks, desserts and other dishes to be prepared efficiently by staff.
Q. What equipment does Server Products offer that can help save time in the back of house?
A. Rethermalization is a process that elevates the temperature of cooked food product from a refrigerated state (40°F) to a specified temperature not to be less than 165°F, within two hours. The benefit is operators don't have to pre-warm food before putting it in the warmer. We have a line of warmers and rethermalizers that can see products through the danger zone from a cold to a heated state above 165°F in the same unit. Typically, warmers can only be used to keep product heated that is already at temperature. Because our line allows operators to safely heat sauce, soup or other refrigerated product before bacteria has time to grow, it is a time saver. Our line has a true thermostat, not a rheostat, so when product is depleted during the day, the temperature adjusts accordingly. This saves time with temperature monitoring, keeps food costs down and ensures quality.
Rethermalizing stations from Server Products keep soups, sauces and toppings at a perfect temperature.