Nothing makes a good first impression at a foodservice operation like sparkling clean glassware, dishware and silverware. But that doesn't happen by magic. It takes good procedures and the right equipment to have a "best-in-class" dishroom that works for both customers and staff.
A "best-in-class" dishroom is a combination of the right equipment and the right procedures.
A well-functioning dishroom gives customers what they want: clean glasses, silverware and dishes. Back-of-house, it helps your bottom line by making your staff more productive and reducing many of their laborious manual washing tasks. Knowing the best practices for machine selection and operation is critical for an efficiently functioning dishroom.
The Right Design
To get a good clean, you need a capable dish machine. The design of a dish machine significantly affects its cleaning ability in a number of ways: its wash pressure, the coverage of wash and rinse water, and its heat maintenance, to name just a few.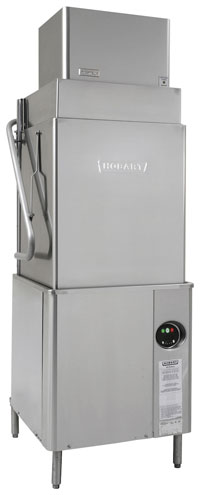 The Hobart Advansys™ AM Ventless Door-Type Dishwasher needs no vent hood and keeps steam out of the dishroom and the operator's face.
In the wash system, a well-designed wash arm and nozzle ensure consistent coverage and impact pressure of water to remove food soil. That means dishes come out clean with less time spent rewashing. An efficient rinse system helps transfer heat or sanitizer to the ware for proper sanitization and residue-free dishware while conserving water. A deeper wash tank retains heat for efficient operation and holds more food soil to reduce the number of tank refills without reducing your wash quality. A good strainer system keeps heavy soil out of the system and off your ware. Look for inclined strainers that direct soil into deep baskets that are easy to empty.
Additionally, technology like an automatic soil removal system can reduce your pre-scrapping labor. Ventless systems reduce steam in the dishroom and make for a pleasant working environment for your staff.
Lastly, a machine that is easy to clean will save time and labor overall. Look for a machine with a smooth interior, with arms that are easy to clean out and with easy access to wash tanks.
The Right Procedures
No matter how efficient the machine, having a "best-in-class" dishroom also requires correct operation. To get the cleanest dishware and glassware, Alexander Anim-Mensah, Engineering Manager – Warewash at ITW Food Equipment Group, recommends the following practices:
Hobart Advansys™ CLeN Conveyor Type dishwasher with automatic soil removal saves labor time and keeps wash water cleaner longer.
Pre-scrap ware to help reduce soil buildup going into the machine and extend your wash time between tank refills.
Rack your ware with enough space in between ware items to allow water and chemicals to flow over all surfaces.
Change wash water regularly to prevent soil buildup that can lead to redeposit and rewash.
Make sure that the correct chemicals and dosage are being used as per the manufacturer's recommendations to ensure proper washing and rinsing.
Clean the wash tank and wash zone at the end of each shift, and inspect and clean out the wash and rinse arms as necessary.
The Right Machine
The Advansys™ LXe Undercounter Dishwasher is the perfect choice behind the bar and in compact spaces.
Of course, to have a "best-in-class" dishroom, it's essential to start with a machine that performs reliably and efficiently. That's why so many operators trust Hobart dishwashers to be the center of their dishroom operations. Hobart offers a full line of commercial dishwashers in flight-type, conveyor, door-type and undercounter. For specialized cleaning, there are glasswashers and pot and pan washers. Most of them are ENERGY STAR® certified for the ultimate in energy efficiency. That's one reason why Hobart has been named "ENERGY STAR® Partner of the Year" for a decade.
Hobart Advansys™ dishwashers use the most modern technology to deliver energy and water savings, as well as reduced chemical costs and labor time. With their efficient performance, they help reduce the overall costs of dishroom operation. Hobart Advansys™ machines have received the National Restaurant Association's Kitchen Innovation and What's Hot! What's Cool! awards, the FCSI Innovative Product of the Year award and the Best in Class award from Foodservice Equipment & Supplies magazine for 17 consecutive years.
All Hobart dishwashers deliver unsurpassed cleaning, dependability and energy savings. That's why Hobart has become the most trusted name in commercial dishwashing.