Talk about how foodservice equipment needs to accommodate the smaller footprints in today's commercial kitchens.
Faith Osborn: There is a lot of change in menus now and the way things are going in the restaurant industry. Basically, operators are looking for additional refrigeration and freezer storage options. Many restaurant kitchens have small footprints that can't accommodate full-size equipment, especially in big cities. The industry needs to be aware that units are available that can adapt to these changes.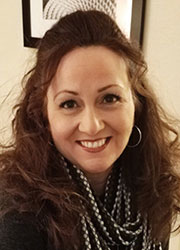 Q&A with Faith Osborn, Marketing Manager, Continental RefrigeratorHow does this translate to refrigerator and freezer storage needs?
FO: Instead of refrigerated and freezer storage going across a kitchen's width, it's going up. In other words, to conserve space and adjust to limited square footage, it's best to use vertical space.
What space-saving solutions are available?
FO: Our Slim Line Reach-In Refrigerators and Freezers were originally developed for a restaurant chain that needed a narrow piece of equipment to fit in their back of house, and we ended up developing these solutions as part of our product line. Slim Line is a unique and popular item, as smaller footprints have become more prevalent. The units provide refrigeration and freezing vertically, with minimal space needs across the work area.
What makes a Slim Line Reach-In different from other reach-ins?
FO: When additional storage is needed in kitchens with a smaller footprint, our Slim Line models fit where typical reach-in equipment may be more challenging. Our one-section model measures only 17¾ inches wide and 36¼ inches wide for a two-section model. The refrigeration units also are available with a shallower depth for additional space savings.
Slim Line Reach-In Refrigerators and Freezers were designed to meet small space requirements to satisfy the needs of kitchens with limited space.Talk about the benefits of your space-saving equipment.
FO: Even though the Slim Line models are narrow, they can accommodate full size 12 x 20 hotel/food pans, which is a key issue with storage.
What other features does your Slim Line model have?
FO: Both Slim Line Refrigerators and Freezers are available with either full size doors or half size doors. Glass doors also are an option with refrigerator models. The one-section model's doors are field rehingeable. For kitchens with a small footprint, this is key, as the unit's contents can be made more accessible by opening the door in a more appropriate direction. Our one-section model also is available with two drawers on the bottom and a half door on top for added flexibility. In addition, shelving can be added for increased storage capabilities. All units are available with casters or legs and come standard with an electronic control with digital display and LED interior lighting.