Looking ahead to 2013, members of the foodservice industry prepare to experience another period of moderate but real growth as operators will rely more heavily on technology and on their supply chain partners to drive their incremental success.
The results are confusing. On one hand, so many of the foodservice industry's economic indicators point toward a business sector on the mend. But if the business environment is actually better, why doesn't it feel that way? Why isn't there more growth? Well, it's because, despite improving conditions on a macro level, things on a micro level continue to vary considerably. The good news is that, while the foodservice industry has not yet returned to the peaks of five years ago, it seems to be avoiding the valleys of two or three years ago.
"All business cycles recover and when you think about industry performance in 2012, it is definitely better than two and three years ago," says Hudson Riehle, senior vice president of the National Restaurant Association's Research and Information Services Division. "The question is: What is the duration of this recovery? And what is respective growth in a more modest environment?"
All Economics Are Local
When it comes to economic performance, there are definite regional differences that will influence a business's outlook. "Areas that were leading the decline a few years ago, like the Midwest, are leading us out of the decline," says David Henkes, vice president at Technomic, a Chicago-based market research firm. "Unfortunately, some of the bigger states, like California and Florida, tend to throw an anchor around the country and are holding us back."
The foodservice equipment and supplies community seems to be enjoying varying degrees of economic success by region. For example, MAFSI's second-quarter business barometer showed sales increases by region that range from 5.8 percent in the Northeast and 5.1 percent in the West to 3.9 percent in the South and 1.3 percent in the Midwest. And the products that members of the supply chain sell could influence how well their businesses seem to be doing. For example, MAFSI reported a 4.2 percent uptick in supplies sales for the second quarter, a 3.8 percent increase in foodservice equipment, a 3.1 percent increase in tabletop items and a 0.1 percent increase in furnishings.
"The bar is pretty low, based on where we have been the past few years, but 2012 is shaping up to be a better year," Henkes says. "We are not only seeing some dollar growth but real growth. We are seeing traffic and volume return to the industry. It is definitely moving in the right direction, and we are getting more bullish on the industry and its outlook."
For its part, the National Restaurant Association projects sales will advance in the 3 percent range this year, according to Riehle. "It is a situation where real growth remains quite modest. Some segments outperform the growth rates, but overall for the industry at the national level, this is the third consecutive year of positive real growth. And when one looks out over the long term at the macro indicators, it looks like relatively moderate growth will continue."
Technomic projects the industry will close out 2012 posting a 3.9 percent gain in sales growth, which translates into 1.5 percent of real growth. And according to Henkes, Technomic believes this moderate growth will continue in 2013 when industry sales will increase by 4.2 percent.
The moderate growth will help ratchet up the competitive intensity, which will have an impact on the supplier community. "So, the restaurant supplier community will continue to work much more closely with operators on the cost-maintenance side and to grow sales," Riehle says. "And that can include ROI and the impact on pretax income. You see more suppliers stepping up to work with the operators to ensure their customers remain viable and grow."
But real growth is, in fact, real growth, and a beleaguered industry will take it. Still, while the foodservice industry may be out of the economic woods for now, the scary tree line remains well within sight. "Economically, there's still some concern that there is a double dip or a stall coming. It depends on who you read," says Henkes. "But despite this, foodservice has held up well."
The industry has had to overcome some key obstacles during the past year. "This year's sales growth has happened despite modest employment gains. It will take a couple years, if not longer, to get back to the employment level prior to the recession," Riehle says. "In that environment, operators and consumers have to ratchet back their expectations."
Wholesale food prices are up 2.8 percent for the first half of the year, Riehle says. "So that is an additional pressure operators need to manage," he said.
When it comes to macroeconomic trends, employment and consumer confidence seem inextricably linked together. Restaurant industry performance in the second quarter was still strong but not as strong as in the first quarter, Riehle points out. He also points out that consumers still spend 48 percent of their food dollar on items prepared outside of the home.
"Consumers love to use restaurants, but when their cash on hand gets strained and employment perspective gets tight, their desire to use restaurants does not diminish, it just seems to be more focused," Riehle adds. "Because national employment levels were so low going in, the recovery remains weak. Consumers equate their use of foodservice to a certain standard of living."
Indeed the consumer picture remains as muddled as ever, and it shows no signs of clearing up anytime soon. The upcoming November general election and the fear-inducing political rhetoric that accompanies the campaign season only add to the uncertainty. "Compared to other periods of economic weakness, this is much less weak, but clouded by more uncertainty," Riehle says.
And when the economy swirls with uncertainty, many businesses generally take a step back to wait for the fiscal landscape to become more settled. Such will be the case for the foodservice industry, as the government looks to resolve issues pertaining to the fiscal cliff, healthcare reform and more. "This will generate a lot of congressional activity," Riehle says. "So, there is an unusual amount of uncertainty that is translating into uneasiness among restaurants, their suppliers and consumers. So, looking at the November elections and beyond, restaurant operators' ability to plan is going to be cautious."
Henkes agrees and adds, "You just want to know what it is going to be for the next couple of years and plan accordingly. Can I hire more people? Can I build more locations? You just want to know. There's a lot of things hanging in the balance, and that equates to a lot of paralysis right now. That slows job creation and spending. It will be interesting to see, when the election is settled, if that will that make for more clarity, and if it will get more people off the sidelines."
An improved employment outlook is probably more important to the foodservice industry than other business segments. "Jobs are important because they represent real gains in disposable personal income, which correlates with growth in the restaurant industry," Riehle says. "So ultimately, the different tax policies and implications translate into a consumer's cash-on-hand situation."
Right now, consumers' cash on hand seems to vary considerably. "We have a tale of three economies. The well-to-do are doing well and are spending on foodservice. The middle tier is starting to break free and spend more. And the lower tier is still struggling," Henkes says.
One generation clearly feeling the economic crunch are millennials, those consumers aged 19 to 34 years old. This group is preparing to usurp baby boomers as the foodservice industry's largest and most influential demographic. "While it
is a huge group, its growth potential is still hampered, and the industry is not experiencing as much growth because of them," Henkes says. "Millennials have grown up with foodservice and are very sophisticated consumers. They use restaurants more than anyone else at their age has. But they are also challenged by higher debt loads and difficulty finding a job. Some still live in their parents' basements. So they are driving some growth and new opportunities, such as introducing new flavor profiles and service styles, but are not as well equipped to do so as previous generations."
Beyond the political turmoil and employment issues that dominate the headlines these days, a number of other economic factors — such as fluctuating gas prices and the European debt crisis, among many others — continue to weigh heavily on the minds of consumers. "The consumer confidence numbers are much more volatile than they were before. And to some degree it is warranted to have some skepticism toward these variables," Henkes says.
Riehle adds, "We have always known, from a consumer perspective, there's no substitute for job growth and stable, moderate energy prices. Until the country resolves how it deals with its fiscal and monetary challenges, there is inevitably going to be an air of conservatism when it comes to expenditures — both consumer and capital."
Foodservice operators remain in tune with all of the political turmoil. In fact, 17 percent cite the government as the top challenge facing their business, according to Riehle. This represents an eight-point increase compared to last year. In addition, 29 percent of operators report that the economy is their top challenge, down 3 percent from a year ago. Seventeen percent of operators list food costs as the top challenge facing their business.
In contrast, during normal economic times foodservice operators will typically report labor recruitment and retention issues as their top challenge, Riehle says. "As the years pass and the recovery continues to plod ahead, recruitment and retention will become their top challenge. But with national employment below its peak, it is not the immediate challenge."
A Few Breaks in the Clouds
While uncertainty dominates the discussion, the foodservice industry continues to show some undeniable signs that its position continues to strengthen. For example, restaurants added more than 25,000 positions in July and have added more than 250,000 positions over the past year, Riehle says. "That is a symbol of the strengthening demand for foodservice. And roughly half of the restaurant operators expect to have higher sales in six months, which is higher than a few years ago."
Also, the National Restaurant Association's June Restaurant Performance Index reported that more than 50 percent of restaurant operators plan to make a capital expenditure in the months ahead. "So, there is no obvious immediate pullback in their future expectations," Riehle says. "But because consumers continue to spend, albeit more judiciously and deliberately, operators need to focus more on their sales situation."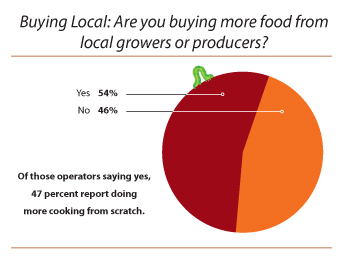 Many operators will focus on their sales situation at the expense of adding units. "When you are a little more cautious, you are less likely to build more units. And we've seen that — the rate of expansion is nowhere what it was previously," Henkes says. "That's what healthy chains do. If your business is broken, you have to fix what's broken within your four walls before you can consider expanding again. So, you focus on building the value equation by creating an experience for the consumer where they still want to come back to you even if they are a little cash strapped. That allows you to build longer-term loyalty by giving consumers a reason to come back time and again."
Building loyalty will drive incremental sales in the coming year, a priority for operators across all foodservice segments. The questions they will have to answer, according to Henkes, include: "How do you get people to think of you differently?" and "How do we use our real estate better and more efficiently to generate more revenue throughout the day?"
"Looking ahead, 2013 will be our sixth year of economic weakness. So operators that have been in that environment for so long have driven out the inefficiencies and are focused on improving effectiveness," Riehle says. "So the focus has shifted from cost control and management to growing sales. That's why you see more emphasis on technology — such as allowing customers to place orders using tablet computers or touch-screen ordering kiosks. They feel it gives them a competitive advantage."
Some operators will continue to tinker with expanding their menus, while others will look to make their operations more desirable during what would be considered nontraditional dayparts for their businesses. "This speaks to the fact that they are trying to attract new customers and expand their reach," Henkes says. "I have talked to a number of casual-dining chains who are trying to expand their bar business. In some instances, it is a hard sell. What it comes down to is how do you differentiate yourself from your competitors? And if you can't articulate what makes you better, then you have to go back to the drawing board. We learned that from much of casual dining's challenges."
Indeed, the downfall of the casual-dining segment provided enough lessons to last a lifetime. "Well before the economic downturn, we were talking about what was wrong with casual dining," Henkes says. "They were struggling for a long time — back in 2005 and 2006 they were struggling to get same-store sales growth. A lot of their growth was masked by adding units. Now they have had to close a lot of units, and you are seeing their revenues fall. Some casual dining operators are starting to return, though. They have reevaluated their business, and some chains have remodeled their units. They are trying to position themselves against the concepts that are doing well."
One particular subset of casual dining that is doing well is polished or upscale casual. "Operators in this segment are expanding quickly, but their same-store sales growth is doing well," Henkes says. "Price is certainly the denominator, and it is something that every consumer will evaluate. But higher-quality food and a stronger beverage program are factors that will help consumers look past price when patronizing concepts in this segment. You are looking for a dining experience — to go out and enjoy yourself."
Another segment that will continue to excel is fast-casual. "This segment resonates with consumers on a number of levels. The operators in this segment provide extremely high-quality food and beverage and that translates into value," Henkes says. "But value is not only about price. It might be a little more than traditional fast food, but they feel that little bit extra is worth it when compared to traditional QSRs."
And the success of their fast-casual competitors has members of the quick-serve restaurant community taking notice. "Food quality and the craveability factor is higher for fast-casual operators than most QSRs," Henkes says. "And the fast-casual operators tend to have higher-end ambiance and décor. So, traditional QSRs are trying to make their operations more like fast-casual operations. Whether it is a burger chain coming out with a better burger or adding fresh- squeezed lemonade, everyone is trying to up their game. "
Despite trying to emulate fast-casual, one fundamental element of the QSR segment won't change. "Fast food is still very much a price-driven segment, but those that are going to be successful are the ones that will focus on the broader value equation," Henkes says.
Indeed, those foodservice companies, regardless of segment, that focus on their value propositions will be the ones in the best position to continue to inch along with the rest of the industry in 2013.