Prep tables, specifically sandwich prep tables, offer storage and prep space for ingredients that need to be cut, sliced or otherwise prepped before use. Operators can use these units for menu items other than sandwiches, such as burger toppings, pizza, salad and stir-fry dishes. They can also be used as dispensing units for other items, such as cold sauces and dessert toppings.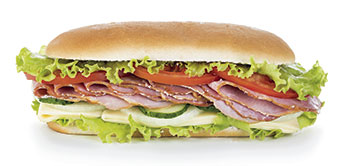 Sandwich prep tables feature a prep area on top that provides a solid surface and cooled compartments for sandwich, salad and pizza ingredients. A cooler below holds pans of food that require preparation. With sandwich prep tables, pans sit level with the cutting board, and with pizza prep tables, pans raise 3 inches to 4 inches above the cutting board.
These units use one of two basic types of cooling features: forced air cooling and wrapped wall or conductive cooling. Forced air uses one coil that cools the base and rail zone. The base needs to be at 40 degrees F, while the top is at 41 degrees F. Forced air units operate better in lower heat/humidity applications because one coil manages two different temperature zones.
Wrapped wall or conductive cooling systems use copper lines wrapped around the tank or pan opening, which provide thermo transfer of the cold through the unit's walls. This creates a cold blanket of air above the product to protect it from ambient kitchen conditions. Due to pans being recessed below the cold air, the top of the food is held at proper temperatures.
Mega top units almost always use forced air cooling, but raised rail tables can use either forced air or wrapped wall cooling.
Sandwich prep table lengths range from 27 inches to 72 inches with between 6 and 24 pan openings and 2 pans positioned from front to back. Although some models accommodate 1/3-size pans, the majority hold 1/6 size. Mega top prep tables typically have 3 1/6-size pans positioned from front to back.
Sandwich prep tables feature different configurations, which depend on the manufacturer and application. These units have between one and four doors and up to eight shelves or drawers for storage. The interior generally accommodates between 6 and 15 pans, depending on the model. Most tables include 15 to 18 inches of space in front to accommodate a cutting board. This provides more storage space for the interior.
Because the majority of sandwich prep tables have rear-mount refrigeration, the coolers in these units cannot hold full sheet pans. In this case, the configuration of a raised rail model provides greater interior storage capacity for backup product.
All models have stainless steel exteriors. Cabinet backs and bottoms typically feature galvanized steel construction, while interiors can be stainless steel, painted aluminum or painted galvanized steel. Doors generally include foamed-in-place, high-density polyurethane insulation. Shelves, pan lids and cutting boards are typically standard with these units.
Stay-open door features offer easy loading. An automatic evaporator fan motor delay on some units stops when the door opens to prevent condensation from developing by mixing cold interior air with ambient air. A 30-second stay-open door alarm and one-piece magnetic door gaskets are standard on some tables.
Available options with sandwich prep tables include a backsplash, drawers, different gauge thicknesses, Plexiglass fronts, shorter casters, overshelves, different-size adaptor bars for various pan configurations, interior lights, thermometers and pot racks. Operators can elect to purchase pull-out drawers in place of doors for easier access, although this may decrease interior cooler space.
Other available features include adjustable shelves and pans, removable cutting boards, sneeze guards and crumb catchers. Finished backs in stainless steel or laminate are available. Some units allow adding tray slides or creating dual-sided tables. Units with front-breathing mechanisms, multidirectional cavities and additional vents will run more economically and efficiently.