Page 1 of 2
For operators looking to add a touch of theater to their foodservice operations, rotisseries can help add visual appeal and drive sales.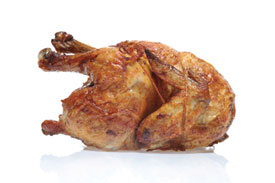 Suitable for use both in the back and front of the house to roast skewered meats and poultry as well as fish and vegetables, rotisseries can effectively barbecue items such as ribs or sausages.
Unlike most other equipment of this type, rotisseries are highly specific in terms of the cooking process. A small, electric motor rotates product on a spit, circulating moist, hot air throughout the unit's cooking cavity. While basting can be hit or miss in conventional ovens, rotisseries rotate product to facilitate self-basting. These units also meet temperature requirements to promote carmelization, and this produces a different result than convection ovens.
Before choosing a model, operators need to determine how much space is available for the oven. Once operators determine the available space, they can choose from countertop, see-thru and pass-thru-models. Some units are stackable while others offer wall mounting capacities to save space.
Another consideration is whether the foodservice operator wishes to use the rotisserie as a merchandising tool. If this is the case, placement becomes even more important. Bringing cooking food items closer to customers will show off the product, create enticing aromas and increase impulse sales. Operators need to determine whether floor or counter placement is available and preferable.
A number of variables will help determine which size rotisserie is best. These include the size of the operation or number of seats, business hours and whether the foodservice operation will offer carryout service or catering. A rotisserie's capacity should match the operation's peak demand.
In terms of menu composition, operators also need to determine the size of the products they will cook in their rotisseries. To accommodate larger meats, like whole pigs, full-size turkeys and roasts, units with removable interiors may be the best option.
Commercial rotisserie models generally fall into two categories: batch- and continuous-cooking units. The type of products and volume will determine whether a batch or continuous-cook rotisserie is needed. (See accompanying sidebar for additional information on these two types.)
The main difference between models is the physical size and capacity. Rotisserie sizes can range from 15 inches high by 35 inches deep by 37 inches wide for a countertop rotisserie to 78 inches high by 37 inches deep by 42 inches wide for high-volume batch machines. The smallest unit accommodates 150 pounds of product compared with the largest unit, which can handle up to 2,000 pounds. Most full-size models have skewers that can hold between 35 and 80 whole chickens.
Today's rotisseries feature space-saving designs. A common mistake operators make is specifying a larger rotisserie in an effort to handle varying volumes and for greater versatility. Most are not aware that one large unit will not cook as much product as two smaller ovens. Specifying two small units also will allow an operator to cook two different products at the same time. In addition, utilizing two ovens will allow operators to stagger cooking times so that items come out of the oven freshly cooked. By specifying more than one rotisserie, operators can employ one smaller unit as opposed to wasting energy in heating up a larger oven.
Some of these units feature two separate cooking areas to allow for staggered batch timing or for the preparation of different products without co-mingling the individual items' flavors.
For operations with varying volume requirements, rotisseries that have more than one cooking cavity or smaller units that stack can better accommodate the ebb and flow of production. Stacked ovens also allow more products to be produced in a smaller footprint, which saves floor space.
Operators can also choose from a gas or electric heat source. Most electric units will run on 208 volts and 30 to 40 amps. Electric models that provide a combination of convection and ceramic radiant heat are available. Some gas units provide an electric ignition.
Some rotisseries include standard rear fireplace burners with ceramic logs to simulate an open hearth. Heat emanates from infrared sources or the circulation of warmed air.
Gas rotisseries tend to be larger and have longer spits than electric units. Although these types will have a larger capacity, operators need to consider that these will be heavier to load and may be more difficult to clean. Gas models that use a combination of wood in conjunction with infrared gas burner/generators are offered. Some units are designed to generate heat from above, while others are heated from below.
Both gas and electric rotisseries generally require ventilation. Ventless hood options available with some electric units allow operators to take the rotisserie out of the hood space and locate it closer to the counter or customer where product is sold. Self-cleaning units will require a water supply and drain.
Rotisserie cabinets vary when it comes to construction. Most feature a galvanized sheet metal body sheathed inside and out with stainless steel. For easier cleaning, operators can choose a unit with enamel coating on the inside. Skewers typically feature stainless steel construction.