Advertisement

October 17, 2019
---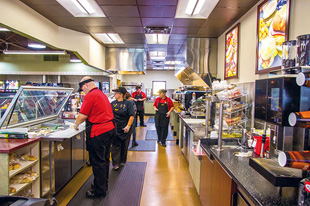 C-Store Specifying Tips
As the lines between retail and foodservice continue to blur, opportunities in the convenience-store segment may rise. Ryan Krebs, director of food service for Rutter's, a 72-unit chain based in York, Pa., outlines 5
c-store-specific equipment and design needs.
Advertisement
Designed to make your life easier
Delfield Specification Line® with GreenGenius® refrigeration utilizes natural R290 refrigerant and a 4.3" easyTouch® touchscreen. Easy-to-use, yet smart enough to control all the functions an operator could want. Bringing you 24/7 connection, euro design and energy efficient equipment. Now that's smart thinking.
Fast-Casual Pizza Design
Specifying for fast-casual pizza concepts requires a keen understanding of how designs play on the open-kitchen format, with prep and cook areas both in full view of customers.
Baskin-Robbins Elevates Experience with New Design
Dipping cabinets were one of the equipment pieces that received a new look in Baskin-Robbins new store design, called Moments. The cabinets were designed to look like miniature jewelry cases.
Advertisement
Calculate Your Warewashing Savings
Just how much could you save when you eliminate the need to wash pots and pans by hand? Use our ROI Calculator to find out. Enter your information to see how quickly the Power Soak Intro can pay for itself.