Advertisement

September 19, 2019
---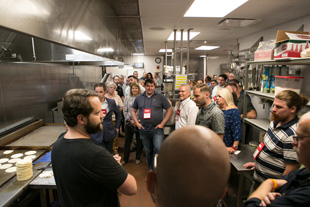 Tour the Trends Knocks It Out of the Park
FCSI member Juan Martinez of Profitality recaps FE&S' Tour the Trends event, which featured in-depth visits to Wrigley Field, Hotel Zachary, Maddon's Post, Big Star and Mordecai.
Advertisement
MEIKO M-iQ flight-type dishwasher delivers significant savings
Can changing your dishwasher impact your bottom line? A report from Frontier Energy reveals that installing a MEIKO M-iQ flight type dishwasher with exhaust air heat recovery generated an estimated savings of more than $23,000/year for a leading California hotel.
Common Questions to Ask When Specifying Ventless Equipment
Like all types of foodservice equipment, determining whether ventless items are right for a specific application requires asking the right questions. A collection of seasoned foodservice professionals share a few questions — and answers — they commonly ask when trying to determine whether ventless equipment is right for a given project.
Drive Thru Design
While simple in concept, drive-thrus prove complex in design.
Advertisement
What every foodservice consultant should know
Water quality affects almost every aspect of the kitchen, so it's critical to understand its impact on foodservice equipment. Check out our 3 tips to help you in selecting the right water filtration system to protect the life of your customer's expensive equipment.